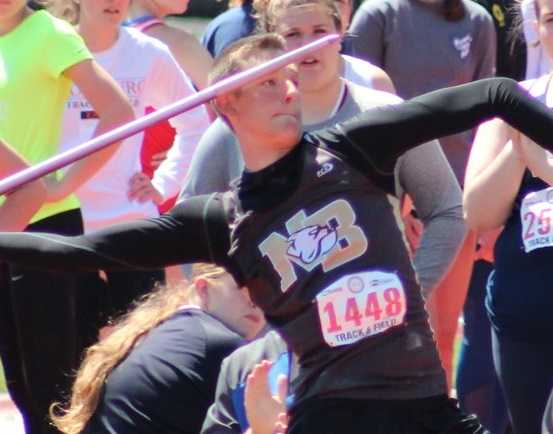 Ty Hampton admits to feeling some trepidation when he stepped back onto the javelin runway at Coos Bay's Marshfield High School.
The senior from North Bend, one year after suffering an injury to his throwing elbow, made a triumphant return when he launched the nation's No. 1 mark in the javelin -- 216 feet, 10 inches -- at the Prefontaine Rotary Meet on April 13.
"It was pretty mental. It was nerve-wracking," Hampton said. "This was the same spot where I almost ruined it. The same runway. That was kind of hard for me."
Hampton pressed through it and launched all six of his attempts past 200 feet. His best mark took over the national lead, but may only be an indicator of bigger throws to come.
It's been a rough year for Hampton, who earned acclaim as one of the country's best young throwers when he won the 4A title as a sophomore with a throw of 208-9.
He was invited to join the National Scholastic Athletic Foundation's Project Javelin Gold, which put Hampton in touch with some of the top mentors in the country, as well as trips and and clinics to support his training.
But his junior season was mostly lost when he threw at Marshfield last year and heard a 'pop' in his elbow. Then his entire arm went numb.
"I had probably the best week of practice ever," Hampton said. "I was throwing 220s. Then the first throw there was pain. I felt a pop."
What followed was a long journey for a medical answer to the problem. Fears that he had ruptured a tendon, and might require Tommy John surgery, persisted.
But Hampton felt it was something else. The pain only occurred when he made the over-hand javelin motion. He could lift weights. He went on with his track season and won the 4A title in the discus.
By August, frustrated, he sought out a second opinion and found a doctor who confirmed that he had dislocated the ulnar nerve in his elbow.
In October, he underwent surgery to re-route the nerve and prevent it from interfering with his throwing motion.
Since the operation and recovery, Hampton has only had three months of training.
"My elbow didn't feel good until March," he said.
However, the return to Marshfield, and a nation-leading throw confirmed his return to elite throwing.
At 6-foot-6, Hampton has the long levers and speed that project to a future with big throws. He recently accepted a scholarship offer from the University of Oregon.
After this year's state meet, Hampton plans to travel to Greensboro, N.C. for New Balance Nationals Outdoor to try and win the national high school title.
He has yet to show what he can really do. A year away from throwing the javelin makes him feel more like a junior than a senior in the sport.
Hampton said he will pick and choose his spots wisely as he attempts to leave a lasting mark this season.
"I feel like 200 (feet) is a new benchmark," he said. "Maybe I can get 220 easy. I haven't thrown all-out yet."
But eventually, if he can add some quality training and stay healthy, Hampton will cut loose.
"I'm going for a pretty big mark this year," he said.
Doug Binder is the editor of DyeStat.com