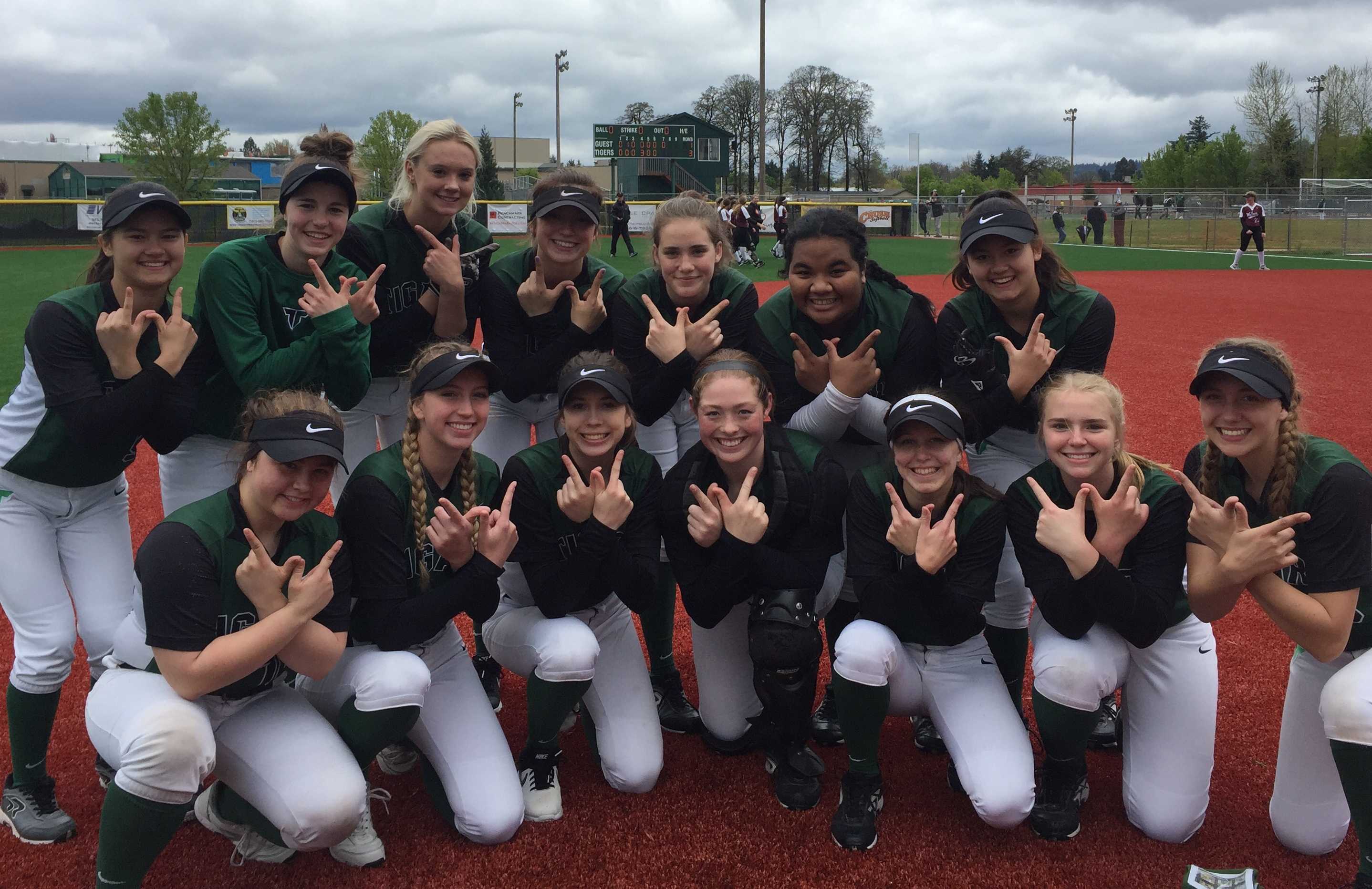 Tualatin's softball winning streak is over at 45.
District rival Tigard snapped it Saturday with a 3-1 win over the visiting Timberwolves in a 6A Three Rivers League game. The streak is believed to be a state record.
Reigning 6A champion Tualatin (15-1, 3-1) had not lost since falling to North Medford 4-3 in the 2017 semifinals. The top-ranked Timberwolves kept the streak alive this season by winning four one-run games, but they couldn't overcome No. 10 Tigard (11-5, 2-1).
"The rivalry games are big games, and on top of it, just being able to beat Tualatin and being the ones that stop that streak, it's special for the kids," Tigard coach Pete Kostel said.
"Offensively, when we were at the plate, we had great energy from the dugout. But I also thought for one of the very first times, that defensively, we had a lot of energy on the field, as well. That was big for us."
The loss also ended Tualatin's 40-game league winning streak, dating to a 6-4 defeat at West Linn in 2016.
Tigard freshman Makenna Reid pitched a three-hitter with eight strikeouts and no walks and hit an RBI double. After giving up 18 runs in the previous two games against Oregon City and West Linn, Reid locked down the Timberwolves, retiring the leadoff batter in every inning.
"She trusted the defense to make plays behind her," Kostel said. "Leadoff walks and two-out walks killed us against West Linn and Oregon City. Today she pitched wonderfully in those situations."
Tualatin took a 1-0 lead with two outs in the second inning when junior Sydney Wagner doubled and freshman Leanna Rosenbaum followed with an RBI single.
But Tigard scored three runs off Tualatin junior Tia Ridings in the fourth inning. The Tigers got consecutive one-out doubles from freshman Kani Korok, Reid and junior Elli Dardis – the latter two driving in runs – and added the third run when Dardis scored from third base on a dropped third strike with two outs.
Tigard finished with six hits, getting two from junior Abby Soderquist.
The Tigers, who made the state quarterfinals last year, are finding their footing after the graduation of 6A pitcher of the year Ashley Davis.
"We're getting better every game, even in our losses," Kostel said. "The kids are believing collectively as a team. With the caliber Tualatin is, it just shows you that you can play with any team in the state. That's a big nod to Tualatin in that sense."