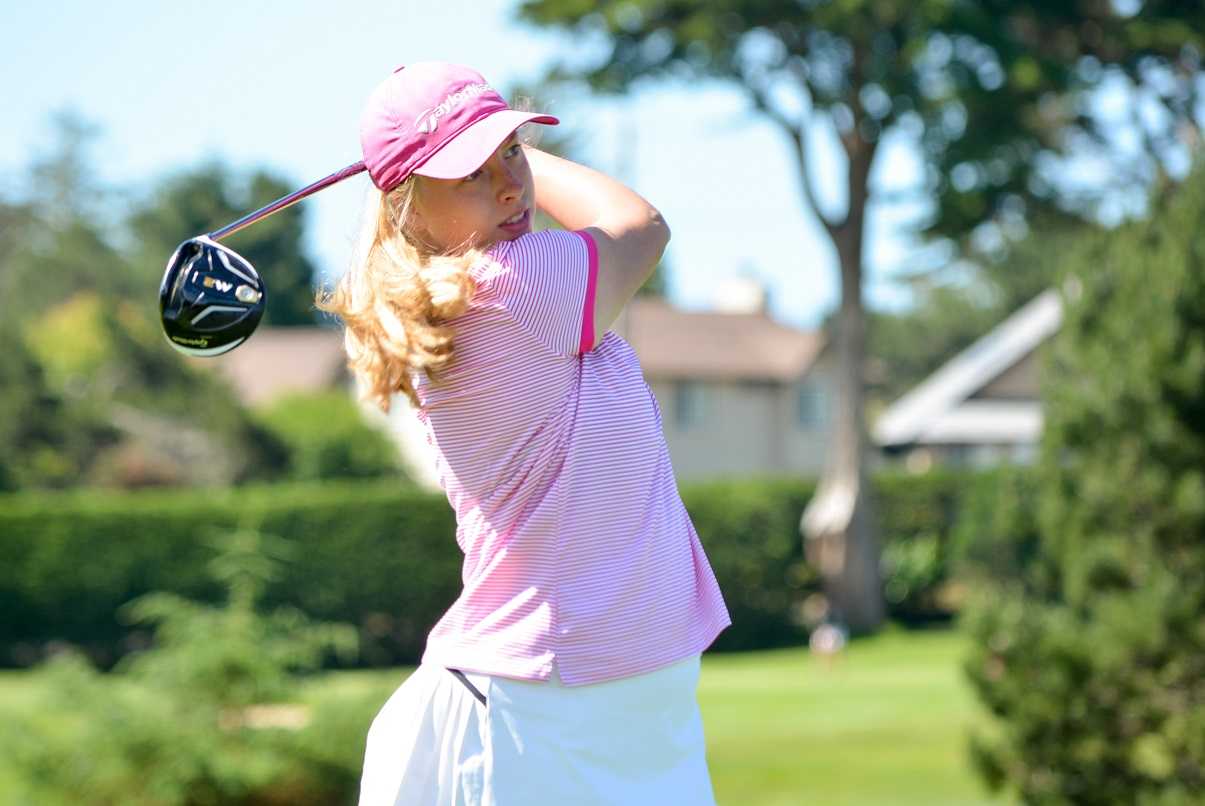 After shooting a club-record 66 at Tetherow Golf Club as an eighth-grader, Olivia Loberg looked like a surefire high school state contender when she joined the team at Summit in 2016.
She has delivered on that promise in a big way, not only winning 5A titles as a sophomore and junior, but capturing the Oregon Junior Amateur championship last summer.
This season, Loberg gets a chance to add something new to her resume before moving on to a college career at Eastern Michigan. With Summit climbing to 6A, Loberg will get a crack at the big-school state title.
"It's definitely going to be a little more challenging than last year," Loberg said. "I've been hitting extra shots in practice and getting focused on better competition. I could be the first 6A champion at Summit, so I look forward to that. That would be really nice if I won that."
Snow and her commitment to basketball limited Loberg's time on the course during the winter, but she is slowly warming up.
Outside of an ugly 89 in a Greater Valley Conference match at a soggy, overgrown McNary Golf Club in Keizer, she has been on-point in her other three matches. She won with a 72 at Crooked River Ranch and has placed second twice with 73s at Eagle Crest and Eugene Country Club.
More impressive, she shot 73 to finish third against a field of the state's top women amateurs in the OGA Tournament of Champions at Gearhart Golf Links last weekend.
"I think I've definitely gotten back into the groove," Loberg said.
Loberg grew up in Michigan and moved to Oregon in the fifth grade. She got the golfing bug from her father Erik, nearly a scratch golfer, and her brother Jack, who finished in the top 10 at the 5A tournament three times, helping Summit win team titles in 2015 and 2016.
The 5-foot-7 Loberg – a three-time all-league pick as a shooting guard in basketball – shows her athleticism off the tee.
"She's got a 100-mile-an-hour swing, so she's getting it out there pretty good. She can wallop it," Summit coach Nate Kitt said. "The courses we play in high school golf typically are a little bit shorter than other competitive events she plays in, so she's able to capitalize on that length a little bit more."
Her short game continues to evolve, as evidenced by two chip-ins during a team competition at practice Tuesday. And she is making steady progress on the greens.
"I feel like I'm definitely doing better in putting," Loberg said. "Last year, not very good, but I've definitely been working on that in practice, hitting extra putts."
Perhaps the biggest component in her success, though, is her demeanor.
"There's a spooky calmness about her. She's just unfazed at everything," Kitt said. "As a growing golfer, that's what made her improve so fast and be able to shoot those lights-out numbers at a young age. She never got down on herself. She also never really had the adrenaline highs."
Loberg doesn't get caught up in her success, but winning the Oregon Junior Amateur at Astoria Golf & Country Club has helped propel her to a new level mentally.
"It meant a lot," she said. "There was some good competition in OGA, and I've always wanted to win a major like that. It felt really good to finally do that. It definitely boosted my confidence even more."
For years, Loberg has let her game do the talking, but now "she is kind of breaking out of her shell," according to Kitt. As she closes out her high school career, she is seeking out challenges.
"She's hungry. She's ready," Kitt said. "She wants to take on the bigger fish."