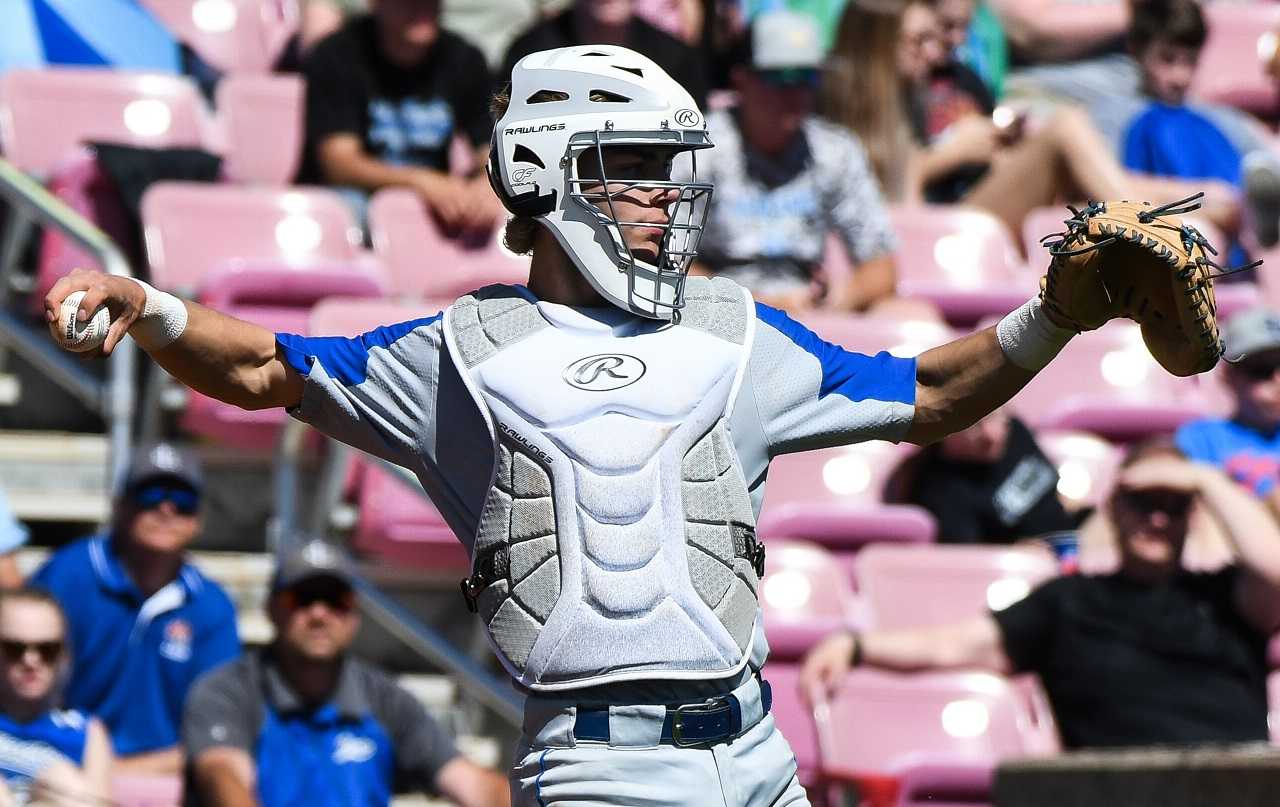 One of the state's top baseball prospects is likely to be out until May while working his way back from surgery.
La Grande junior catcher Logan Paustian, who has committed to Nebraska, underwent surgery to repair a torn labrum in his right shoulder in the fall. He is scheduled to begin baseball activities in a couple weeks, according to La Grande coach Parker McKinley.
"We're right on track, maybe just a little ahead of schedule," McKinley said. "We'll see what the next month or so brings."
The switch-hitting Paustian will hit right-handed as he prepares to return to the batting lineup. His return to catching duties will take longer, possibly until the end of May or even the summer, the coach said.
"We want to make sure he's doing it the right way. He has a pretty bright future, so we don't want to do anything to jeopardize that," McKinley said.
Paustian took over as the starting catcher as a freshman and did not allow a passed ball all season as La Grande won the 4A title. He helped lead the Tigers to a runner-up finish last year, batting .353 with 28 RBIs in 25 games.
The 6-foot-2, 190-pound Paustian committed to Nebraska during the winter of his freshman year after developing a strong connection with Cornhuskers coach Darin Erstad.
"He's had a lot of interest from different places," McKinley said. "He committed early and he hasn't really wavered since. There's a lot of integrity there, and a lot of commitment."
Paustian is widely regarded as an outstanding defensive catcher.
"He's a top kid behind the plate for his age, and he has been for a long time," McKinley said. "He just keeps getting smoother and smoother. He's just a fantastic teammate. He really is the whole package."
Paustian has trained with former Oregon City standout catcher Scott Ackerman with Bat Company and has worked out with former Westview star Carson Kelly, now a catcher with the Arizona Diamondbacks. He also has made a connection with Oregon State switch-hitting catcher Adley Rutschman.
"He's got a lot of support," McKinley said.
Paustian has grown about two inches from last year and is pushing toward the height of his father, Jon, a former basketball player who stands 6-5. As he grows, he is showing more pop in his bat last summer.
"He is starting to push triple digits on exit velocity with his swing," McKinley said. "He's a special kid, there's no doubt about that. Just the intrinsic drive that he has, it really is unmatched."
La Grande, tied for third in the OSAAtoday 4A coaches poll, is off to a 2-1 start.