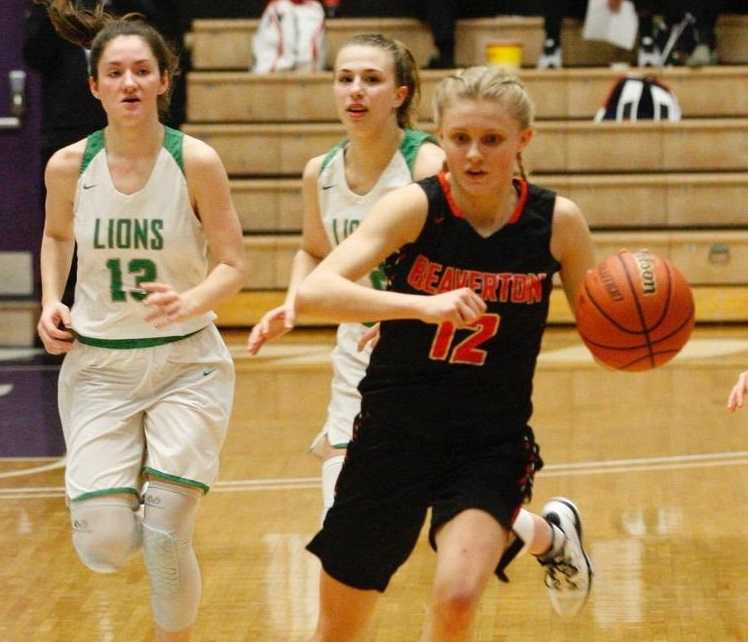 PORTLAND -- Up until Thursday afternoon, it hadn't been the best week for Beaverton juniors Mary Kay Naro and Laura Erikstrup.
Naro has been fighting the effects of pneumonia. Erikstrup came down with bronchitis early in the week.
But no amount of medication could make them feel any better than what happened Thursday at the Chiles Center, where both played key roles in Beaverton's 50-42 win over West Linn in the quarterfinals of the OSAA / OnPoint Community Credit Union 6A girls basketball tournament.
"We can't let sickness or anything affect us," Erikstrup said. "Teams are tired, and not everyone's feeling well, but who cares? So many teams would give their left arm to have this opportunity. We've got to take advantage of it."
Naro, a 5-foot-11 guard, finished with 13 points, all in the second half. The 6-2 Erikstrup had 13 points and 12 rebounds, and her twin sister, Sydney, chipped in with 10 points and nine rebounds as the No. 5 seed Beavers (18-10) advanced to the semifinals for the second year in a row by knocking out the fourth-seeded Lions (20-7).
The Beavers will take on Metro League rival Southridge in the final four Friday night. They lost league games to the Skyhawks by 17 and 20 points.
"I'm excited to play them again, really excited for the opportunity," Beaverton coach Kathy Naro said. "I think we're peaking at the right time. We've got some kids pretty sick, but hopefully we can get some rest tonight and be ready to go tomorrow."
The Beavers know what they're facing against two-time reigning champion Southridge.
"I feel like the biggest thing is just making sure we're playing together as a team, doing the little things," Laura Erikstrup said. "Our inside-outside game has got to be on point. It's going to come down to who wants it more. We're burning for it. We want it really bad."
In last year's semifinals, Beaverton was seconds away from making the championship game but lost to Benson by one point on a buzzer-beater. Now the Beavers have another chance.
"We were so disappointed last time we lost, we just were like, 'We've got to get back here,'" Mary Kay Naro said. "During the game, we were like, 'Remember how it felt. We've got this. We don't want it to happen again.'"
Added Kathy Naro: "I still haven't recovered from that game last year."
When Beaverton played West Linn in December, the Beavers made 14 three-pointers and rolled to a 63-48 win. This time, the Beavers would have to dig deeper.
The teams went back and forth through three quarters until Beaverton took the lead for good early in the fourth quarter. Junior guard Jordyn Reverman scored inside and hit a three-pointer to put the Beavers up 39-35 with 5:07 left.
That's when Beaverton pulled the ball out to half-court to stretch the defense, then blew past the Lions to the hoop. The Beavers scored on drives by Naro, Sydney Erikstrup and Naro again to keep a 45-40 lead with 58 seconds to go.
"We do it in practice every single day, and it just prepared us," Mary Kay Naro said. "My mom always says, 'We're doing situations. We're doing it because we need to be ready for the big game.'"
It was the kind of execution that makes a coach proud.
"We showed a lot of poise and growth," Kathy Naro said. "I don't know a couple months ago if we would have. So that's where I think we're getting better, and we're learning from our mistakes."
Laura Erikstrup added two free throws to make it 47-40 with 40 seconds left, and West Linn ran out of time.
The loss stung the Lions, who also were bidding for a return to the semifinals. West Linn got 19 points from sophomore guard Audrey Roden, who made four three-pointers, but got only four points from 6-4 sophomore post Aaronette Vonleh, well off her 18.5 average.
The Beavers bracketed Vonleh inside and rushed from everywhere to help on entry passes. As a result, Vonleh got only four field-goal attempts, making two.
"The big thing was not backing down," Laura Erikstrup said of guarding Vonleh. "She's a phenomenal post, but today it comes down to who wants it more. I feel like we executed really well. We had each other's backs."
West Linn coach Brooke Cates credited the Beavers for their defense.
"They had a really good game plan to put two and three on her most of the game," Cates said. "When she'd catch it, so many were just swarming. That's something we can improve on."
The play of Roden was a bright spot for West Linn, which starts four sophomores and one junior.
"She's a gamer. She shows up for big games," Cates said. "She really wanted it. You could tell."