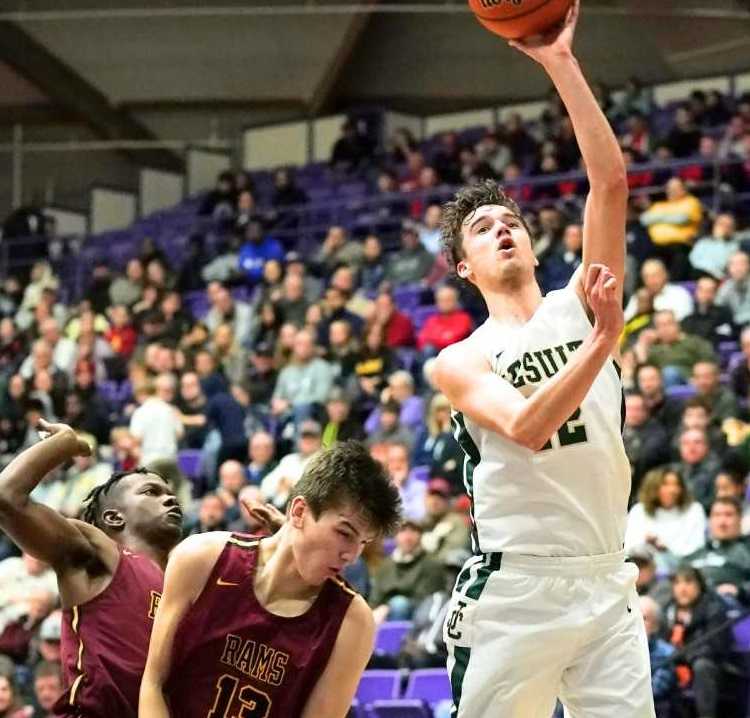 PORTLAND -- Not often do you see rivalry games take place in the final eight of a state tournament.
But on Wednesday afternoon, a second rendition of the Holy War took place in the quarterfinals of the OSAA/ OnPoint Community Credit Union 6A boys basketball tournament.
With fans in Jesuit green and Central Catholic cardinal chanting at each other from opposite sides above the court, the stage was set for an exciting matchup between two of the top teams in the state.
Early on the game lived up to the hype, but a strong second-half surge helped No. 4 seed Jesuit (20-6) pull away for a comfortable 64-38 win over No. 5 seed Central Catholic (21-5).
"Over the years, Central's been our rivals. Everyone knows that. Jesuit-Central. Holy War," Jesuit junior Matthew Levis said. "Coming into this game, I've had people come up to me at school, I've had teachers come up to me, people outside of my school come up to me and say, 'Hey man. this is a huge game for you. If you guys play well you can take it the whole way,' and I took that to heart.
"Our coaches came in and reiterated that. They said if we played together, love each other, and do whatever we need to win this game, no one can stop us."
And that sentiment was evidenced by the way the Crusaders fought on the court. Every loose ball and rebound was theirs. The players wanted it just as much as the fans above them did, and it showed.
Jesuit senior Will Sheaffer led all scorers with 20 points, with 16 coming in the first half. When the game was going back and forth early on, it was Sheaffer who helped the Crusaders stay afloat.
"We've just got to do whatever we've got to do to win," he said. "It doesn't matter whether it's scoring a few buckets or getting some stops on defense. I don't normally score, but I did whatever I had to do to win."
Jesuit coach Gene Potter said of Sheaffer: "He really stepped up. He was second-team all-league for a reason. People recognize what he does for our team and maybe what he could have done had he not been with two prolific scorers."
The Rams looked dominant early, using their length and athleticism to stay a step ahead of the Crusaders. However, an 8-2 run near the beginning of the second quarter saw the Crusaders wrestle control of the game away from the Rams. Despite the positive quarter, they still found themselves down one at the break. But that's where they wanted to be.
The Crusaders started the third quarter on an 8-0 run and took a double-digit lead that they would not relinquish. Soon those cheers of joy among the Central Catholic faithful turned into blank looks of consternation.
Jesuit outscored Central Catholic 40-15 in the second half.
"When we do focus, that's what we can do," Levis said. "I'm so proud of everyone out there because I know everyone focused."
Central Catholic junior SataieVior Ayilola and sophomore Darius Gakwasi finished with 12 points apiece.
With their win, the Crusaders will face Lake Oswego, which defeated Oregon City in the previous game. The Crusaders and Lakers split two games this season.
"They have good players all over the floor," Potter said. "They've got size. They've got athleticism. We have to play it possession by possession, try to limit easy looks for them and then make them defend us, and get looks that we need to get to give ourselves the best chance."
Added Sheaffer: "There are no secrets out there, everybody knows everybody. We're gonna have the matchups locked in, and we're going to know what they're going to do, and they're going to know what we're going to do. We just have to play better basketball than they do."