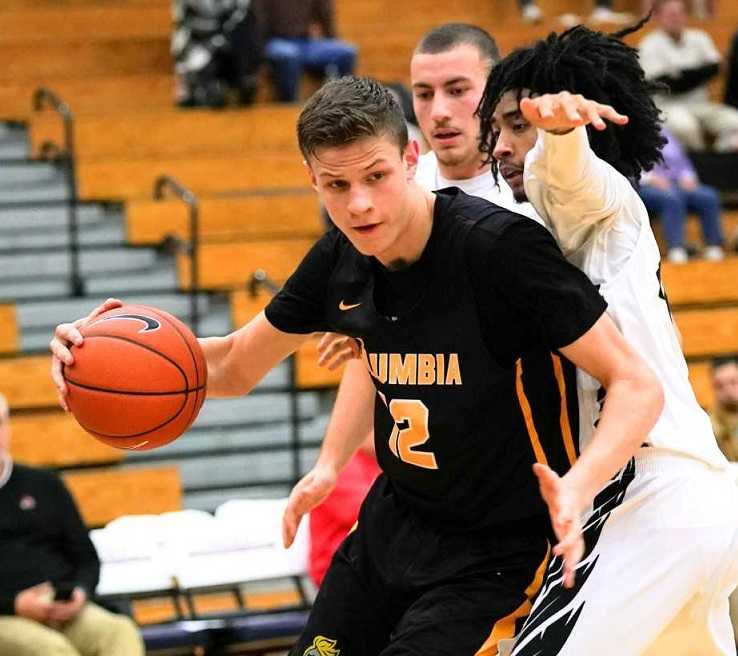 Expectations for Columbia Christian's boys basketball team were sky high entering the season.
Up to this point, the reigning 2A champion Knights have delivered.
"So far I feel like we've played pretty close to our potential," coach Bart Valentine said. "We've continued to get better throughout the year. We're where we want to be, but there's a lot of work to do."
After an impressive showing at the Les Schwab Invitational – where they knocked off then-6A No. 1 Barlow and 6A Southridge – the Knights have been taking care of business at their own level.
Columbia Christian (21-2, 14-0) put the final touches on a third consecutive 2A Northwest League title Saturday with a 75-55 home win over second-place Knappa. Ben Gregg, the team's standout 6-foot-8 sophomore guard, had 26 points and 18 rebounds to lead four scorers in double figures.
The way things are shaking out, it's not hard to imagine the top-ranked Knights and No. 2 Western Christian (23-1) meeting in the 2A final for the second year in a row. Both teams return their top four players from last year, when Columbia Christian won 65-61 in the championship game, and they have been tracking each other all season.
"It's not going to be an easy one if we face them," Valentine said.
It's no secret that the Knights have a collection of young talent not seen outside of 6A Jefferson. They start three sophomores that Valentine believes have Division I futures in Gregg, 6-3 guard Elijah Munyan and 6-10 post Moritz Hartwich.
Gregg, a first-team all-state pick as a freshman, is averaging 24 points, 15 rebounds, five assists and two blocks. He has had three triple-doubles, including a 36-point, 15-rebound, 11-assist performance against Southridge.
"He's so much more physically stronger and more confident," Valentine said of Gregg's progress this season. "His game is more well-rounded, although it was pretty good last year. He's confident to knock it down from the outside, and he's a great passer. He's developed a ton."
The versatile Gregg has point-guard skills, often attacking the length of the court after grabbing a defensive rebound. Valentine said that Gregg is "unquestionably" the best player he has coached in his career, which dates to 1984.
"He's the real deal. His game is so complete," Valentine said. "His basketball IQ is in the top few percent. He knows the game."
Gregg, who is projected to grow to 6-10, already has offers from Oregon, Oregon State, California, Texas, Pepperdine and Washington State. Valentine said he hears from Gonzaga every day, which is significant considering Gregg's family is from Spokane.
Munyan, who is averaging 13.5 points and 6.0 rebounds, also is drawing Division I interest, according to Valentine.
"He's one of the best athletes in the state," Valentine said. "He's really active, can jump and run and block shots. He's a really good defender. He shoots the three, attacks the basket well, handles the ball. He's 6-3 and growing, and as athletic as he is, it puts him in a different class than most kids."
The emergence of Hartwich, primarily a JV player as a freshman, brings a new dimension to the Knights. He has replaced the only graduated starter from last season in Ethan Bishop.
"He was pretty raw. He's coming along now," Valentine said of Hartwich, who is averaging 3.5 blocks per game. "He's getting quite a bit physically stronger and he's finishing around the basket much better. He's got the length and he changes shots."
Columbia Christian's other two returning starters are senior point guard Dominic Blake (11.0 points, 6.0 assists) and junior guard Isiah Mariscal (13.0 points).
The Knights have two games remaining before starting the playoffs. They currently hold the top seed in the OSAA rankings, with Western Christian and Toledo close behind in second and third, respectively.