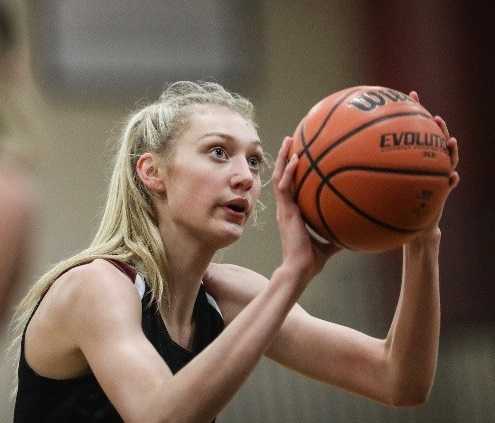 BEAVERTON -- The Beaverton Beavers had the Southridge Skyhawks right where they wanted them in a 6A Metro League girls basketball game Tuesday night.
Up by a point midway through the third quarter, the visiting Beavers (10-9, 4-2) had life against the top-ranked Skyhawks. However, No. 6 Beaverton scored just two points the remainder of the game as Southridge (15-3, 6-0) pulled away for a 43-26 win.
"We did some good things," Beaverton coach Kathy Naro said. "I thought we had a game plan that we did execute, but we had a hard time scoring. There were opportunities to be had that I didn't think we took advantage of."
The Skyhawks were without junior point guard McKelle Meek, who is dealing with what is believed to be a concussion.
However, what the Skyhawks might have been missing due to the absence of their starting guard, junior Cameron Brink more than made up for. Brink scored the Skyhawks first 10 points of the night and finished with a game-high 20 points.
"I just went into the game knowing that I wanted to be aggressive," Brink said about her hot start. "Without McKelle, we were going to need to make up for scoring somehow."
Naro said of Brink: "She's a phenomenal player, and I think you can plan things, but you take something away and she's going to take advantage in a different way."
And despite the Skyhawks' hot start, the Beavers found themselves down only nine points going into the break -- a deficit that they would make up in a blink of an eye.
In the opening four minutes of the second half, Beaverton went on a 10-0 run, capped off by a Sydney Erikstrup three-pointer, which gave the Beavers their only lead of the night at 24-23.
The run was preceded by a halftime talk in which Naro told her team that despite their poor finishing, they were just a couple of baskets from getting right back into the game.
"You have to make plays to stay in that game," she said. "You miss those chances, and then they go down and have the players that they have. They took advantage of things, and I feel like we didn't."
After taking the lead, Beaverton's offense dried up, going scoreless until just under six minutes remained in the fourth quarter. By that time it was too late to stage another comeback with the Skyhawks up double-digits and growing in confidence.
"I think it shows that when we are really focused, our defense is lock-down," Brink said.
The Skyhawks needed their defense to carry them early on as they were unable to convert on many of the open three-point looks it got. In fact, after Brink hit a three in the first minute of the game, the Skyhawks did not cash in from behind the arc again for a quarter-and-a-half.
"I was proud of Kaylen (Blair) and Kyla (Vinson) for continuing to shoot because it's awkward when they leave you wide open, but they are good shooters so they were gonna hit them eventually," Southridge coach Michael Bergmann said.
And despite Beaverton focusing on taking Brink away down low, she was still able to tip out the three-point misses and help the Skyhawks maintain possession and gain second-chances.
"We just O-board," Brink said. "If (shots) are not falling, we tell them to keep shooting, because eventually they're going to fall. It wasn't our best shooting night, but we hit them when we needed to."
Next up the Beavers will take on the Mountainside Mavericks (12-6, 3-3) Friday night.
"We've got to respond," Naro said. "It's not a time to fragment or panic, it's a time to re-evaluate, get better, and show who we are."
The Skyhawks play Friday at No. 4 Jesuit, where they will look to defeat the Crusaders (15-3, 5-1) for the second time this season.