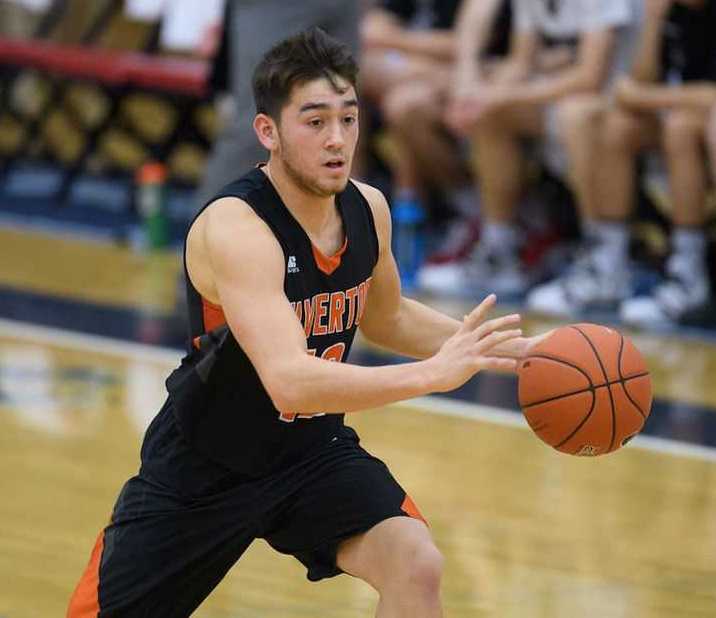 Opponents need to keep their heads on a swivel against Silverton's boys basketball team.
The Foxes, with five players averaging double figures in points, are coming at defenses from every direction.
"I feel we've got five or six guys that can score 20 or 25 a night," coach Jamie McCarty said. "Some years that would be hard to coach, but this group seems pretty unselfish. They're making great decisions, playing as a team."
Silverton (15-2, 8-1 Mid-Willamette Conference), ranked fourth in the OSAAtoday 5A coaches poll, is averaging 72.2 points per game. The Foxes haven't skipped a beat from last year's conference title team despite graduating the Mid-Willamette player of the year in Cade Roth.
"We all knew what we had to fill," McCarty said. "I think every player has stepped up and done the things it takes to fill the player of the year's shoes. I really feel like we've got two or three players of the year this year. It's nice to kind of reload and have some kids in the waiting."
Junior point guard David Gonzales, first-team all-conference as a sophomore, is averaging 18.1 points and 3.5 assists. Levi Nielsen (14.3 points, 13.8 rebounds), a 6-4 senior who was the quarterback on the football team, has been a force inside.
Senior guard Jonah Downey – a transfer from 2A Santiam, where he won a state title and was the Tri-River Conference player of the year as a junior – is contributing 11.4 points and 3.8 assists.
Grant Dunn, a 6-5 junior, is the team's best deep threat, hitting 38.8 percent from three-point range and averaging 10.2 points. And 6-4 senior Josiah Roth (10.3 points, 6.6 rebounds) provides another inside presence.
It has become a lethal mix. The speed of the guards, Gonzales and Downey, creates issues for opponents, as does the elite athleticism of Nielsen. Silverton is shooting 48.2 percent from the field, including 34.1 percent on three-pointers, making 8.4 triples per game.
"We get up the court really well and we shoot it really well," McCarty said. "We're attacking the rim better than we did last year, and we're shooting a lot more free throws. I feel like we're in attack mode a lot of the game, so we put a lot of pressure on teams. We're not messing around."
The Foxes fell to Pacifica Christian (Calif.) 76-66 on Dec. 21, but their only loss to an Oregon team came Jan. 11, when they dropped an 87-81 overtime decision at Corvallis.
In the loss to the Spartans, the Foxes gave up 62 points after halftime and were unable to hold a four-point lead with 14 seconds left in regulation. They wasted a big game by Gonzales, who hit six three-pointers and scored 35 points.
"That was one of the weirdest games we've played," McCarty said. "It was an awful second half. But we learned a lot from it. I think from that game on, we've been lights out."
McCarty believes that the loss might have come at an opportune time. Last year, Silverton took a 23-1 record and 17-game winning streak into the 5A tournament and lost to Churchill 53-51 in the quarterfinals.
"I just felt weird going in, like it wasn't good for us," McCarty said of last year. "I really feel like this year, that Corvallis loss taught us more about us. … We're going to look back at that and say it was a game-changer for us."
Silverton has won three in a row since that defeat, scoring a season high in a 92-49 win over West Albany on Friday. The Foxes shot 61 percent to hand the Bulldogs their second loss in eight games.
The highest-ranked team Silverton has faced is No. 8 South Albany, a team it defeated 80-61 at home on Dec. 18. The Foxes have not met any of the 5A powers.
"It would be nice to kind of measure ourselves," McCarty said. "We can't wait to have that game."
Silverton is in first place in the Mid-Willamette, one game ahead of South Albany (14-2, 7-2) and Corvallis (8-7, 7-2). The Foxes visit South Albany on Friday.