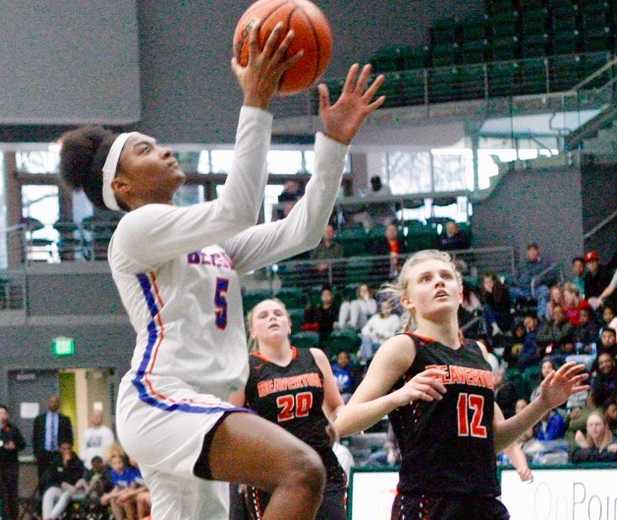 PORTLAND -- It's been almost a year since Benson's Tayler Lyday made that fateful, coast-to-coast trip up the Chiles Center hardwood for a buzzer-beating layup that knocked Beaverton out of the 6A girls basketball semifinals.
The teams finally met again Monday in the MLK Holiday Classic at Portland State's Viking Pavilion, and the No. 2 Techsters still felt as if they had something to prove against the No. 3 Beavers.
"We always hear through the grapevine that people think we only beat them because of a lucky shot, that they had their hands down, they weren't trying to foul, and all that," Benson senior guard Ciera Ellington said.
So when the Techsters once again prevailed over Beaverton – this time 39-36 in a wire-to-wire, back-and-forth struggle -- they felt a certain vindication.
"I think us beating them again, it just shows we're good enough to beat a top team in the state, and we're a top team, too," Ellington said. "We just want to prove to everybody that we're good enough."
Again it was Lyday doing the damage for Benson (12-4). The 6-foot-1 senior guard had game highs of 19 points, 12 rebounds and three steals and made the difference down stretch, scoring seven of her team's nine fourth-quarter points. Ellington added 12 points, 11 rebounds and four assists.
"Beaverton and us have a strange history because of that shot last year," Benson coach Eric Knox said. "So we knew they were coming for us, and we were trying to be prepared for that."
Neither team led by more than three points until Lyday scored back-to-back baskets for a 34-30 lead with 5:15 to play. Beaverton junior post Laura Erikstrup answered with two baskets to make it 34-34 with 2:34 left.
Lyday scored off an assist from Ellington, following a steal by senior guard Makenzy Porter, to put Benson up 36-34. Ellington scored inside for a 38-34 lead with 1:04 remaining.
Beavers junior Sydney Erikstrup converted from close range to make it 38-36 with 42 seconds to go, and after Beaverton committed four consecutive fouls to reach the penalty, Lyday went to the line for a one-and-one free throw opportunity with 17 seconds left.
She made the first free throw, but missed the second, and Beaverton called timeout to set up for a three-point shot. The best the Beavers could do was a rushed bomb from the left wing by sophomore Alexa Borter that sailed past the rim as time expired.
"It means a lot. This is definitely, hopefully going to move us up in the rankings," said Lyday, whose team moved to fourth in the OSAA 6A power rankings, vaulting one spot ahead of Beaverton. "We definitely proved that we're the better team. Us being ranked lower, it gave us a lot of firepower."
It was the first loss to an Oregon team this season for the Beavers (9-7), who got 13 points, 10 rebounds and three blocked shots from Sydney Erikstrup and eight points and four assists from junior guard Mary Kay Naro.
"We had looks, we just didn't make them," Beaverton coach Kathy Naro said. "And I thought they finished a couple plays inside, nice strong finishes."
Benson won last year's semifinal 54-53. This time, the Techsters – averaging 63.9 points per game, second in 6A behind South Medford (70.8) – showed that they can win at an even slower pace.
"I reject the stigma oftentimes that black girls are long, athletic, fast and quick, not disciplined," Knox said. "We're disciplined. They can play the right way. They're coached the right way. And they know how to play the game a lot of different ways.
"Yeah, we play up-tempo, but we can slow it down and make it a slugfest. We're not afraid of it."
Both teams struggled to shoot. Beaverton shot 34.0 percent, including 2 of 18 from three-point range. Benson shot 30.6 percent, hitting 1 of 13 from behind the arc.
"We obviously decided to zone and change up a little bit, see if we could make them take some outside shots," Kathy Naro aid. "But I thought it was going to be a little more high scoring.
"But I thought it was really cool. I think both teams really tried to value the ball, and get good shots. … And both teams played good defense."
Benson has won seven in a row since falling to No. 1 Southridge 55-50 in a bracket final of the POA Holiday Classic. The Techsters didn't feel as if they played their best Monday, according to Ellington, which made the result even more encouraging.
"We just still believe that we can beat Southridge," Ellington said. "And this just tells us even more that if we play our game … we can beat anybody."
Added Knox: "I told my kids, 'If all you have is 12 cents to deposit in the bank account, and the teller looks at you funny, you deposit it, right?' Today, that was 12 cents, and we deposited that win in our account."