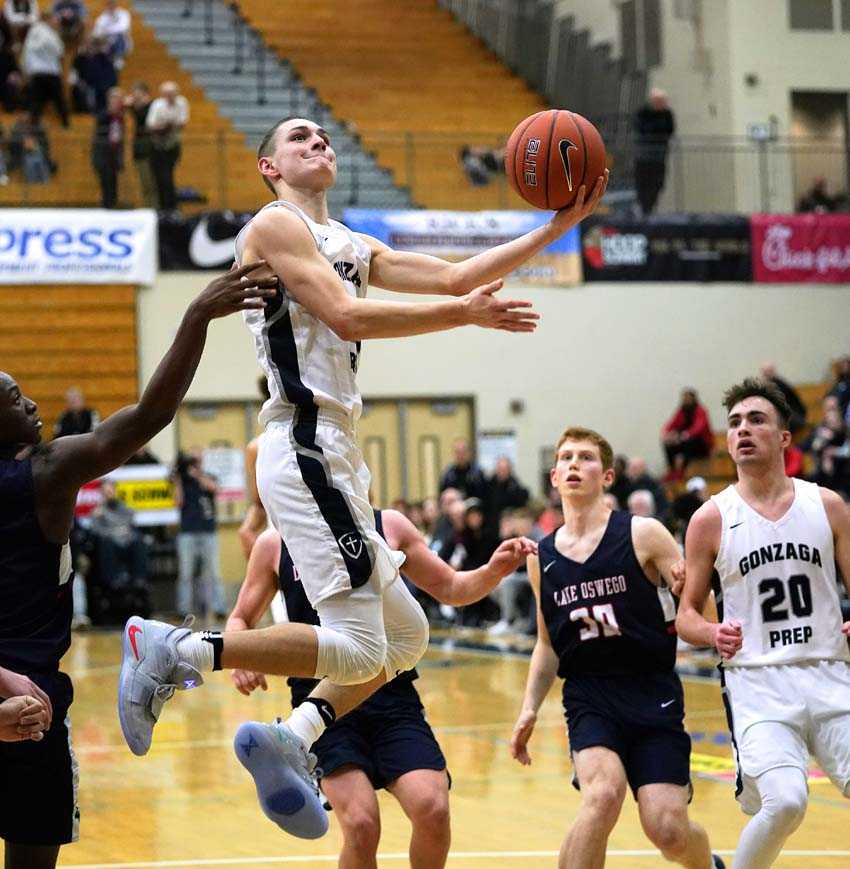 Gonzaga Prep went on 8-2 runs to start both the third and fourth quarters in the Bullpups' 57-45 win over Lake Oswego in a quarterfinal game at the Les Schwab Invitational played Thursday afternoon at Liberty High School in Hillsboro.
Gonzaga University recruit Anton Watson, who had a quiet first half after picking up two first-quarter fouls, scored six points early in the third for the defending Washington 4A state champions to break open what was a 27-all tie at the half with Lake Oswego, the third-ranked Oregon 6A team in the most recent OSAAtoday Coaches Poll. Consecutive lay ins from junior Liam Lloyd extended the advantage to 41-32 before a Casey Graver 3-ball and four late points from Josh Angle cut the Gonzaga Prep advantage to just 43-39 heading into the fourth quarter.
But any momentum Lake Oswego established to finish the third evaporated when the Lakers (6-2) failed to score in the first six minutes of the fourth. The Lakers were done in by 17 turnovers in the contest against just three steals and only seven assists.
"I thought we gave up a lot of unforced turnovers," said Laker head coach Marshall Cho. "You can't do that against a good, disciplined team. We dug ourselves a little hole -- 6-8 points in that third quarter – and then we're having to play catch-up against a disciplined team that wants to have minute-long possessions."
Lake Oswego had the better of the play for long stretches of the first half. Angle, who scored 13 of his game-high 21 points in the first two quarters, sparked the Lakers to an 18-11 advantage early in the second quarter. Gonzaga Prep (8-1) used two triples from Lloyd and an inspired effort off the bench from freshman Jayden Stevens to fight back into the game and tie things up at the break.
Watson scored eight of his team-high 15 points in the second half for the Bullpups. Lloyd, who finished with 12, was the only other player in double figures.
Junior Sam Abere supported Angle's big night with eight points, four rebounds and three assists for LO, whose talented sophomore point guard, Wayne McKinney, suffered through a difficult game.
"We've got a lot of young guys still trying to figure things out on this stage," said Cho. "I was reminding our guys that we're still in the second quarter of our season. The football guys are still figuring things out. I've got a young point guard who we're trying to give a lot of responsibilities. He's done a great job and is coachable but in a game like this, with a defending state champion, you see where the bar is set and grow from it."