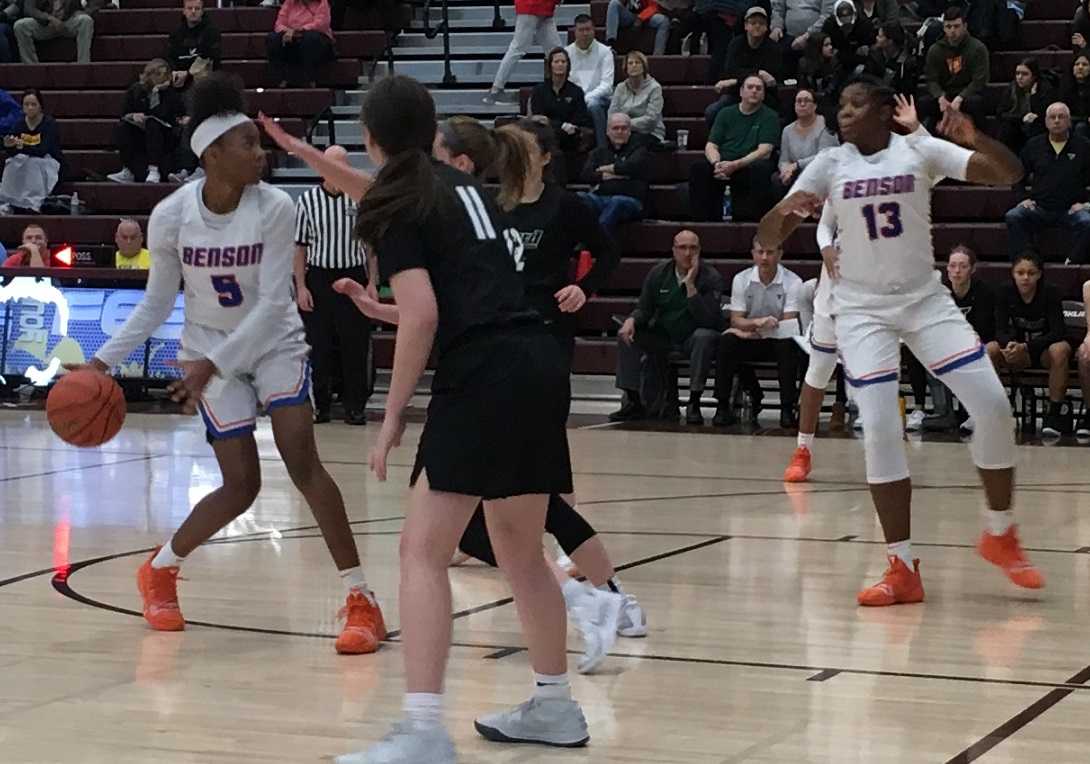 PORTLAND -- Benson's girls basketball team is at its best when it flies up and down the court.
So the Techsters expected to be uncomfortable Thursday when they faced Tigard in the opening round of the Pacific Office Automation Holiday Classic at Franklin High School.
"We went through weeks of practice to be prepared for them," Benson senior guard Tayler Lyday said. "That type of tempo kind of brings us a little dysfunction because we're not used to it."
The Techsters (4-3), ranked third in the OSAAtoday 6A coaches poll, showed that they can adjust to the slower pace with a wire-to-wire 52-44 win over the No. 1 Tigers (7-2). They will play either Garfield of Seattle or McMinnville in the semifinals of the eight-team Diamond bracket at 3:30 p.m. Friday.
Benson scored the first seven points and kept Tigard at bay the rest of the game. It was similar to when the Techsters faced the Tigers in the 6A quarterfinals last season and gutted out a 32-28 win.
The 6-foot-1 Lyday scored 20 points, 6-0 senior guard Ciera Ellington added 17 points and Benson used its length and athleticism to make every pass and shot difficult for Tigard, holding standout senior guard Campbell Gray to eight points.
"We kind of knew what it was coming into it," Ellington said. "We knew we really had to cover Campbell Gray, because if you let her get off, she can go for 20. We just need to play our defense. That's our bread and butter. That's what we do."
Benson led 37-27 early in the fourth quarter when Tigard made a final charge, pulling to within 41-40 on a three-pointer by junior Delaney Leavitt with 3:20 left.
"In the second half, we realized we could attack them a little bit and do some things," Tigard coach Steve Naylor said. "In the first half, we just didn't have that in our mindset. We were so on our heels, and you can't do that against Benson. The more you get on your heels, the more they're going to put pressure on you."
The rally fell short, however. Lyday scored off a feed from Ellington to make it 43-40, and the Tigers failed to score on their next two possessions as Gray was called for an offensive foul and missed a layup. The offensive foul seemed to break their momentum.
"That could have gone either way," Naylor said. "If we score there, we're down one at that point, and that's a game-changer. That was it right there. But that's not the game. There were other plays we made ourselves that were bad that decided the game."
Benson got a three-point play from 6-2 senior post Imani Harris to extend the lead to 46-40 with 1:08 left, and went 6 for 6 from the line in the final minute – getting four free throws from senior guard Makenzy Porter -- to put it away.
Junior guard Kennedy Brown and Leavitt finished with 14 and 12 points, respectively, to lead Tigard.
It was Benson's first game since returning from Arizona, where it went 1-3 in the elite bracket of the Nike Tournament of Champions last week. The Techsters were "kind of sore and tired" Thursday, according to Ellington, but they felt good about their experience in Arizona.
"It showed us that we can compete on the national level," Ellington said. "In Oregon, a lot of people look down on us and think we're just athletes. But we went down there and we played girls who are just as athletic and have just as much talent, and we competed with them. It just showed us that we're more than athletic."
The Techsters played Thursday without explosive junior guard Bria Dixson, a transfer from Franklin. Dixson injured a finger on her shooting hand in the team's third game in Arizona and is likely to miss a few weeks, according to coach Eric Knox.
"If she would have played today, it would've been amazing," Lyday said of Dixson. "She adds such a different element because she's one of our best three-point shooters. That just spreads the floor for us. It takes us up three levels."
Benson has been building for this season since the team's seniors made an impact as freshmen. The Techsters have made giant strides each year – finishing as 6A runners-up last season – and have their sights set on the state title.
"I feel like we can actually do it this year," Ellington said. "We're a lot more mature now. We make the right decisions. We've got a new addition with Bria Dixson. I think if we just stay on this track, I think we can finally – finally – pull it off."