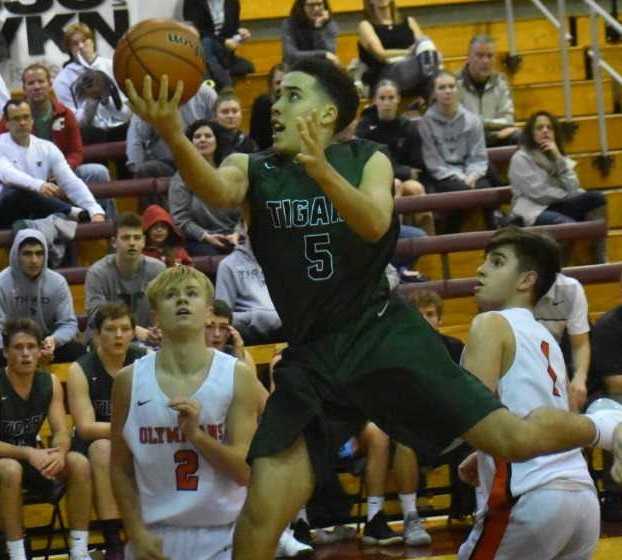 SALEM -- Determined not to start slow for the second consecutive game, Tigard dominated Sprague from the opening tip Thursday in the quarterfinals of the Capitol City Classic boys basketball tournament at Willamette University.
The Tigers (4-2) raced to a 14-point lead after one quarter and cruised to a 77-57 win over the Olympians (4-2), getting 35 points from 6-foot-4 senior wing Stevie Schlabach.
"It all comes off of last game," said Schlabach, referring to Tuesday's 58-54 first-round win over Cleveland. "Last game we came out flat, so we decided a change in practice and a change in mindset. Everyone came out to dominate from the beginning, and that's what we did."
Trailing 21-7, Sprague settled down and stayed within striking distance for much of the game behind Mason Lomax, Kobe Withers and Greyson Salinas. But Schlabach's 17-point third quarter kept Tigard in control.
"We did a really good job in the second half, coming back and getting into our offense," said Withers, who had 15 points. "We really didn't do that in the first half, but we really did well with that in the second half. We didn't come out strong. We needed to come out, work harder in warm-ups and get ready for the game so we're ready to go."
Sprague failed to capitalize on the few opportunities it had to cut the lead to single digits. Tigard extended the lead in the closing minutes.
"Our bench was really good in this game," Schlabach said. "Our players on the court, off the court, we just had more energy. We just kept it going and we didn't stop."
Drew Carter had 15 for the Tigers and Luke Ness added another eight in the win. Lomax had a team-high 18 points for Sprague and Salinas added another 12 for the Olympians.
Tigard will play in a semifinal at 7:30 p.m. Friday against Centennial (Calif.), which defeated Roosevelt 95-47 in a quarterfinal.