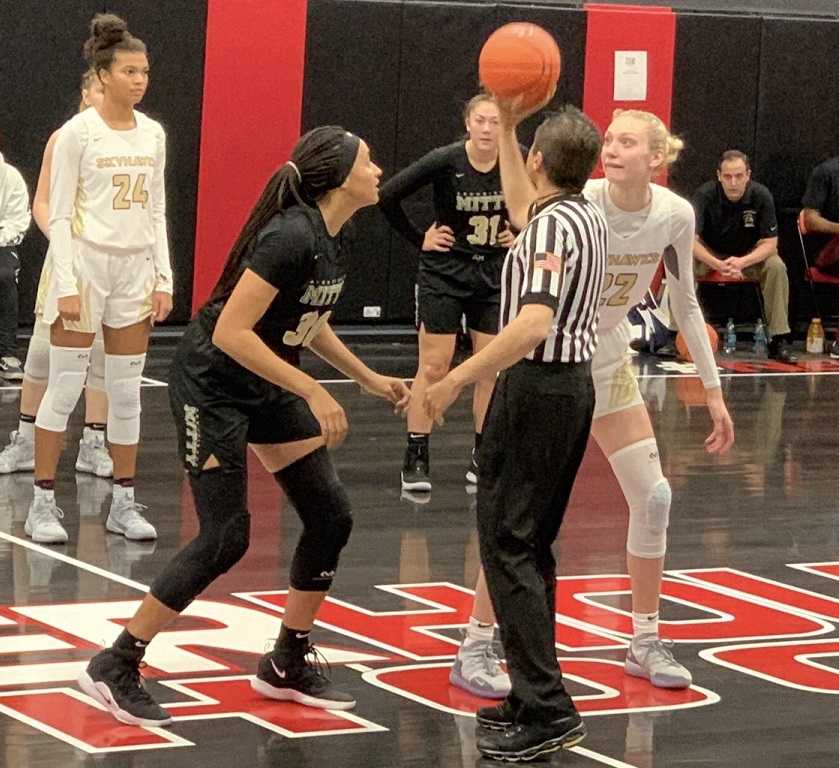 Southridge showed that it can hold its own against highly touted national powers in its first two games of the Nike Tournament of Champions girls basketball tournament in Phoenix.
The two-time reigning 6A champion Skyhawks got off to a roaring start Wednesday with a 56-50 overtime win over Archbishop Mitty of San Jose (Calif.), which is ranked No. 1 in the nation by USA Today. The Skyhawks followed up Thursday with a 48-45 loss to Christ the King (N.Y), ranked No. 2 by USA Today.
"I think we've grown up a little bit, which is good to see," said Southridge coach Michael Bergmann, whose team next plays Crestwood Prep of Toronto on Friday. "Some of our juniors are starting to get it figured out."
Wednesday's game featured two future Stanford players in Southridge junior Cameron Brink and Archbishop Mitty senior Haley Jones. ESPN rates the 6-foot-5 Brink as the No. 2 junior in the country and the 6-1 Jones as the top senior.
Jones scored 25 points and Brink had 13, but it was Skyhawks junior guard McKelle Meek who made the difference down the stretch. Meek scored seven of her team's 10 points in overtime, hitting a three-pointer and all four of her free throws.
Meek finished with three three-pointers and a team-high 17 points and junior guard Kaylen Blair added 16 points for Southridge (4-2), which settled down after an early bout of turnovers.
"It was a good, physical game," Bergmann said. "I think our girls really stepped up and matched their physicality. They pressed the whole game, and our girls made good adjustments to that as we were going.
"It's nice to have lots of girls step up and not just be a one- or two-person team. Our girls did a nice job of attacking their traps and their press and just sharing the ball, and not trying to do too much."
Sophomore guard Maya Hoff drew the primary defensive assignment on Jones, but Brink also guarded her at times.
"Last week, Cameron was like, 'I want to guard her.' I said, 'We'll see,'" Bergmann said. "We played our zone most of the time. There were times when Cameron matched up on her and did a good job. She's really improving her on-ball defense. She was in foul trouble, but she played smart overall."
In Thursday's quarterfinal against Christ the King, Southridge led by three points after three quarters and was ahead one point with less than two minutes to go but fell short.
Meek made four three-pointers and scored 18 points and Brink added 17 points for the Skyhawks, but it wasn't enough against the star-studded Royals.
Christ the King has two Division I-bound senior guards in Nina Rickards (Florida) and Kaelynn Satterfield (Ohio State) and one of the nation's top juniors in 6-4 Natalija Marshall.
"Our girls did a really good job of fighting," Bergmann said. "We definitely had a chance. They're really good, though."
Oregon has two teams in the elite Claire Droesch bracket at the tournament in Southridge and Benson, ranked third and second, respectively, in the OSAAtoday 6A coaches poll.
In its opener Wednesday, Benson lost 65-31 to St. John's College (D.C.), which is ranked No. 1 in the nation by ESPN and No. 5 by USA Today. The Techsters bounced back Thursday with a 48-46 win over Long Island Lutheran (N.Y.), ranked 19th by both ESPN and USA Today
Benson (3-1) meets Centennial (Nev.) on Friday.