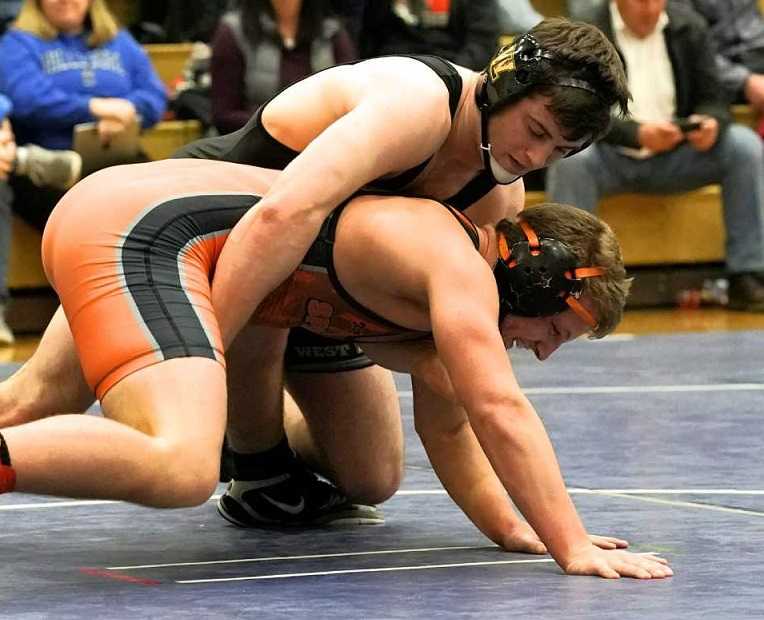 PORTLAND -- If accomplished college wrestlers can't knock off West Linn senior Sean Harman, what chance do high school wrestlers have against him?
Judging by the way the two-time state champion -- one month removed from winning a college-level tournament -- cut a path through the 170-pound bracket Friday and Saturday in the Rose City Championships at Westview High School, the answer is: very slim.
"He is on a different level, as you can see," West Linn coach Doug Samarron said.
Harman had four pins and a forfeit to reach Saturday night's final, where he rolled to a 10-2 decision over Sprague senior Landon Davis, last year's 6A runner-up at 170. In the process, he showed some of what he learned from going 5-0 in the Mike Clock Open at Pacific University last month.
"I feel like I'm a college wrestler on my feet, but not quite on the mat," said Harman, who has committed to Missouri. "That's why you saw me out there riding a lot more than I normally do. I've changed my strategy up a lot to try to ride guys because I know that's what I need to work on. So that's kind of the goal, just getting way better on the mat."
After winning 6A titles at 152 as a sophomore and 160 as a junior, Harman is an overwhelming favorite to do it again at 170. And he certainly isn't lacking for confidence after his performance at the Mike Clock Open, where he defeated All-Americans from Southern Oregon and Eastern Oregon, then beat Oregon State's top man at 165, Aaron Olmos, in the final.
"It was definitely really cool," Harman said. "Especially when I was younger, I'd always question how I'd do at the next level. That just kind of helped me understand that I can win at that level. I want to be the best at all levels. So I want to go and win national titles, and beyond that, a world title. That was a great little steppingstone for me to see what I can do and how close I am."
At the very least, Samarron knows that Harman will put in the necessary work.
"He's just one of those kids that loves wrestling, therefore, training and working hard and getting better, it's all fun," Samarron said. "There's no drudgery about it. He's one of those guys that wants to wrestle the best guys that he can find. He's been that way for several years."
Newberg had three champions and three runners-up to win the 34-team event, which included 12 teams from Washington. The Tigers scored 344 points to beat Sweet Home (245), Dallas (228), Sprague (228) and Tillamook (220.5).
Newberg has its sights set on ending Roseburg's five-year reign in the 6A tournament. The Tigers have won 11 state championships, but none since 2009.
"We're going to win it. That's what we're going to do this year," said Tigers senior Christopher Strange, who won the state title at 113 last year. "On our wall, we have pictures of every single team that ever won state. It would be really something for me, especially my senior year, to win it. I want to be part of the team that finally brought us back to where we belong."
In the 126-pound final Saturday, Strange came from behind to gut out a 4-2 decision over Hillsboro junior Tristin Keffer.
"He's a little bit funky for me. He's a bit like me," Strange said of Keffer. "You've just got to keep your cool, just wrestle, don't worry that you're behind."
Strange said he "feels a whole lot better" than last season because of the Tigers' depth of training partners. His partner from last season, state champion Cody Fettig, is gone, but he has more options.
"This year we're more stacked down there," Strange said. "Cody's a really good kid, but only one style. Now I've got four different styles, and it's helping me. I think I wrestle a bit more intense and strong."
Newberg's other champions Saturday were senior Oliver Myers (182) and junior Hunter James (195). After finishing as the 6A runner-up at 195 last season, James is gunning for the top this season.
"I don't think I'm stronger than last year, because I did football this year and that took up a lot of my workout time, but I'm getting off a bunch of shots this year, which is a big improvement for me," James said. "It's going to be making sure I can outwork everybody. My biggest strength is I can outpace most people. So I've just got to build my cardio up."
Also winning titles Saturday were West Linn sophomore Ricky Bell (106), Willamina senior Jordan Reyes (113), Silverton junior Kaden Kuenzi (120), Camas (Wash.) seniors Jack Latimer (132) and Tanner Craig (138), Cascade sophomore Noah Thompson (145), Wilsonville sophomore Tyson Resko (152), Dallas senior Jacob Jones (160), Lebanon sophomore Keith Brown (220) and McMinnville sophomore Jacob Barnes (285).
Brown -- fresh off a standout football season, after which he received a scholarship offer from Oregon State as a linebacker – is hungry after finishing as the 5A runner-up at 195 as a freshman. In Saturday's final, he jumped to a 5-0 lead and beat Westview senior Anthony Perez 9-3.
"I was disappointed in myself for not finishing and wrestling for the whole entire match," Brown said. "I gained a big lead and then I coasted all the way through, which I shouldn't have done. I should've tech-falled him."
Still, it was an improvement over last week for Brown, who entered the Perry Burlison Classic as the No. 1 seed and lost 2-1 in the first round to unseeded Antonio Garcia of North Salem.
"I came in a little bit too cocky," Brown said of the loss. "So I came in this week just looking forward to not caring what seed I am, not caring who I'm wrestling, and just go out there and wrestle my hardest."