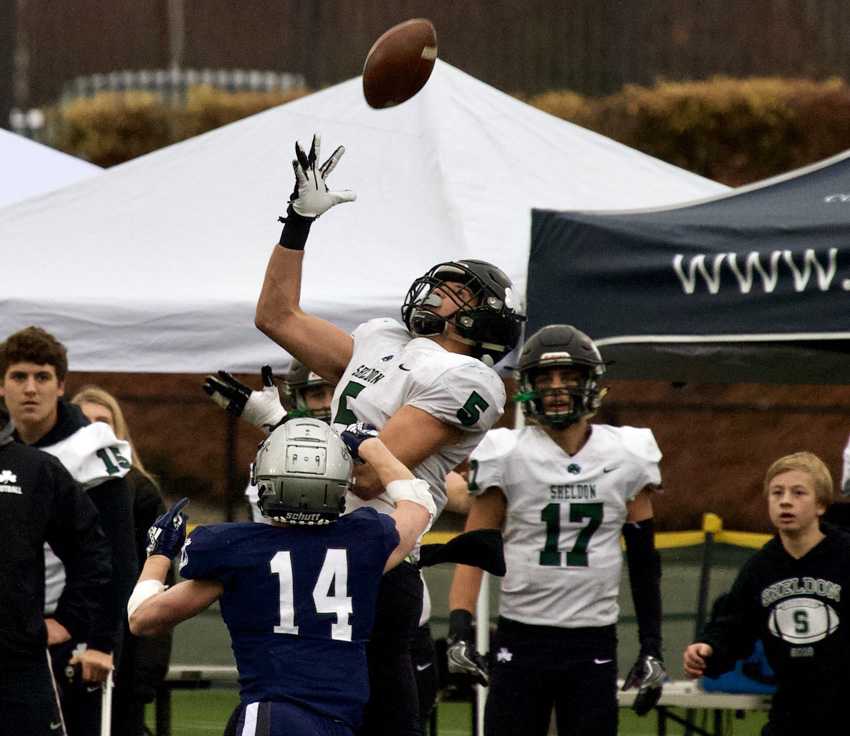 With 1:37 remaining and trailing 34-27 to Lake Oswego in the OSAA / OnPoint Community Credit Union 6A championship football game on Saturday, Sheldon was in a world of hurt. Facing third-and-25 from their own two-yard line after their final drive had gone backwards for two straight plays, the Irish needed to make a play, and perhaps get a little lucky, to keep their title hopes alive.
The call was "Choice and Go" and amounted to Sheldon's receivers getting deep downfield. Irish quarterback Michael Johnson Jr. took the shotgun snap, evaded pressure while tiptoeing perilously close to the end zone end line, rolled right and heaved the ball downfield. The target was 6-5 senior tight end Patrick Herbert, who'd already been on the receiving end of five Johnson aerials on the afternoon, three more than all of his teammates combined. Herbert, locked in a one-on-one battle with Lake Oswego's standout safety Thomas Dukart, created just enough separation, got one hand up and hauled in the pass before being tackled out of bounds at the Sheldon 45-yard-line.
The gain was 43 yards. The Irish had a first down and, more importantly with 86 seconds left on the clock and no time outs, they had hope.
"Michael threw an excellent ball and I caught it," Herbert said.
"When that happened, we had a shot," Johnson said. "We tried to focus and get to the next play."
On the sidelines, second-year head coach Josh Line didn't have time to take in the magnitude of the play that happened right in front of him.
"You're not feeling much," he said. "You're just trying to figure out a way to get the ball down the field against one of the toughest defenses you've faced. That was a very tense moment. I knew our kids could make plays."
"We were always believing the whole time that we could do it even when we were down 10," said running back Matthew Burgess. "We thought if we just keep fighting we'll get the outcome that we want."
"There was never a point in the game where I didn't think we could win," added Herbert. "It all came down to whether we could execute or not."
Sheldon benefited from a pass interference penalty on Lake Oswego to get to the Laker 38-yard line, but the Irish would get no closer. Their best chance came on first down, when Johnson threw long to senior Jack Folsom, but Dukart was there to bat the ball away in the end zone. A loss of two on a Johnson scramble and sideline toss incomplete followed, leaving Sheldon facing fourth-and-12 with 33 seconds to go…
*****
Sheldon had spent virtually the entire game fighting from behind against a Lake Oswego team with which the Irish have a unique history. Back in 2002, Sheldon defeated LO, 31-24, to secure its first-ever state football championship. Nine years later, the teams met again for the title. The Lakers prevailed, 47-14, to capture their first-ever championship. One year later, the teams squared off again, with Sheldon winning 13-6. Neither team had been back to the championship game before both qualified for Saturday's classic at Hillsboro Stadium.
For much of the week, it appeared that Mother Nature would not look kindly upon the 12:30 p.m. start time. But there was neither rain nor wind at kickoff, just a bracing cold that would grow colder as the game wore on.
Sheldon got the ball first and wasted little time putting three points on the board. It might have been six, but Johnson's short touchdown run was called back for an illegal shift and the Irish settled for a 35-yard field goal from Jay Kartub. Lake Oswego answered Sheldon's field goal drive with a touchdown drive of its own, going 80 yards in 11 plays, capped by the first of five Casey Filkins touchdowns, a short run out of the wildcat formation.
Lake Oswego upped its lead to 10, 13-3, midway through the second quarter but missed the extra point kick wide left. Each team scored one more touchdown before the break. The Lakers went to the locker room leading 20-10 and with momentum: they had scored the last touchdown of the half and would receive the second-half kickoff.
Sheldon caught a break when a Lake Oswego receiver dropped a pass on third down and the Lakers' first drive of the third quarter ended in a three-and-out. The Irish scored quickly to pull once more within three but Lake Oswego again answered with a scoring drive of its own. The Lakers, however, failed on the extra-point try for the second time, and took just a nine-point lead to the fourth quarter.
Sheldon cut the Lake Oswego advantage to just two points, capping a seven-play drive with a Johnson touchdown run on the first play of the final quarter. The Irish then forced Lake Oswego's second punt of the game and took possession at their own 28-yard-line, knowing that any offensive score would put them back in the lead. The ensuing drive featured runs by Burgess and Johnson and a key third-down conversion reception by Herbert, but lost momentum after a holding penalty pushed the Irish back 11 yards. Facing third-and-long, Sheldon did not get a first down, but a pass completion, good for 14 yards to Zach Folsom, put the Irish within range of another Kartub field goal attempt.
The kick, from 40 yards out, trundled toward the goal post but didn't have much energy. It clanged hard off of the cross bar, with just enough forward spin to sneak over. Luck of the Irish? No one on Sheldon's sideline cared why or how, only that fewer than six minutes remained and the Irish finally had the lead.
Line knew the game was far from over. Asked if he took the fortuitous bounce on the field goal as a sign, he responded, "No. I never think that way. I knew they were going to come out with a solid attack. I just knew we had a lot of football left to play but we were going to have a chance and we did."
Sheldon's lead was short-lived. A 24-yard pass from Lake Oswego QB Jackson Laurent to TE Marshall McGuire, followed by a 21-yard Filkins run, set Lake Oswego up first-and-goal at the Irish four-yard-line. Filkins eventually scored his fifth touchdown on the afternoon from one-yard out and added the two-point conversion on a pass from Laurent. It took just 3:16 for the Lakers to reclaim the lead.
*****
Sheldon's season was on the line when Johnson took the shotgun snap from the Lake Oswego 40-yard-line with just over half a minute left in the game. He was under pressure immediately from his left and could not locate anyone open beyond the first-down marker. It did not help that Zach Folsom, one of his most dangerous receivers, had been injured in a collision with his twin brother just three plays before. The Penn State-bound senior eluded the rush long enough to toss the ball to tight end Ben Mehlhaff well short of the line to gain. The junior tried to shake free, but Lake Oswego linebacker Gabe DeVille would have none of it. The Lakers had made the play when they needed it to secure their second state title.
"It hurts right now," said Burgess after the game. "No one wants to come this far and lose."
"It sucks to come so close and not get it done," added Johnson. "Coach had good plays called. I tried to make plays happen with my feet when things broke down. It just wasn't enough."
Line was numb after the game. The loss was eerily similar to the other two suffered this season by the Irish. In their season opener versus Washington power Graham-Kapowsin, the Irish led until a late touchdown forced overtime. Sheldon also led in the overtime, but fell, 51-50, after G-K matched the score and successfully went for two points and the win. Five weeks later, Sheldon led Jesuit midway through the fourth quarter on a Kartub field goal only to give up a late touchdown to the Crusaders to lose by four.
"It was indicative of our whole season," he said of Saturday's ending. "Ups and downs. Good with bad."
Line said he knew his team had the potential to play 14 weeks after that Week 1 loss to Graham-Kapowsin.
"We weren't able to win that game but our resiliency and toughness was obvious when we walked off the field," he explained. "I've never seen a team battle like that. I knew we could beat any team we faced. That's when I really started to understand what we had."
The players never had any doubt that they'd be playing for a title.
"At the beginning, everybody doubted us and didn't think we'd get this far," said Herbert. "I'm happy that we proved a lot of people wrong."
"We always believed in each other," added Burgess. "Our goal was to get here. We made it here; we just couldn't finish it."
Tears were shed after the game, as much for the end of the journey as the result on the scoreboard.
"I'm going to remember all the guys," said Burgess. "We're just a big family out here."
"That was probably the best group of guys I've ever played with," said Herbert.
"We had a great run," said Johnson. "It was tough losing this way. I'm going to remember these guys, the coaches, this team…it was great."
"I am so grateful to be a part of this and be around such good people and get to work with such great people," said Line. "Getting to this point is because a lot of people were willing to make a lot of great sacrifices. Football is a great game to teach kids how to be men and do the right things down the road. Obviously the outcome was disappointing but I'm really proud of these kids for the effort they put in. I feel confident that they're going to go on and be successful; that's really what this is all about.
"Coach Coury and the Lake Oswego football program is such a great program. We were excited about getting to square off with them because we feel like the history behind both programs is so great. We fell short today but like I said I'm really proud of my kids and excited about what they're going to do down the road."
Asked what he will remember most about the players he'd coached for the past several months, Line said their work ethic and toughness.
"What defines this team is their willingness to work, willingness to sacrifice and the toughness they brought every day," he explained. "They're the toughest group of kids I've ever coached no doubt about it."