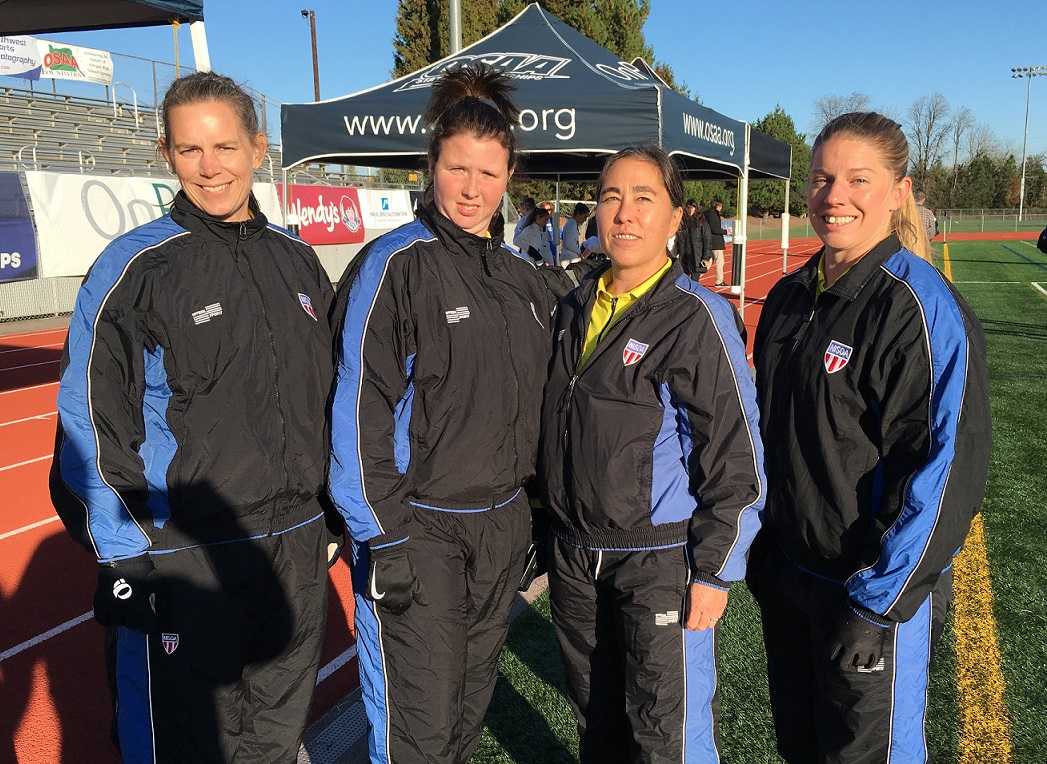 History was made on the soccer field Saturday during the OSAA 4A girls final at Liberty High School.
But it had nothing to do with the teams or players.
For the first time in 22 years, an all-female officiating crew worked a championship match. The four-member crew was on hand for Hidden Valley's 1-0 win over Valley Catholic.
Melanie Namkoong of the Lane County Soccer Referees Association served as the referee. Dana Gorman (Lane County) and Terrah Owens (Mid-Valley) were assistant referees, and Loraine Hill (Coos Brookings) was the fourth official.
It was the first championship match for each one. All of them began officiating in Oregon in the last 10 years.
The last time an all-female crew worked a final was in 1996, when four Lane County officials – Pat Wasp (referee), Alicia Kehoe (assistant), Karyl Allen (assistant) and Melanie King (fourth official) – presided over the 3A/2A/1A girls championship match between Henley and Catlin Gabel.
OSAAtoday caught up with Namkoong before Saturday's soccer match to discuss the significance of the all-female crew:
To you, what does it represent?
"I think it's important in terms of encouraging more women to look at this as a possibility for part of their skill building, as part of their extension of the game. If they don't go into playing soccer in college or beyond, then this is a path that's open to them. It just encourages girls to look at it and go, 'Oh, that's something I can do.'"
Is it important for women to officiate girls?
"I do think it's important. But I do think it's important that the men understand how the women's game differs from the men's game, and that both women and men should be able to officiate any gender team. Because there are differences. They approach the game differently, and there are different things you have to deal with."
What is most important to understand about those differences?
"We're all adults. I have children, so to me I'm relating to them as kids. They're kids. Obviously, with the women, sometimes when they get upset or frustrated, they'll cry. Sometimes that throws guys off. I don't know why. But if a girl says, 'OK, I'm fine,' they're fine. Same with a guy. They go down for a while, they look to be in pain, you say, 'Do you want to go out?' And they're like, 'No, I'm fine.' It's like, 'OK, you're fine.' I think it's important for both men and women to have that experience and know how to deal with the situations. It looks different, but it's essentially the same."
Only 46 of the state's 452 high school soccer officials this season are women. Considering the shortage of officials in all sports, are women being overlooked as a resource?
"It is untapped, but at the same time, I do see the Oregon referee's committee making great inroads to encourage more young women to participate, get involved, to take advantage of it. Because realistically, the women's professional league is one of the best in the world. So encouraging more women to get to that level I think is key. It's important and necessary."
The 4A football final Nov. 24 will represent another breakthrough for women's officials. Rebecca Brisson of the Portland Football Officials Association – one of five women out of 663 high school football officials in Oregon – is the first woman selected to work a championship game.