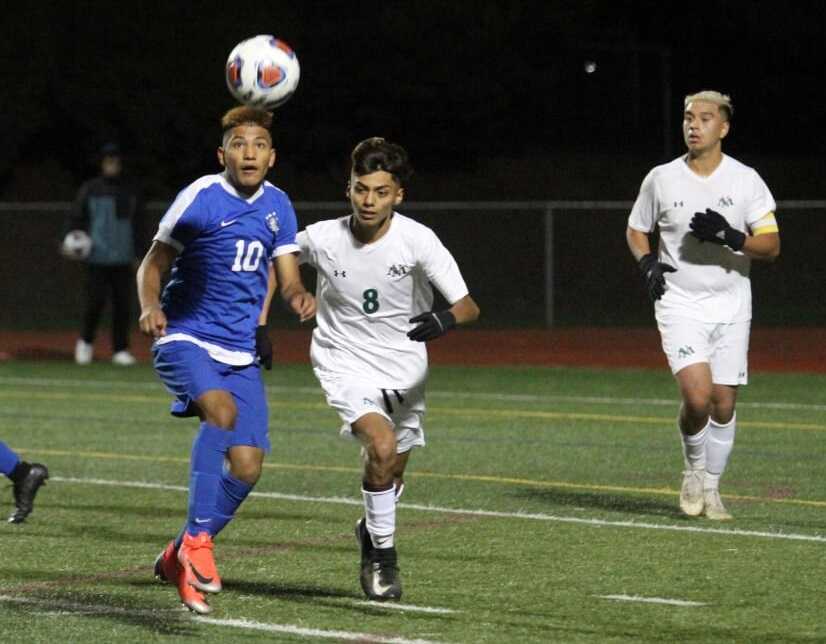 HILLSBORO -- The emotion from a season filled with near-impossible expectations came pouring out of Woodburn's boys soccer team Saturday night.
The Bulldogs, considered overwhelming favorites in 4A this season after winning back-to-back 5A titles, were feeling a mix of elation and relief after dispatching North Marion 2-0 in the OSAA/OnPoint Community Credit Union 4A championship match at Liberty High School.
It is the team's sixth title since 2010, and one of the most mentally draining.
"It was super hard," senior midfielder Trevor Karsseboom said as he fought back tears. "Just knowing we had a target on our back. Everyone was going to come out and try to take us out. We had to have that in the back of our head going into every game that this could be our last game."
Still, the third-seeded Bulldogs (17-1) nearly ran the table, losing only to Oregon West Conference rival Stayton 1-0. For the season, they outscored their opponents 98-4, including 15-0 in four playoff matches.
"Everybody's expectations were like, 'Oh, these guys are going to dominate,'" senior forward Jesus Rodriguez said. "So we were going to prove, 'OK, next time, don't drop us, keep us up. Move us up to 6A.'"
Woodburn coach Leroy Sanchez credited his players with meeting the challenge presented to them.
"Any state championship in any classification in any sport, you still have to work to win it. It's not yours," Sanchez said, adding, "These boys work hard. They seem motivated to keep on winning.
"It's bigger than us. It's about the community and the people that believe in what we're doing."
Woodburn was in total control against No. 13 North Marion (10-5-3), which was going for its first title since 2014. The Bulldogs outshot the Huskies 25-3, getting goals from sophomore forward Jimmy Martin in the fourth minute and Rodriguez in the 60th minute.
"We could have scored more," said Rodriguez, whose 20th goal of the season came off an assist from Karsseboom. "It was the final, and everyone was nervous.
"What can I say, you can't beat a team that works together. It was a beautiful season for us. This was one of my best games ever. I scored in the final, what else can you ask for? As a senior, it's beautiful. I'm very thankful."
The Bulldogs had to take a long look in the mirror after the loss to Stayton on Oct. 10. They were not happy with their performance against a team they beat 5-1 in the first round of conference play.
"It was a wakeup call, because a lot of people were saying we were going to stroll through 4A," Karsseboom said. "But no, teams are willing to compete with us. And that's the way it's supposed to be. It's supposed to be competitive and hard."
After the loss, Woodburn outscored its last seven opponents 27-1. Rodriguez put the loss into perspective.
"I'll take that anytime," Rodriguez said. "I prefer that over the playoffs or in the finals, because we learned a lot from that. Our defense got better, our attacking team got better. Without losing, you don't learn."
North Marion, located six miles from Woodburn, was eager to take its shot against the Bulldogs. The Huskies made a stirring playoff run after finishing 4-9-1 in 2017.
"It was fun. We knew it was going to be hard," North Marion coach Rafael Pelaez said of playing in the final. "They play a beautiful game. They know how to play soccer. For us, it was a challenge, and we tried. We took it."
The game marked the end of a stellar career for Huskies senior striker Edgar Lopez. He tied the school record with 25 goals last season and had 21 more this year.
"He was the spirit of this team," Pelaez said.