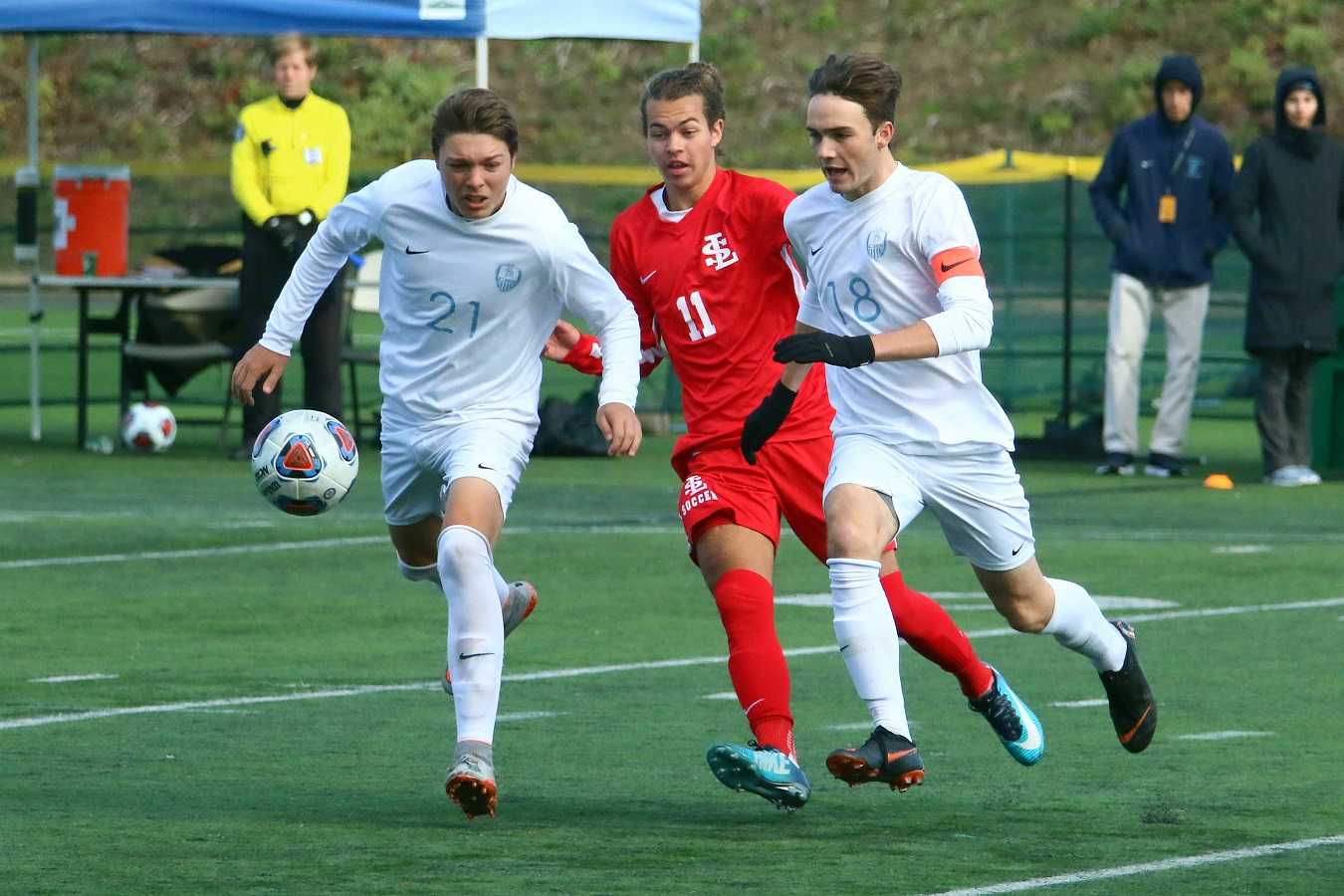 HILLSBORO -- This time, Corvallis wasn't going to let the state championship slip away.
One year after failing to hold the lead in the last four minutes of the final, the No. 2 Spartans made amends by defeating No. 1 La Salle Prep 1-0 in overtime in the OSAA/OnPoint Community Credit Union 5A boys soccer championship match Saturday at Hillsboro Stadium.
Junior Edgar Monroy scored off an assist from senior Avery Whipple four minutes into the first overtime and Corvallis (15-1-2) held the Falcons (16-1-1) at bay for the next 16 minutes for its first title since 2009.
"Honestly, it means everything," Whipple said. "Losing it last year, we know exactly how La Salle is feeling right now. From this point on -- just like they're going to be right now -- we were determined to come back here and take back that missing opportunity."
The game lacked the same type of offense as when the teams tied 3-3 in September. La Salle Prep had the better scoring chances for much of the match, but Corvallis made its best opportunity count.
"I knew it was going to come. It was just a matter of time," Spartans coach Chad Foley said. "La Salle is a great team. They haven't been beaten for a reason. They weren't going to give us the title, but we went out and took it."
Whipple said he was mad at his team for its failure to threaten offensively throughout.
"The first half, I don't think we had a single shot. We didn't test their keeper at all," Whipple said. "And even in the second half, nothing. Our only shooting opportunity was the goal. That's not what we like to see, but at the end of the day, all it takes is one chance."
It came in the 84th minute. Whipple controlled the ball outside the top of the box and passed it ahead on the right side, where Monroy ran onto it and drilled a shot past Falcons junior goalkeeper Quintin Castner.
"We were lucky enough to make that run," said Monroy, who scored his team-high 22nd goal. "The goalie wasn't expecting that."
Whipple said it was the product of the chemistry he has developed with Monroy.
"Ed and I have been playing together for a long time," Whipple said. "He knows when I pick that ball up in the midfield, my first look is down the middle. He made that run and the connection was on."
So the Spartans found themselves in a similar position as last year's final against Woodburn, when they gave up the tying goal with four minutes left in regulation and lost 2-1 in overtime. La Salle Prep had one serious threat, in the 91st minute, when junior Luke Strange fired a hard shot from 18 yards that senior goalkeeper Roman Gabriel leaped to deflect over the crossbar.
"It just was scary, because last year Woodburn came back and ended up beating us," Monroy said. "This year, we were able to maintain our defense and succeed."
In victory, Foley remembered the late John Callahan, the longtime Corvallis coach who died of brain cancer four years ago.
"JC's always a part of me and a part of this program," Foley said. "He helped build what this is, and who we are. He's always with us."
It was a frustrating defeat for La Salle Prep. The Falcons could not convert on several good chances, the best coming in the 33rd minute when junior Karter Cook's header caromed off the left post.
"We've been really good in tight games, so the whole time I kind of felt like it was going to happen," La Salle Prep coach Seth Altshuler said. "We didn't really have a ton of clear-cut chances, and neither did they. It came down to who was going to knock that one in."
The young Falcons will try to build on the experience, much like Corvallis did.
"Unbelievable year, for a young group like this, with three seniors, to pull that off," Altshuler said. "Look out for La Salle next year."