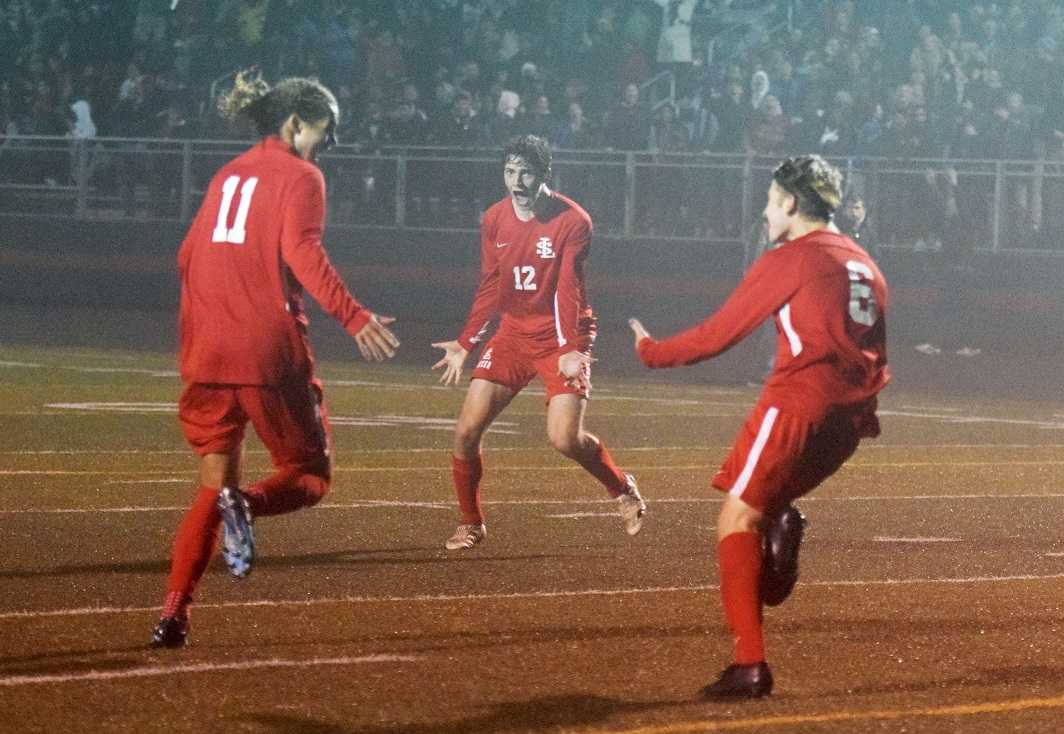 MILWAUKIE -- In La Salle Prep's situation Tuesday night, most teams would have been satisfied to go into overtime against visiting Central in the semifinals of the 5A boys soccer playoffs.
Given the Falcons' experience with overtime in the semifinals the last two seasons – they were twice eliminated on penalty kicks – they were keen on avoiding it at all costs.
"That was in the back of our minds," junior forward Luke Strange said. "We were going, 'Oh shoot, three years in a row, this can't happen to us.'"
Top-seeded La Salle Prep (16-0-1) kept applying pressure, and it paid off in a big way. Strange got free inside the 18-yard box and fired a shot that went awry, but a defender deflected the ball into the goal with 18 seconds left to give the Falcons a 3-2 win over the fourth-seeded Panthers (11-3-2).
"It's the best feeling anyone could ask for," Strange said. "Two years in a row, knocked out in the semis, and the 5A state championship is coming up. It's unbelievable. I can't describe it."
La Salle Prep, which hasn't won a title since 2009, will appear in the state championship match for the first time since 2012. The Falcons will face No. 2 Corvallis on Saturday morning at Hillsboro Stadium.
The goal punctuated a stunning comeback for La Salle Prep. The Falcons trailed 2-1 late but got the equalizer in the 73rd minute on a goal by senior Justin North, who rebounded a shot by junior Karter Cook that went off the crossbar.
"This year, every time we went down, they just kept fighting," La Salle Prep coach Seth Altshuler said. "It's cliché, but they never give up. I had a feeling like, 'Let's wait, let's be patient.' I'll tell you something, they just have heart. You can't teach it."
Falcons junior goalkeeper Quintin Castner made a save off a shot from close range with two minutes left, and La Salle Prep pressed forward. With about 25 seconds left, freshman Mizael Harris passed ahead to Strange, whose shot veered toward Cook and two defenders.
"I saw the keeper coming. I just tried to square it across and hope something happened," Strange said. "It was very fortunate. But I'm so happy."
As the ball deflected past Central senior goalkeeper Taylor McArthur, the Falcons erupted.
"We didn't want to go into overtime and pens, because I missed my pen last year to lose it," Cook said. "When we were down, I still believed in my team, because we've been down and come back multiple times."
La Salle Prep has had to live with the memory of losing on penalty kicks to Woodburn last year and Wilsonville in 2016.
"We wanted to win in regulation. No more penalty kicks for us, man," Altshuler said. "We want to end things on our terms, and we did again."
It was a crushing defeat for Central, which made its first quarterfinal appearance in eight years. The Panthers, who lost to La Salle Prep 4-2 at home Aug. 30, came out fired up and appeared primed to advance to the final for the first time in school history.
The Falcons took a 1-0 lead in the 36th minute on a goal by sophomore Kainoa Taylor, but Central answered two minutes later when senior Marco Rosas scored off an assist from sophomore Omar Ceja.
The Panthers pulled ahead 2-1 in the 50th minute when senior Brandon Lopez took advantage of a high ball that Castner couldn't control at the left post, stabbing it inside the right post.
Central turned back several La Salle Prep attacks and was closing in on the victory, but the Falcons kept coming.
Now, La Salle Prep will go for its sixth state championship Saturday. The Falcons tied Corvallis 3-3 on Sept. 11, the only blemish on an otherwise perfect record.
"It's going to be exciting," Cook said. "We haven't made it for a long time, so we want to win this."