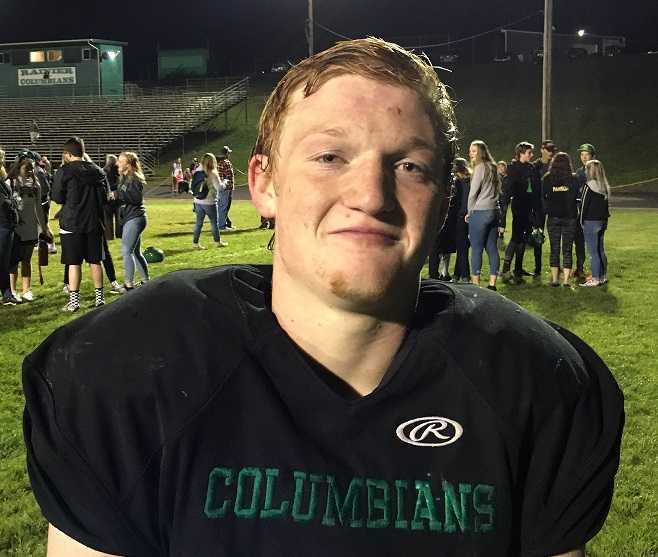 RAINIER -- Much must fall into place for Rainier and Amity to meet in the 3A football final.
But if Friday night's game between the state's top two ranked teams was a sneak preview, then a rematch surely would be worthy of the biggest stage.
In a much-anticipated Special District 1 West division game, No. 1 Rainier and No. 2 Amity slugged it out all night -- riding wild momentum swings -- before the Columbians came away with a 60-54 overtime win that hinted that a higher-stakes game between the teams is in the offing.
"I hope we see them again," Rainier junior running back David Katon said. "I want to play them again."
Rainier senior quarterback Joey Tripp scored on a one-yard run in overtime, his fifth touchdown run of the game, and the Columbians' defense clinched the win with a fourth-down stop. Rainier (7-0, 3-0) moves into sole possession of first place in the power-packed district, ahead of Amity (6-1, 2-1), No. 9 Willamina (5-2, 2-1) and No. 6 Clatskanie (5-2, 2-1).
"That was a heck of a game," Rainier coach Mike King said. "Peaks and valleys, man."
Rainier's biggest valley came with 2:24 left in the fourth quarter when Amity senior West Streeter bounced through the Columbians' defense for a 17-yard touchdown run. Senior Jonathan Mather ran in the two-point conversion, and the Warriors led 54-46.
Was 2:24 enough time for Rainier's clock-eating offense to answer?
"I felt like that was enough time," Tripp said. "We did it before, last year, and I thought we could do it again."
Said Katon: "Our coach is great at play-calling. We know in any situation we can dial up something and get into the end zone when we need to."
That situation came when the Columbians were facing third-and-nine at the Amity 49-yard line. Tripp dropped back and heaved a pass down the left sideline to wide-open senior Hunter Boulch, who cruised into the end zone to make it 54-52. Tripp ran for a two-point conversion to tie 54-54 with 1:21 left.
"He said he could burn his guy, so I just threw it to him so he could run under it," Tripp said of Boulch.
Rainier's defense held Amity in the final minute, forcing overtime.
"I felt like we had it once we got into overtime," Tripp said.
Tripp made it 60-54 with a one-yard run on the first overtime series, but Amity stopped Tripp on the two-point try. The Warriors, facing fourth-and-three at the 18-yard line, tried a halfback pass from Streeter to 6-foot-4 junior Payton Richardson, but senior defensive back Devion Godfrey knocked it away near the pylon.
Tripp had a sensational game. He rushed for 185 yards and five touchdowns on 30 carries and ran in six two-point conversions. He completed 7 of 10 passes for 118 yards and two touchdowns with one interception. And he put in a full night on defense at linebacker.
For the season, Tripp has rushed for 1,105 yards and 16 touchdowns and passed for 694 yards and 11 scores. He also is the team's leading tackler.
"He's our heartbeat. He truly is," King said of Tripp, one of seven football-playing brothers. "I've coached a lot of players over the years, and he's right up there at the top. He's a warrior. He plays old-school, 100 percent everything."
Katon, who rushed for 86 yards and one touchdown on 15 carries and caught three passes for 58 yards and one score, is just glad Tripp is on his side.
"He's everything," Katon said. "The boy's tough. He's never going to quit. One of the best leaders out there I've ever seen in any sports I've ever played. I'll follow him anywhere."
The loss overshadowed a brilliant performance by Streeter, who rushed for 205 yards and two touchdowns on 25 carries. He was almost too good, the way Amity coach Joel Magill saw it.
"West was great. I just wished he didn't score that early," Magill said, referring to Streeter's late touchdown run which left Rainier with time to respond. "How do you tell a kid not to score, though?"
Magill said his team made too many mistakes, counting himself.
"I made some bad calls tonight," Magill said. "Rainier played really well. You've got to give them credit."
Amity rushed for 340 yards and had a 520-392 edge in total yards. Mather added 109 yards and two touchdowns on 18 carries, senior quarterback Tyler Parr passed for 180 yards and two scores, and Richardson had six catches for 130 yards and one touchdown.
The Warriors also got a 43-yard interception return for a touchdown by 6-5 sophomore linebacker Josh Wart.