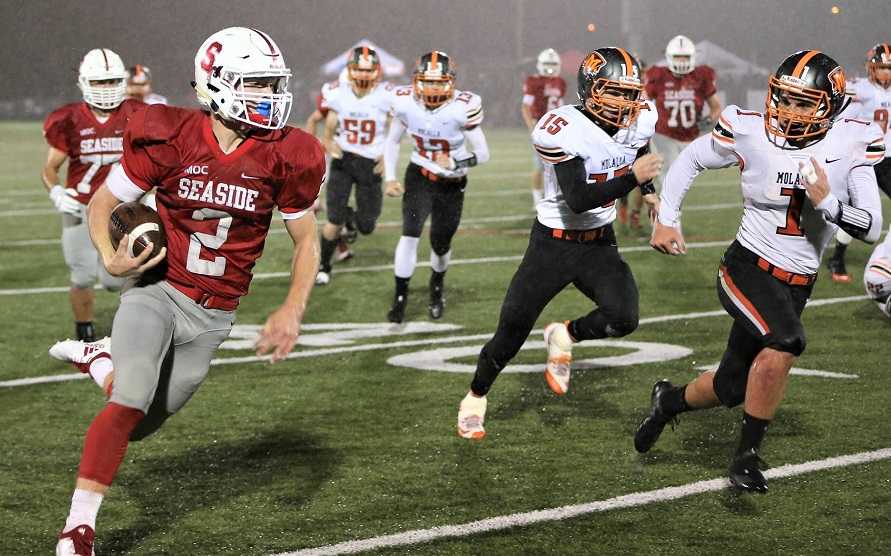 For years, Seaside represented little more than a speed bump – and an excellent spot to get salt water taffy – to the Banks football team.
The Braves won 10 in a row over the Seagulls from 2007 to 2016, often by lopsided scores.
But that domination finally came to an end in dramatic fashion last year when Seaside's defense rose up and stopped Banks on fourth-and-goal at the half-yard line with one minute left, preserving a 19-14 win.
Banks coach Cole Linehan won't have to remind his players about it as the second-ranked Braves (5-1, 3-0) prepare to visit the top-ranked Seagulls (6-0, 3-0) in a 4A Cowapa League clash Friday night.
"I'm sure the kids haven't forgotten," Linehan said.
The win was a breakthrough for Seaside, which has followed up a promising 2017 by opening the season 6-0 for the first time since 1985. The Seagulls, who haven't won a playoff game since taking the 3A title in 1994, now believe they can look a team like Banks eye-to-eye.
"I have tremendous respect for what those guys have done there," Seaside coach Jeff Roberts said of Banks. "I'm glad that we're able to finally be in that conversation with them as one of the top-tier teams in our league.
"We're excited to play. It's been circled on our calendar for a long time."
Friday's game matches Seaside's outstanding rushing attack, led by senior running back Alexander Teubner, against Banks' dynamic passing game, led by senior quarterback Hayden Vandehey.
The 6-foot, 180-pound Teubner has rushed for 1,131 yards and 20 touchdowns and caught four scoring passes this season for the Seagulls, who are averaging 468.0 yards and a 4A-high 52.2 points per game.
"He's the best 4A running back I've seen in the state, for sure," Linehan said. "The kid runs hard. He's got some good guys in front of him, but when he has the ball, he's just hard to tackle. You can't arm-tackle him. In open space, he's just hard to deal with."
Seaside has lightened the load for Teubner in recent weeks, giving more carries to seniors Gio Ramirez and Duncan Thompson in what Roberts calls a "three-headed monster." Since carrying 30 times against Marist in Week 2, Teubner has not had more than 19 carries in a game.
"That's an ideal number for us," Roberts said. "We don't want Alex to pack it 30 times.'
Vandehey threw for 304 yards and six touchdowns against Valley Catholic last week and has 1,507 yards and 18 scores with three interceptions for the year. In two seasons as a starter, he has thrown for 4,156 yards and 48 touchdowns.
"Hayden Vandehey is a great quarterback," Roberts said. "We haven't seen anybody in a long time that throws the ball as effectively as they do."
Vandehey has two primary targets in senior Blake Markham (31 catches, 539 yards, four touchdowns) and 6-7, 220-pound senior tight end Blake Gobel (23 catches, 386 yards, 10 touchdowns). Last week, all four of Gobel's catches went for touchdowns.
"We're not talking easy catches, either," Linehan said of Gobel. "He has soft hands, and now he's becoming a physical force for us blocking-wise. He has so much potential, so much room to grow as a football player. If I'm a college coach, I'm jumping hard after that one."
Banks has won five in a row since opening with a 35-28 loss at No. 5 Gladstone, including a 51-13 domination of No. 8 Marist.
"That Gladstone game, we just came out as flat as I've ever seen my team play," Linehan said. "It was a wake-up call. Since then, the kids have been playing really hard football. We pride ourselves on flying around, getting to the football, swarming on defense, and the kids have bought into it."
In their last five games, the Braves are holding opponents to an average of 9.4 points. They are coming off back-to-back shutouts, 34-0 over Astoria and 55-0 over Valley Catholic.
The defense is led by its middle linebackers, seniors Hayden Gobel and Josiah Ochoa and junior Bryson Cook. Blake Gobel and sophomore Tyler Exline have excelled on the defensive line.
"It's been fun to watch these kids improve each week," Linehan said. "We'll see how good our defense is this week."
The game will serve as a showcase for Cowapa football.
"It's probably a biased opinion, but a lot of us think the Cowapa League, year in and year out, is one of the most difficult leagues in the state," Roberts said. "We're not surprised that No. 1 and No. 2 are in this league right now."
Other games to watch in Week 7:
Thursday
Reynolds (5-1, 1-0 6A Mt. Hood Conference) at No. 1 Clackamas (6-0, 1-0): Say what you will about the competition Reynolds has faced so far, the Raiders have taken care of business, leading Mt. Hood teams in offense (451.7) and defense (212.2) while compiling a conference-best 21 takeaways. Of course, they haven't seen anything close to what they will see against the reigning state champion Cavaliers, who have won 20 in a row.
No. 4 Pendleton (6-0, 5-0 5A Special District 1 East) at Parkrose (4-2, 3-1): Parkrose, playing for a first-year coach in former Jesuit and Oregon standout Keanon Lowe, have been one of the nice stories of 2018. The Broncos ended a 24-game losing streak and have won four games, although the combined record of those four teams is 4-20. If they really want to make some noise, being competitive against the Buckaroos is their chance.
No. 1 Dufur (7-0, 6-0 1A Special District 3 West) at No. 10 Pilot Rock / Nixyaawii (6-0, 6-0): The Rockets, who were winless in 2A in 2015 and 2016, have emerged as one of the top teams in 1A this season. Now they get a good look at the eight-man gold standard in three-time reigning state champion Dufur, which beat them 58-22 last year.
Friday
No. 5 Sheldon (4-2, 1-0 6A Southwest Conference) at No. 9 South Medford (5-1, 1-0): The game has decided the conference title the last two years, with South Medford prevailing 41-20 in 2016 and 31-14 last year. The Irish, coming off a 36-32 loss to Jesuit, get another challenge against a South Medford defense that has allowed a 6A-low 88 points.
No. 6 Tualatin (6-0, 1-0 6A Three Rivers League) at No. 7 West Linn (4-2, 1-1): Tualatin has cruised through its first six games, but the competition goes up exponentially in its last three games against No. 7 West Linn, No. 2 Lake Oswego and No. 3 Tigard. West Linn's only losses have come against No. 5 Sheldon and Lake Oswego.
Lakeridge (4-2, 2-1 6A Three Rivers) at No. 3 Tigard (6-0, 2-0): Lakeridge has had a solid season so far, losing only to Sherwood and West Linn, but a win over the Tigers would be a giant breakthrough. The game features two of the state's top running backs in Lakeridge junior Jalen John and Tigard senior Malcolm Stockdale.
No. 5 Silverton (6-0, 6-0 5A Mid-Willamette Conference) at Crescent Valley (4-2, 4-2): The unbeaten Foxes can't afford a letdown against the Raiders, who beat them 33-13 last year. In the last two games, Crescent Valley quarterback Sawyer Cleveland threw a touchdown pass and ran for the winning two-point conversion with 1:22 left to beat Dallas 22-21 and threw three touchdown passes to defeat South Albany 38-3.
No. 2 Amity (6-0, 2-0 3A Special District 1 West) at No. 1 Rainier (6-0, 2-0): The top two ranked teams meet in a much-anticipated 3A clash. Amity's offense, which averages a 3A-best 50.7 points per game, goes up against a Rainier defense that allows a 3A-low 6.7 points per game. Amity running back West Streeter has rushed for 1,044 yards and 14 touchdowns, including 600 yards and 10 touchdowns in his last three games. Rainier has a do-everything quarterback in Joey Tripp.
No. 3 Wallowa (5-1, 4-0 1A Special District 3 East) at No. 4 Crane (6-0, 4-0): The teams meet in a rematch of last year's league title game, won by Crane 46-38. Wallowa has won five in a row since opening with a 54-20 loss at St. Paul, beating Pine Eagle 58-16 last week as Zeb Ramsden ran for 124 yards and five touchdowns and Gus Ramsden threw three touchdown passes. Crane has outscored its last three opponents 156-8.
No. 2 Harper Charter (6-0, 6-0 1A Special District 5) at No. 1 Joseph (5-0, 5-0): The only two remaining unbeaten teams in six-man meet. Joseph beat previously undefeated South Wasco County 27-16 last week, allowing its first touchdown of the season. Harper Charter plays at South Wasco County on Oct. 26.