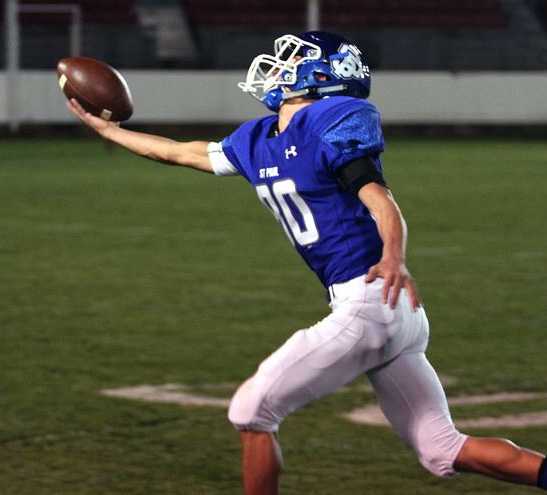 It would be difficult to find a football team that has gone through bigger transitions in the last five years than St. Paul.
A perennial 1A eight-man power, the Buckaroos moved up to play 2A 11-man in 2014 when they crept over the enrollment cutoff. They adjusted and made it to the 2A semifinals last year, only to have their enrollment dip, sending them back to eight-man this season.
How has the switching affected St. Paul?
"I'd say 80 to 90 percent of the preparation is exactly the same," said coach Tony Smith, whose team beat Waldport 70-12 on Friday to improve to 6-0. "Then there's 10 to 20 percent that's different. Our preparation is good because of doing both. There's just more things that come up that they've seen."
St. Paul has 31 players in its program, normal for the Buckaroos but a number that would be better than average for 2A. With returning starters at 14 of 16 positions, they have been so dominant that their front-line players rarely finish the first half.
In a 64-6 win over Perrydale, standout running back Justin Herberger scored touchdowns on five of the seven times he touched the ball.
"There are different forms of adversity," Smith said. "For our older guys, the adversity is you might not get to play a lot on Friday night."
Herberger has rushed for 582 yards and 11 touchdowns, averaging a whopping 20.1 yards per carry. Junior quarterback TJ Crawford has completed 23 of 30 passes for 434 yards and nine touchdowns.
The Buckaroos, who have outscored their opponents 312-58, are No. 2 in the OSAAtoday coaches poll. They are aiming for their first 1A title since going back-to-back in 2009 and 2010.
They are led by Herberger, a four-year starter who in 2017 rushed for more than 1,300 yards and was named the 2A defensive player of the year. Senior Jaidyn Jackson, who had 13 interceptions last year, is another four-year starter. Junior Alex Dela Cerda (6-3, 230) anchors the line.
St. Paul is so deep, it has a junior varsity team that plays nine-man games on Mondays against schools from its former district, the 2A Tri-River Conference.
Smith, St. Paul's athletic director, said the school could have petitioned to play up in 2A for the four-year time block that began this year, but it would have applied for all sports. If St. Paul would have had a sport-specific option for just football to move up, it might have taken it.
"I don't know if that's all that far off for the OSAA," Smith said. "It needs to be a conversation because I think there are those programs that are unique."