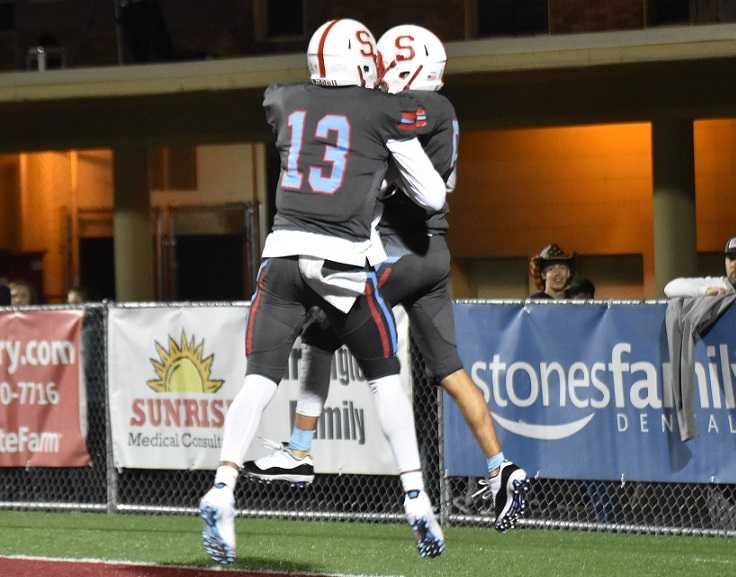 SALEM -- Anything is possible when it comes to a rivalry game, and that showed Friday night when Sprague visited South Salem for a 6A nonleague football game.
Down 20-0, South Salem scored three touchdowns in the fourth quarter to beat the Olympians 21-20.
"We didn't put our heads down. We were down in the first quarter after they scored that first touchdown," South Salem receiver Treyden Harris said. "We never came down, we picked each other up. We came out in this third quarter, didn't get a score. We came out in the fourth quarter, picked each other up even more."
The game changed in the second half.
Sprague (0-4) came out a little flat to start and the Saxons (2-2) began to take advantage. It paid off to start the fourth quarter when Zach Webster ran for a one-yard touchdown from the wildcat formation.
Moments later, the Saxons blocked a punt, setting up a 30-yard touchdown pass from Elijah Enomoto-Haole to Webster that made it 20-14 with 10:17 remaining. South Salem's Gabe Johnson intercepted a pass, leading to a 23-yard touchdown pass from Enomoto-Haole to Harris as the Saxons grabbed a 21-20 lead with 6:56 left.
Webster and Ryan Rickman combined for 164 rushing yards for South Salem.
Sprague controlled the first half. Olympians quarterback Ethan Johnson threw touchdown passes to Wiley Roberts and Marshall Bray and the defense slowed South Salem's running game.
"Alll the guys came out and we executed perfectly I think," Johnson said "Onto the second half, the game started to slip a little."