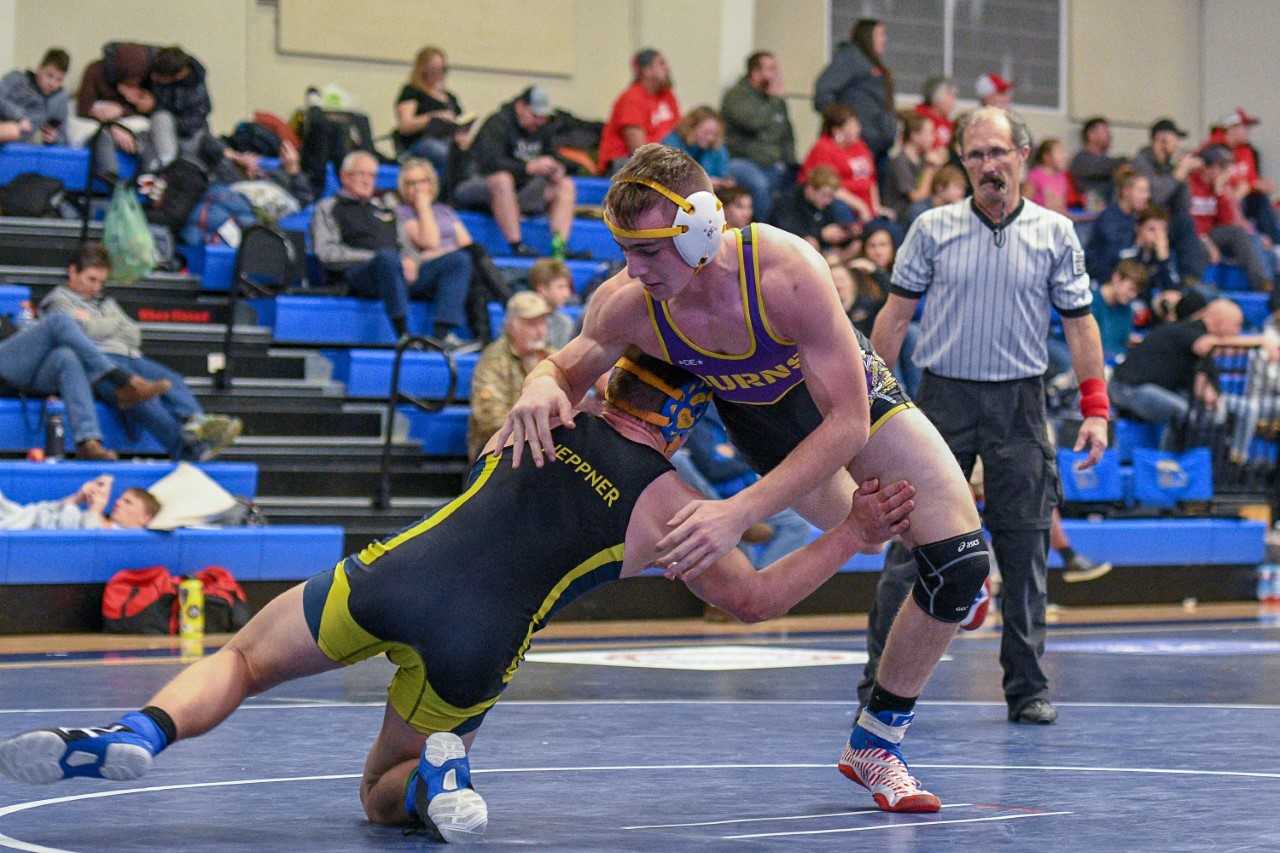 Don't look now, but here comes Burns wrestling again.
It's not as if the Hilanders disappeared, but after winning 10 consecutive state championships from 2002 to 2011, the highest they have finished in a state tournament is sixth.
With their deepest lineup in years – which includes six returning state placers and some promising freshmen – the Hilanders are ranked No. 1 in the OSAAtoday 3A coaches poll and starting to show glimpses of their teams of old.
"We kind of dropped off there for a little while," coach Tyler Swartzlender said. "We finally got the numbers back up in the program. Also, I like where our coaching staff is, not just in high school, but in middle school. We had close to 90 in the kids program. So all that's looking good."
State placers returning from last year's team – which finished sixth in the 3A tournament – are junior Justin Winn (third at 126), sophomore Wyatt Epling (third at 138), junior Cody King (fourth at 132), seniors Anthony Moulton (fourth at 145) and William Johnson (fourth at 160) and sophomore Kevin Peasley (sixth at 120).
The lineup also features sophomore Oliver Barnes, a state qualifier last year who is ranked as the top 106-pounder in 3A by the Oregon Wrestling Forum.
Mix in freshmen Carter Lardy (106), Hunter Kemper (138) and Levi Epling (145), and veteran seniors such as Harlen Gunderson (170), Dawson Williams (152) and Mick Winn (195), and the Hilanders have a potentially potent blend.
Burns will have its hands full in Special District 1 with La Pine and Nyssa, teams ranked No. 2 and No. 4, respectively, in the coaches poll. La Pine, last year's 3A champion, is new to the district.
"I think we're going to have the toughest district, the toughest route to get it done," Swartzlender said. "But you have to beat the best to be the best. The depth that we've got, especially toward the middle of our lineup, is going to help us out."
Is a state title realistic for Burns?
"It's definitely possible," Swartzlender said. "I believe in my kids, when they're healthy. If we can get that work done, and keep them healthy, I think we could definitely make a run."
Barnes, who weighed about 94 pounds as a freshman, is looking strong early. He is off to a 19-4 start that includes three tournament titles.
"I'm pretty stoked about Oliver," Swartzlender said. "He should place pretty high."
Several Hilanders are still getting up to speed after a late football season. Justin Winn injured his shoulder in football and joined the lineup for the first time this week, recording a second-round pin in a dual win over Vale.
"We've been erring on the side of caution with him," Swartzlender said. "We want to try to get him healed up as best as possible."
Moulton has dealt with shoulder injuries in the last couple years and has seen limited action so far this season. He aggravated the shoulder in the Rollie Lane Tournament in Idaho on Jan. 3-4 and underwent an MRI this week.
"We're making it known to him that right now is not an important time of the year," Swartzlender said. "We'd like to see him be able to finish during districts and state."
In the nine-team High Desert Classic last weekend, Burns had seven champions to score 301 points and beat host Mazama (299) and Hidden Valley (249), who are ranked eighth and 10th, respectively, in the 4A coaches poll.
The Hilanders got titles from Barnes (106), Kemper (138), Levi Epling (145), Williams (152), Wyatt Epling (160), Gunderson (170) and Mick Winn (195). Kemper was named the tournament's outstanding middleweight.
"Whenever you can beat a 4A team, or anything like that, it's definitely a confidence boost for our team," Swartzlender said.
The coach said he hopes the momentum will carry over into the Oregon Classic on Friday and Saturday in Redmond.