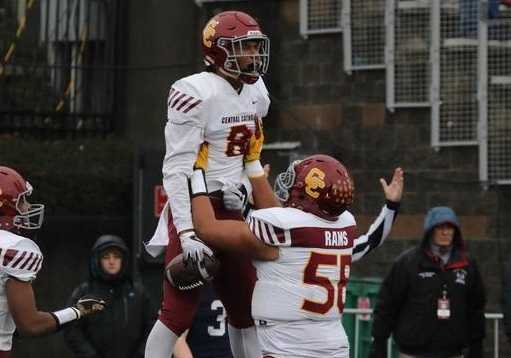 HILLSBORO – Three years ago, Central Catholic's Cade Knighton and Silas Starr were raw, unproven freshmen when the Rams were routed by West Linn in the state championship game.
Saturday at Hillsboro Stadium, Knighton and Starr showed how far they have come, playing like seasoned veterans to lead fourth-seeded Central Catholic past third-seeded Lake Oswego 49-28 in the OSAA/OnPoint Community Credit Union 6A football final.
Knighton put on a passing clinic, completing 31 of 36 attempts for 396 yards and three touchdowns, and Starr had 10 catches for 184 yards and one score as the Rams won their first state title since going back-to-back in 2013 and 2014.
The Rams (12-2) were so in sync, the reigning champion Lakers (11-3) seemed powerless to stop them.
"It's dirty. We just got it going," said the 6-foot-3, 195-pound Starr, who has committed to Stanford. "When you get in that rhythm, it's truly unstoppable. We just spread it around. It's poetry in motion."
The 5-11, 195-pound Knighton was on point all game, completing passes to eight receivers, including touchdown strikes of 14 yards to Starr, six yards to sophomore Jordan King and 11 yards to senior Kalvin Souders. Knighton finished the season completing 73.4 percent of his passes for 3,418 yards and 37 touchdowns with four interceptions.
"Last four years, we've grown closer and closer together as a team, kind of off the field as a family, too," Knighton said. "Really this year it was just about us coming together and meshing, kind of forming that last final bond before we graduate."
In his fourth varsity season, Knighton aced his final exam.
"When he was in the eighth grade, we talked about climbing a mountain," said Rams coach Steve Pyne, whose team lost to Lake Oswego 35-24 in the quarterfinals last year. "I said, 'We're going to climb this mountain together.' And today, I said, 'Hey, it's time to plant the flag.' And he planted the flag."
Lake Oswego was able to trade punches for a while behind senior Casey Filkins, the tailback who turned quarterback late in the season. But after rallying from a 28-14 halftime deficit to pull even at 28-28 on a 58-yard touchdown run by Filkins with 5:04 left in the third quarter, the Lakers could not get a big stop on defense.
"The momentum shifted. We were feeling pretty good about that," Filkins said. "But hats off to them, they fought against it. They just continued to keep the ball out of our hands.
"It's frustrating. All the defense is frustrated right now. … They were just making more plays than we were. That's how it goes sometimes."
After Filkins tied it at 28-28, Central Catholic drove 80 yards in 12 plays to take a 35-28 lead on an 11-yard pass from Knighton to Souders.
Lake Oswego had its chances to stop the Rams on the drive, but couldn't get off the field. On third-and-11 at the Lake Oswego 40-yard line, Knighton connected with senior running back Elijah Elliott for a 15-yard gain. On third-and-four at the 19, Knighton found Souders for eight yards.
"Our guys just found a way," Pyne said. "Just focused. Gritty the whole time. They tied it up at 28-28, and our guys just buckled down and said, 'This isn't going to happen.'"
Knighton and his receivers made it look easy.
"They threw the ball in front of us. We were a little timid back there," Lakers coach Steve Coury said. "They're great players, their guys on the outside. And the quarterback is the guy that really stirs the whole thing up. They have a really good team. It's no shame to lose to them."
The Stanford-bound Filkins rushed for 238 yards and three touchdowns on 32 carries and completed 8 of 16 passes for 97 yards and one score before coming off to a curtain call in the closing minutes. For the season, he rushed for 2,510 yards and 41 touchdowns.
Central Catholic was able to keep Filkins in check late, however.
"When they tied it up, it was like, 'Hey, reality check, time to dial it back in," Rams senior linebacker Joe Nizich said. "Our entire mode was just stop No. 9. We cannot allow one person to beat us."
Leading 35-28, Central Catholic began to milk the clock with its running game. Elliott carried seven times for 53 yards to spearhead a 77-yard drive, scoring on a one-yard run to make it 42-28 with 6:22 left in the game.
Moments later, the Rams put the game away. Junior linebacker Jack Brown batted and intercepted a Filkins pass at the Lake Oswego 17, leading to a five-yard touchdown run by Elliott for a 49-28 lead with 3:37 remaining.
Elliott ran with authority to seal the game, dragging a Lake Oswego defender with him for nearly five yards on his last touchdown. He finished with 90 yards and three touchdowns on 18 carries.
It was a triumphant finish to an emotional season for Elliott. His brother – Deante Strickland, a member of Central Catholic's 2014 state title team – was shot to death Aug. 2 in Northeast Portland. Elliott honored Strickland this season by wearing his No. 11.
"He was talking to me all last night, and all throughout the game," Elliott said of Strickland. "I kept hearing him tell me that he's proud of me. And I'm just glad that I did this for him."
Elliott said that the tragedy – and the way he responded in its wake -- made Saturday's win more meaningful to him.
"A lot of people said I could've went two different ways with this situation," Elliott said. "I could've went down a bad path or a good path. And I went down a good path. And I'm proud of myself."
Central Catholic finished with a 554-394 edge in total yards. Other than Knighton's three touchdown passes and Elliott's three scoring runs, the Rams also got a 71-yard touchdown run from senior Miles Jackson in the first quarter.
Jackson's touchdown, which gave Central Catholic a 14-7 lead, was controversial. The Lakers froze on the play after hearing a whistle near the sideline, and Coury vehemently protested, but officials ruled that the whistle came from a spectator and let the play stand.
"That didn't cost us the game. We got beat by a very good football team," Coury said.
Lake Oswego, the champion in 2011 and 2018, finished runner-up for the fifth time in Coury's 28 seasons. It is the fifth title for Central Catholic, which also went back-to-back in 1952 and 1953.
The Rams had lost in the quarterfinals the last two years since falling to West Linn 62-7 in the 2016 final. Saturday's win erased the lingering taste of those defeats.
"A lot better. It's much sweeter," Starr said. "We just love each other so much. That's really what kept us going out here."