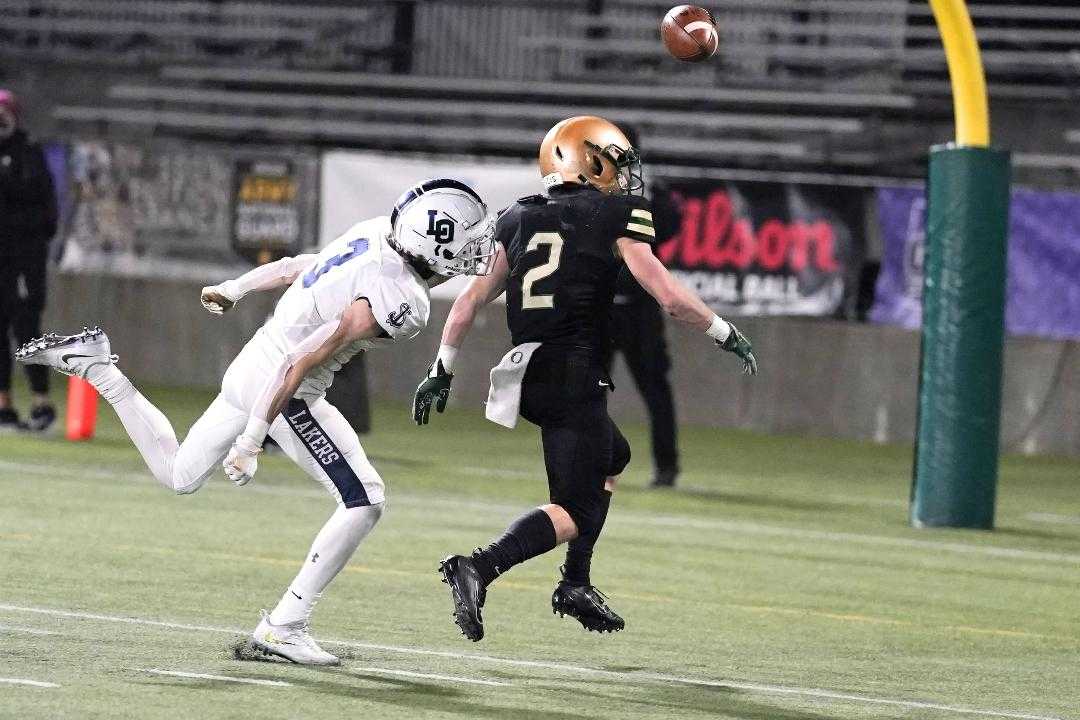 HILLSBORO – The once-dormant passing skills of star tailback Casey Filkins helped Lake Oswego trade punches with Jesuit in a 6A football semifinal Friday night at Hillsboro Stadium.
But it took several big plays by a ball-hawking defense to keep the Lakers' bid for a repeat state championship alive with a 28-21 win over the Crusaders.
Lake Oswego forced three turnovers in the fourth quarter – one stopping a sure touchdown, one setting up the go-ahead score and another sealing the deal – to propel the No. 3 seed Lakers (11-2) past No. 2 seed Jesuit (10-3) and into the 6A final. They will meet No. 4 seed Central Catholic (11-2), which defeated Barlow 35-7 in the first semifinal Friday.
"You'd rather be lucky than good, they say," Lake Oswego coach Steve Coury said. "There was some luck in it, for sure. But I tell you, our kids didn't flinch."
Filkins ran for an eight-yard touchdown and passed to Gabe Olvera for a two-point conversion with 2:21 remaining to put the Lakers ahead 28-21.
The Stanford-bound Filkins -- lining up at quarterback, his youth football position, for the fourth playoff game after spending most of the season at tailback -- rushed for 110 yards on 30 carries and completed 13 of 27 passes for 225 yards and one score with one interception. His performance would have been a mere footnote, however, if not for the opportunistic defense.
"Just incredible plays from our defense," Filkins said.
Leading 21-20 early in the fourth quarter, the Crusaders appeared to have a certain touchdown when – on fourth-and-seven at the Lake Oswego 34-yard line – senior Jack Heyden threw deep to wide-open senior Kade Wisher on an end-around pass.
The speedy Wisher made the catch, but just before he crossed the goal line, Lakers senior Joe Hutson desperately lunged from behind and punched the ball up in the air. Hutson caught it in the end zone for a touchback.
"I think he might've stepped off the gas a little," Hutson said of Wisher, who rushed for 189 yards and two touchdowns on 20 carries. "I don't know if he was running full speed. Maybe he thought he had it."
The play sent a jolt through the Lakers.
"Joe Hutson made the play of the game," Filkins said. "It's plays like that that just make the difference. You don't go back-to-back without making plays like that."
Coury called the play "unbelievable."
"Joe just didn't quit," Coury said. "You talk about the play, and you don't know when the play happens. It's easy for him to stand over there and watch the kid score, but he didn't do that. And that's been this team all year. That's why they're back in the championship game."
Things looked grim for Lake Oswego when Filkins was intercepted by Jesuit senior Solomon Bandy at the Lake Oswego 47 with 3:24 to go. But once again, the defense came to the rescue.
Sophomore lineman Gavin McGuire stripped the ball from Wisher, and senior defensive end Marshall McGuire scooped it up and took off down the sidelines, pitching it back to senior teammate Jonas Hunter, who was brought down at the Jesuit 13 with 3:12 on the clock.
"I was just following my coaching, and luckily I have my big brother here to pick it up and get a good return on it," Gavin McGuire said. "McGuire to McGuire."
Said Marshall McGuire: "My first thought was to just fall on it, get the ball, but then I saw he was tackled and on the ground, and I was like, 'I think we have a chance to get a play here.'"
Facing third-and-five at the Jesuit 8, the Lakers distracted the Crusaders by putting Hutson in fly motion, and Filkins took the snap and cut back the opposite direction -- behind senior Niko Smith and junior Bailey Jaramillo -- into the end zone.
"I think that was actually our only play where we did fly motion," Filkins said. "That could have influenced them a little bit. Niko and Bailey did a great job on the left side of sealing the edge off, and I just had to find the hole."
Lake Oswego, which had trailed by one point due to a missed extra point in the second quarter, made it a seven-point margin when Filkins found Olvera wide open for the two-point pass.
Jesuit had one last chance, but that was thwarted on fourth-and-three at its own 49-yard line when Marshall McGuire strip-sacked Heyden and Lakers senior Connor Willihnganz recovered the ball with 1:00 remaining.
It was the capper for a defense that held the dangerous Crusaders scoreless in the second half. Jesuit had 274 yards in the first half but was held to 102 yards in the second half as the Lakers tightened up.
"They didn't budge," Filkins said of the defense. "All week we heard how physical Jesuit is. We hear it every time, how physical they are, so we know, every single time we play them, we've got to match their physicality. And we did that."
It marked the third consecutive season that Lake Oswego has eliminated Jesuit in the playoffs. The Lakers defeated the Crusaders 48-17 in the 2017 quarterfinals and 24-14 in the 2018 semifinals. They also beat Jesuit in regular-season games the last two seasons, 20-14 in 2018 and 44-41 this season.
"We had opportunities to put the game away, and we didn't do it," Jesuit coach Ken Potter said. "That's on us, and that's on nobody else. We have to finish, and we didn't finish like we could have. We didn't score any points in the second half. You don't score any points, you don't deserve to win a game."
Jesuit finished with a 376-318 edge in yards. Wisher, coming off a 330-yard rushing performance in the quarterfinals, had a 42-yard touchdown run and an 81-yard run to the one-yard line, running it in on the next play. He also caught a 45-yard touchdown pass from Heyden. For the season, Wisher rushed for 2,485 yards and 32 touchdowns.
Filkins accounted for all three of Lake Oswego's first-half touchdowns – runs of 56 and one yard and a 69-yard pass to senior Thomas Dukart, who had eight catches for 170 yards.