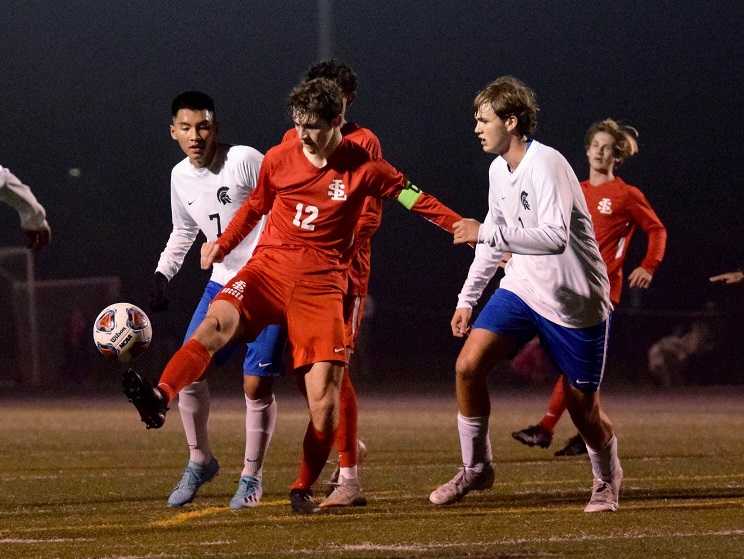 A rundown of Tuesday night's semifinal matches:
6A
Summit 1, Forest Grove 0 (PK 4-2): Summit got shootout goals from Rory McKee, Kamdon Simmons, Kyle Capdevila and Nathaniel Deperro to advance to the final. Khael Englelman made two saves in the shootout for the Storm.
Franklin 2, Cleveland 1 (OT): Game story
5A
La Salle Prep 3, Hillsboro 0: Game story
Wilsonville 1, Ashland 0 (PK 3-1): The Wildcats eliminated the Grizzlies from the playoffs for the second year in a row to advance to the final for the third time in five seasons. Adam Landy, Joseph Friedman, Sam Blohn and Angel Ulloa scored in the shootout for Wilsonville. Ashland failed to convert two penalty kicks, one on a shot over the crossbar by Noah Aguilar and the other on George Krecklow's save of Carson Pindell.
4A
Stayton 1, Marist Catholic 0 (OT): Game story
Woodburn 2, Valley Catholic 1 -- Woodburn scored a beautiful goal in the first half by Rodolfo Campuzano and Kevin Flores converted a second half penalty kick to put Woodburn up 2-0 and the Bulldogs held on against Valley Catholic, which had one goal in the 76th minute wiped out due to offsides but scored with less than three minutes to play, on a Spencer Wells goal, to make things tense to the end.
3A/2A/1A
Catlin Gabel 6, Taft 0: Game story
Oregon Episcopal 2, Brookings-Harbor 0: Game story