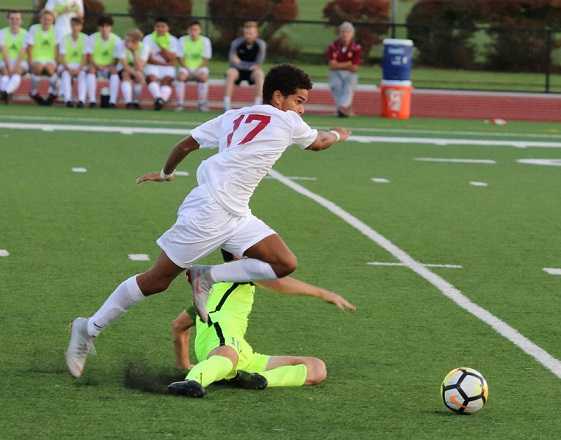 A newfound sense of urgency has helped propel Central Catholic at the start of the boys soccer season.
The Rams, ranked second in the OSAAtoday 6A coaches poll, have posted two of the most impressive wins so far, opening the season by going on the road to beat No. 3 Jesuit 3-2 and No.1 Grant 2-1. They followed that Tuesday with a 2-1 home win over reigning Portland Interscholastic League champion Lincoln.
With last year's 4-1 first-round playoff loss to North Salem still fresh in their minds, the Rams are intent on seizing their opportunities this season.
"We weren't happy with how last year ended," coach Jimmy Weber said. "I think it was a shock to the boys. I think the sophomores and juniors of last year are like, 'Oh, man, you just can't go out there and play around.' I think this year they're ready to compete.
"We talked preseason about competing at the highest level. And it paid off in the first two games."
The Rams jumped on Jesuit on Aug. 29, getting goals from juniors Andrew Elmore and Marko Beslic and sophomore Sam Duncan-Doroff to open a 3-0 lead by early in the second half. They showed how dangerous they are by quickly converting turnovers into goals.
"We were in the right frame of mind," Weber said. "We got the goal and we just kept pushing, which we didn't have last year. We didn't have the drive. This year we got a goal and there was never a give-up, 'We're going to go out there and win this game.' I think that's the attitude everybody has this year."
Central Catholic fell behind Grant 1-0 in the first 12 minutes Sept. 5, but got even on an Elmore goal just before half and took a 2-1 lead late in the second half on a goal by senior Axl Martinez-Ibarra.
The Rams brought back seven starters from last year's team, including two key senior leaders in defender Fritz Kabeiseman and goalkeeper Lach Davidson.
"Those two guys have taken control," Weber said.
Seniors Cam Bain and Solomon Fechter are back to patrol the midfield. Kabeiseman has moved from midfield to center back as the team has shuffled its lineup to compensate for the graduation losses.
"We had to do some changing around," Weber said. "I think it fits the team a little better than what we had last year."
The versatile Elmore and senior forward Michael Conley have been playing more outside this season. Frontline speed has become a bigger weapon for the Rams.
"We can get behind people this year," Weber said.
Weber – who coached Central Catholic to two state finals in his first seven seasons as coach, losing in 2013 and winning in 2014 – said the Rams are near the level of the championship squad.
"They're completely two different teams, but they're capable of it, that's for sure," Weber said. "If we keep the right mind frame, and don't get on a high horse, I think this team has potential."