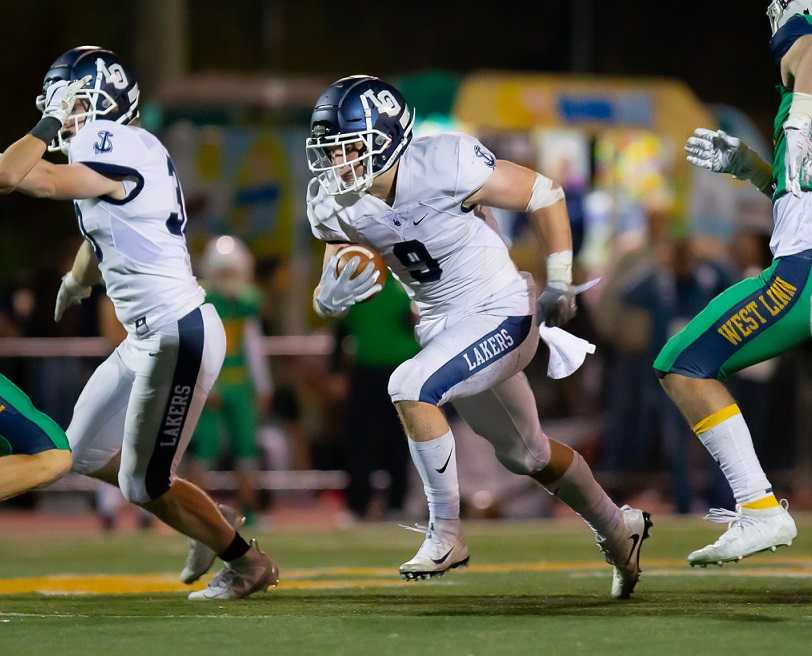 WEST LINN -- As the clock ticked toward zero, amid all the chaos, Lake Oswego senior tailback Casey Filkins had a moment of clarity.
Trailing by three points and without a timeout, the Lakers faced fourth-and-goal at the West Linn 2-yard line, and time was about to expire. Panic briefly ensued, but the Lakers got their wits and handed off to Filkins, who scored as the clock ran out to give them a dramatic 20-17 win.
How did they know what to do?
"That was completely Casey," Lake Oswego junior quarterback JJ Woodin said. "He was like, 'Hand me the ball, I'm scoring on this.'"
As their coaches pointed at the fourth-down marker, the Lakers quickly realized that they couldn't afford to spike the ball to stop the clock. That's when "we took it upon ourselves" to make the call, according to Filkins.
"Our coaches were kind of screaming in different plays from the sidelines," Filkins said. "We all just got on the ball, and I told JJ to hand the ball off to me. Our line got a great push into the end zone, and that just made it very easy for me to fall in there."
The win over No. 3 West Linn (4-2, 1-1) not only keeps No. 4 Lake Oswego (5-1, 2-1) a step behind No. 1 Tigard (6-0, 3-0) and No. 2 Tualatin (6-0, 3-0) in the 6A Three Rivers League, but it provides a much-needed boost after the reigning state champion Lakers were humbled by a 31-7 loss at Tigard two weeks ago.
"We never felt out of it," said the Cal-bound Filkins, who rushed for 180 yards and two touchdowns on 31 carries. "The Tigard one was a gut-punch, for sure, but we knew we had to rebound. We know we're a great team. We're going to battle with anyone. We'll be battle-tested when the time comes."
The touchdown capped a gusty 18-play, 80-yard drive that started with 2:58 remaining. Woodin completed 7 of 13 passes on the possession, none bigger than a 15-yard connection with senior Joe Hutson on fourth-and-5 at the West Linn 34. On third-and-goal at the 7-yard line, Woodin again passed to Hutson, who was tackled at the 2 with about 15 seconds left.
"We were thinking, 'Uh-oh, we might run out of time,'" Lakers coach Steve Coury said. "And then calmly – give our kids credit – they calmed down and got the play set before the clock ran out, and got the ball to the right guy. … Everything up to that point was great clock management, great calls by the coaches up above."
Senior tackle Cody Carlson said the Lakers' first instinct was to spike the ball.
"Then we realized it was fourth down," Carlson said. "So the O-linemen just got up on the ball, and me and my right tackle, Tiger (Shanks), we looked at each other and said, 'Let's run 46.' We gave it to Casey and put it behind us."
Even West Linn players were a bit overwhelmed by the moment.
"I think that a lot of us might've been expecting a spike," Lions junior defensive back Clay Masters said. "But we've got to be ready for anything.
"We've got to tighten things up when it comes down to a clutch situation. What we can do better, we'll see tomorrow. That one's on us. We've got to perform better. We've got to stop them."
It was a bitter defeat for West Linn, which had won four in a row since opening with a loss to Central Catholic.
"At the end of the day, we should've won that game, and I'm upset that we didn't," senior receiver and defensive back Casey Tawa said. "But the season's not over. It's not the playoffs. We can play with any team in the state, and we're going to play with any team in the state. It hurts badly, but we'll be all right."
For a while, it looked as if Lake Oswego would be the team lamenting its missed chances. Down 17-14 at half, the Lakers drove to the West Linn 16 and 18 on their first two drives of the third quarter and came up empty. But their defense held strong, they got one final chance and made it pay.
Woodin finished 17 of 26 for 184 yards and one touchdown without an interception, finding much success going to Hutson (12 catches, 131 yards), who had six catches on the winning drive. Woodin, a transfer from Westview, showed that he could come through under fire.
"He made some great clutch plays down the stretch," Filkins said of Woodin. "It shows his maturity throughout the season. I think he was a little rattled when he faced pressure in the past, but he was stepping up and making throws, keeping his eyes down the field instead of bailing and taking a sack."
West Linn senior quarterback Ethan Coleman completed 22 of 43 passes for 252 yards and two touchdowns, both to Tawa, who had five catches for 87 yards. Masters finished with six catches for 67 yards.
After Filkins opened the scoring with a 17-yard touchdown run, Coleman threw scoring passes of 22 and 25 yards to Tawa in the second quarter to put the Lions up 14-7.
West Linn junior Ben Siegel hit a 30-yard field goal to make it 17-7, but the Lakers answered with an 18-yard touchdown pass from Woodin to junior Malcolm Williams to cut it to 17-14 with 12 seconds left in the first half.
West Linn had chances to extend the lead in the second half but drives stalled at the Lake Oswego 23 and 28. The Lions got to the Lake Oswego 38 in the fourth quarter but were pushed back by a personal foul, forcing them to punt back to the Lakers, who took full advantage.
Lake Oswego's winning march was reminiscent of last year's 6A final, when the Lakers drove 75 yards and scored the go-ahead touchdown – a one-yard run by Filkins -- with 2:38 left to beat Sheldon.
"There were some flashbacks to it," Filkins said. "They're both great games."
Friday's win ranks high even for Coury, the team's coach since 1992.
"That was one of the best," he said.