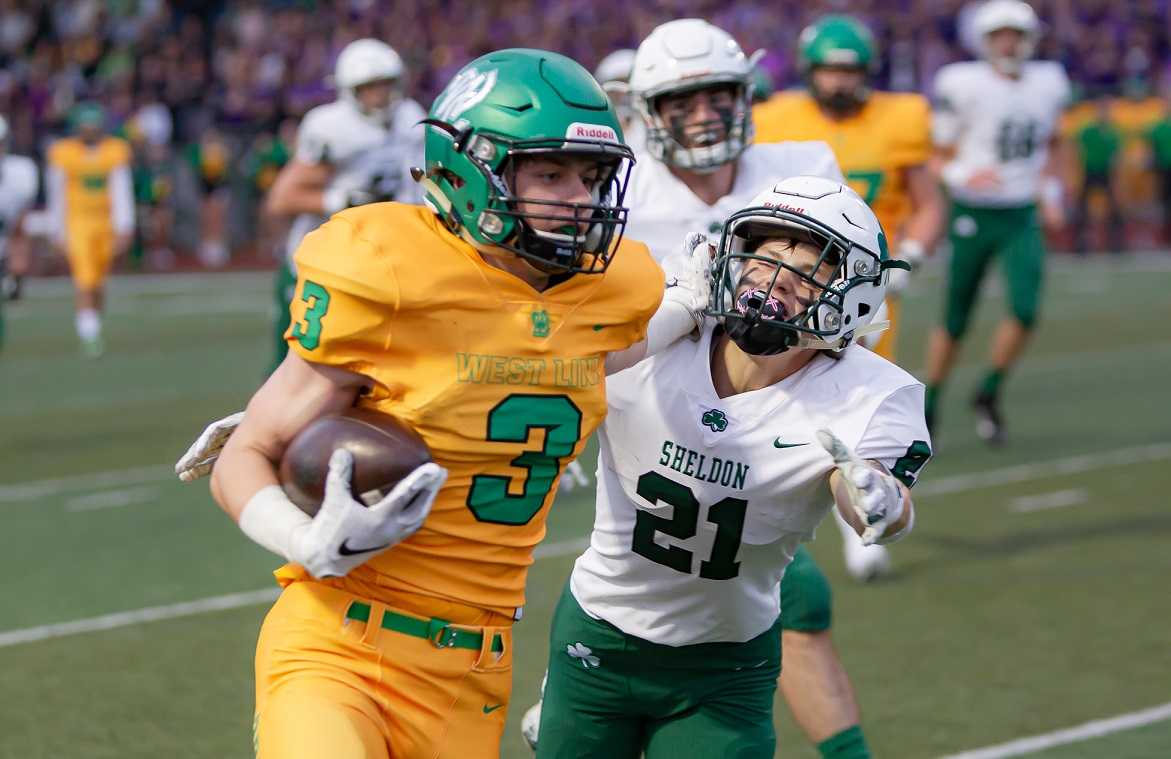 Since an opening-night loss to Central Catholic, West Linn's football team has been quietly generating momentum.
The young Lions got their footing with wins over McNary, Sheldon and Lakeridge, and last week they exploded against a tough Sherwood team, opening a 35-0 lead on their way to a 52-27 victory in their Three Rivers League opener.
So heading into their biggest game of the year so far – Friday at home against reigning 6A champion and fourth-ranked Lake Oswego (4-1, 1-1) – the third-ranked Lions (4-1, 1-0) are feeling good about their progress.
"We're starting to hit our stride a little bit," West Linn coach Chris Miller said. "It's been a fun stretch. I told the team that I think the best thing that happened to us in our opener was losing. It kind of helped us get back to grinding and working on the details."
The Lakers have taken notice.
"They're one of the top teams in the state, without a doubt," Lake Oswego coach Steve Coury said of the Lions. "You take these guys, and Tigard and Tualatin, I think that might be the three best teams going right now."
The Lakers can testify first-hand about Tigard, where they ran into buzzsaw two weeks ago in a 31-7 loss. It was an eye-opening defeat for Lake Oswego, which believes it got back on track with a 42-20 win over Clackamas last week.
Facing West Linn will be a good barometer.
"It's going to be a huge challenge for our kids," Coury said. "It's another step in finding out where we are, and how we compete against the top guys. We didn't compete very well in the first trial and error with Tigard, and now here's another one. Let's see if we're better at competing."
Much will depend on if Lake Oswego can adjust to opponents stacking their defenses to stop senior tailback Casey Filkins (750 rushing yards, 12 touchdowns), last year's 6A offensive player of the year. They also must protect junior quarterback JJ Woodin, who has been sacked 12 times in the last two games.
After Tigard smothered Filkins (10 carries, 33 yards), Clackamas tried to follow suit last week, but the Lakers spread out their formations and were better prepared to pass downfield and find safety valves underneath. Filkins had better success busting through the front, too, rushing for 144 yards and three touchdowns.
"It's like every loss. Sometimes you look at things even more critical when you lose," Coury said. "People try to do it because they had success at it. Hopefully, the lesson was learned and we can counter some of it."
It's a good bet the Lions will try to make someone other than Filkins beat them, too.
"You've obviously got to contain Filkins," Miller said. "Anytime he touches it, he's got enough juice to take it to the house. He's a big-time threat. He reminds me a lot of Christian McCaffrey."
Lake Oswego has felt the effects of losing its top receiver, senior Thomas Dukart, to a broken thumb in Week 3. He has undergone surgery – three pins were inserted – and is unlikely to return until late in the regular season.
West Linn has one of the state's hottest passers in senior Ethan Coleman, who has thrown for 1,698 yards and 22 touchdowns with two interceptions. Coleman, who attended Lake Oswego schools through eighth grade, is the brother of former Lakers standout Tyson Coleman.
"He's having a fabulous year," Coury said. "He's a great kid. I'm happy for him."
The Lakers will need to keep track of West Linn senior receiver Casey Tawa, who has 37 catches for 658 yards and 11 touchdowns.
A glance at other top matchups in Week 6:
6A
Grant (3-2, 1-0 PIL) at Jefferson (4-1, 1-0), Thursday: Jefferson, going after its first league title since winning the 5A PIL in 2011, meets Grant and Lincoln in back-to-back weeks. Grant has won the last five in the series, including 46-0 last year, a game in which it led 36-0 at half. The Democrats' Damir Collins leads 6A in rushing with 1,443 yards. Grant gave up four touchdown passes in a 28-12 loss to Barlow last week.
No. 8 Mountainside (4-1, 1-1 Metro) at co-No. 9 Beaverton (4-1, 1-0), Friday: The Mavericks have been on a roll since losing their opener to Jesuit 28-3, winning four games by a combined 182-28. Beaverton, which beat them 38-20 last year, will provide a challenge. Mountainside's EJ Broussard ran for 192 yards and five touchdowns in last week's 42-21 win over Southridge.
5A
No. 10 Dallas (4-1, 4-1 Mid-Willamette) at No. 4 Silverton (5-0, 5-0), Thursday: A key game in the Mid-Willamette race features the Dragons, who have won three in a row since losing to Lebanon 28-20, against the unbeaten Foxes, who are tied for first place with West Albany. Last year, Silverton won 23-8 at Dallas, which finished 2-7.
No. 6 Pendleton (4-1, 3-0 NWOC East) at La Salle Prep (2-2, 2-0), Thursday: Pendleton is in position to wrap up a repeat division title with wins over La Salle Prep and Parkrose (2-2, 2-1) in its next two games. The Buckaroos have won four in a row after opening the season with a 36-14 loss to 4A power La Grande. Pendleton throttled La Salle Prep 62-14 last year in a game that ultimately decided first place in the division.
No. 9 Scappoose (4-1, 3-0 NWOC West) at No. 7 Wilsonville (4-1, 3-0), Thursday: For the second year in a row, the teams meet with first place in the division at stake. Last year, the Wildcats shook off an early 13-0 deficit to beat the Indians 41-20 in a mud bog at Scappoose. Wilsonville quarterback Jayce Knapp has thrown for 1,027 yards and 12 touchdowns. Scappoose dual threat QB Jakobi Kessi ran for 106 yards in last week's 49-7 win over St. Helens.
4A
No. 3 Mazama (5-0) at No. 4 Marist Catholic (4-1), Friday: Marist Catholic's high-powered offense, which averages a 4A-high 43.8 points per game behind senior quarterback Max Campbell (1,147 passing yards, 14 touchdowns) and sophomore running back Lucas Tuski (693 rushing yards, 11 touchdowns), clashes with a Mazama defense that allows a 4A-low 5.4 points per game. The Vikings prevailed 14-6 over the Spartans at home last year.
North Marion (3-2, 2-0 Tri-Valley) at No. 8 Estacada (4-1, 1-1), Thursday: North Marion finished 1-4 in the Tri-Valley last year, but is much improved under first-year coach Calvin Griggs, who came over from 2A Jefferson. If the Huskies can get past the Rangers, they could set up a first-place showdown with Gladstone next week. Estacada rebounded from a 23-20 loss to Gladstone by beating Woodburn 30-20 last week. In 2018, the Rangers defeated North Marion 28-20.
3A
No. 8 St. Mary's (4-1, 1-0 Far West) at No. 1 Hidden Valley (5-0, 1-0), Friday: Hidden Valley -- coming off a 42-14 win at Cascade Christian, the Challengers' first league defeat in 10 years – can take command of the Far West with a win over the Crusaders. St. Mary's is averaging a 3A-high 50.4 points per game behind senior quarterback Aliiloa Kaeo-Wailehua, who threw three touchdown passes in the Crusaders' 34-16 win over the Mustangs last year.
Siuslaw (4-1, 1-0 Mountain Valley) at No. 2 Santiam Christian (5-0, 1-0), Friday: The Vikings, resurgent under first-year coach Sam Johnson, amassed a school-record 673 yards in beating Harrisburg 64-8 last week, getting school-record performances from quarterback Elijah Blankenship (339 passing yards) and receiver Braydon Thornton (13 catches, 307 yards, four touchdowns). The going will be much tougher this week against a Santiam Christian defense that has allowed 35 points all year. The Eagles beat Siuslaw 32-6 in 2018.
2A
Colton (4-1, 2-1 Tri-River) at No. 9 Culver (4-1, 1-1), Thursday: Two one-loss teams collide in a pivotal Tri-River contest. Culver suffered its first loss of the season last week, falling behind 23-0 in a 23-14 loss at Santiam. Culver is holding opponents to 9.4 points per game, much improved from 33.7 last year, when the Bulldogs finished 3-6. Colton's only loss is 43-26 at Sheridan in Week 3. The Vikings beat Culver 51-0 last year.
1A 8-man
Perrydale (5-0, 2-0 Casco) at No. 1 St. Paul (5-0, 2-0), Thursday: Despite being undefeated, Perrydale still hasn't cracked the top 10 in the coaches poll. But the Pirates, who already have more wins than in any season since 2015, can make a big statement against longtime rival St. Paul, last year's state runner-up. A year ago, St. Paul rolled 64-6 over Perrydale, which finished 3-6.
1A 6-man
No. 1 Joseph (3-0, 3-0 Special District 5) at No. 2 South Wasco County (4-0, 3-0), Friday: Joseph, which hasn't lost a six-man game since the OSAA pilot program began last year, gets a big test from the Redsides. Last year, Joseph's closest game was a 27-16 win over South Wasco County. The Redsides are coming off back-to-back shutouts of Mitchell/Spray/Wheeler (51-0) and Echo (55-0). Joseph has outscored its foes 189-6.