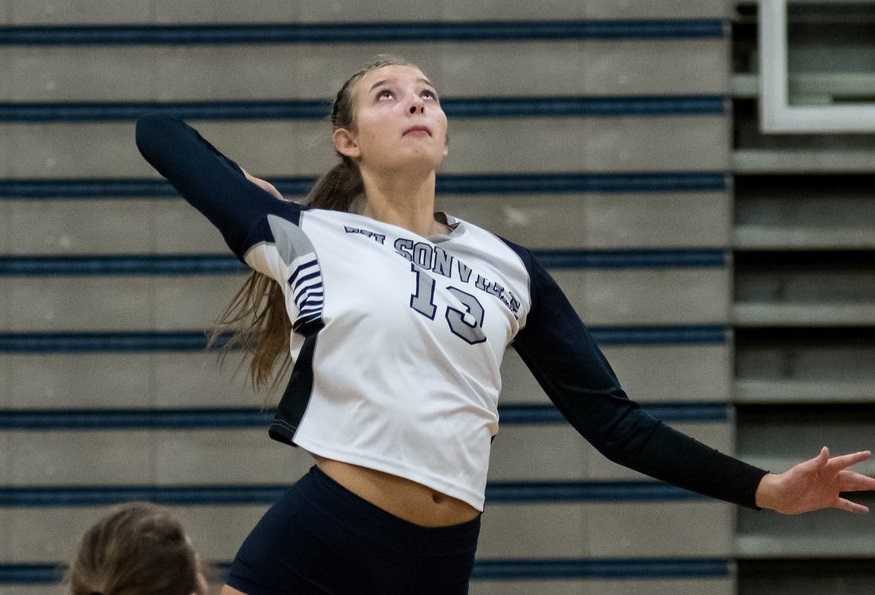 Nathan Blankenship had a three-year plan for Wilsonville's volleyball team when he took over as coach in 2017.
In its third year, it's coming together like clockwork.
"My first year was to establish my program and methodology," he said. "My Year 2 goal was to win our league. My third-year goal is to win state."
It's been a steady climb for the Wildcats, who are No. 1 in the OSAAtoday 5A coaches poll.
They went 14-7 in 2017, doubling their win total from the previous season. They finished 19-4 in 2018, going unbeaten in the Northwest Oregon Conference and reaching the state quarterfinals. This year they are 11-0 (9-0 in the NWOC) and have won 31 of 32 sets.
Wilsonville lost two starters but brought back several key players, including 6-foot-1 senior outside hitter Lindsey Hartford, last year's NWOC player of the year, and senior setter Kennedy Juranek, who has committed to Montana.
Also back are senior libero Gracie Thompson and two sophomores who started as freshmen in outside hitter Ashli Edmiston and middle blocker Tatum Lubisich, as well as senior middle blocker Tenley Lubisich, who sat out last season to pursue drama interests.
"I was very optimistic coming into this year," said Blankenship, who started a Wilsonville branch of the Northwest Elite Volleyball Club when he took over as coach. "With that kind of experience coming back, I knew we'd be stronger. … I think we have a very good chance of winning state."
Edmiston leads the team with 102 kills (3.0 per set), boasting a 46.2 percent kill rate. The offense comes from all angles, though, and the block has been steady with the Lubisich sisters and 6-1 junior Clarissa Klein.
"Our attack is faster. It's more complete and more well-rounded," Blankenship said. "We're getting great production out of the middle and the outsides, and at both pins.
"When you have five extremely talented hitters, who are hitting all the way through, it puts the defense in a very, very tight bind. We can literally attack from almost any position, and do it consistently through all six rotations. That's a great place to be."
The coach raved about the play of the 5-5 Thompson, who has a team-high 81 digs at libero.
"She's playing probably the best I've seen her play," he said. "She's super consistent on our receive of serve. She's got some amazing one-armed digs. It's fun to watch her cover as much ground as she does."
In the Tualatin Tournament on Sept. 14, the Wildcats dropped the first set to Oregon City 25-18 but rebounded to win the next two sets 26-24, 15-13. They have won all 20 of their sets since that match.
"We keep getting better and we keep pushing the envelope," Blankenship said.
Wilsonville owns a 3-0 win over La Salle Prep, last year's NWOC runner-up, and can put a stranglehold on the conference Tuesday when they play host to the second-place Falcons (10-5, 8-1).
The Wildcats are looking to make amends for last year's appearance in the state tournament. They lost to Dallas 3-2 in the quarterfinals and fell to Hood River Valley 3-1 in consolation play.
"Having such a young team last year I think was a factor," Blankenship said. "We got a little bit starstruck when we got up there in the big lights.
"That was one of the reasons why I was so happy to have that opportunity. They've been there, they've experienced that, and they'll be much more settled and focused when we get there this year."