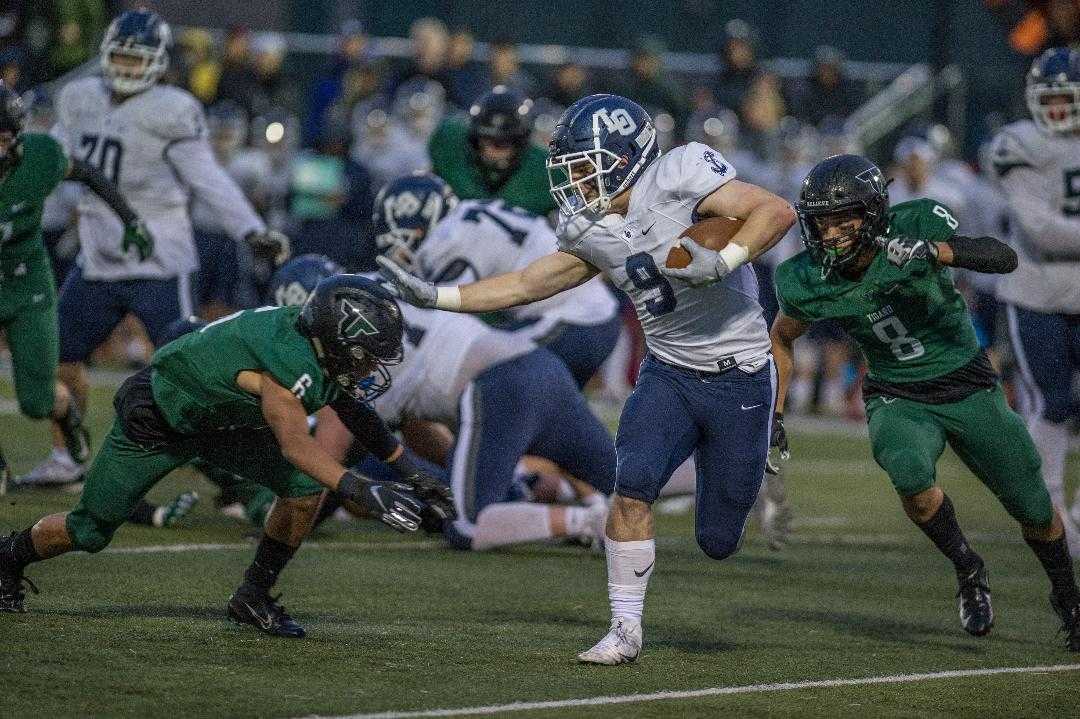 TIGARD -- Tigard's stunning 31-7 home win over No. 1 Lake Oswego on Friday night was an emphatic statement about what the Tigers think they can accomplish this year.
But they also believe it carried a message about last season, when the teams didn't meet in the Three Rivers League and the Lakers won the league and the 6A championship.
"Oh yes, we were frustrated," senior linebacker Kameron Hosley said of last season, when Tigard lost in the quarterfinals, one game shy of a semifinal date with the Lakers. "If the state title would've gone through us, it would've been different."
That's ancient history, but what's relevant now is that the fifth-ranked Tigers (4-0, 2-0) may have just become the team to beat in 6A. They were clearly the better team Friday night as their defense smothered the Lakers (3-1, 1-1), throwing a blanket over star tailback Casey Filkins and racking up eight sacks.
"We've got 'believe' on our helmet. That's our motto this year," said senior running back Hunter Gilbert, who ran for 152 yards and one touchdown on 24 carries. "Anything is possible when we're on the field."
He doesn't have to convince Filkins and the Lakers, who have lost five in a row to the Tigers. The Cal-bound senior running back – the reigning 6A offensive player of the year -- entered with 573 rushing yards and nine touchdowns but was held to 33 yards on 10 carries and three catches for 18 yards.
"We got our butts kicked. That's kind of just the bottom line," Filkins said. "It was just a tough game all around. It was just a learning experience. We've got to go back to the drawing board."
Filkins had no room to run as the Tigers overloaded the box and dared Lakers junior quarterback JJ Woodin to beat them. Woodin completed 8 of 20 passes for 156 yards and was under constant pressure.
Five different players recorded sacks in senior linebacker Cole Scott (2.5), Hosley (2), senior linemen Brayden Zolkoske (1.5) and Bryce Goetz (1) and junior linebacker Aden Murphy (1).
"We can bring pressure when we need to," Hosley said. "It was really about containing (Filkins), and then putting pressure on the quarterback when they passed."
The objective, first-year Tigard coach John Kemper said, "was to make them throw the ball and get Casey kind of frustrated and not in a rhythm. All the credit to the kids."
The Lakers couldn't find a way to cut Filkins loose. It didn't help that they were missing their top receiver, senior Thomas Dukart, who is expected to miss at least a month with a broken thumb.
"Our line would get a good push, but when you have nine in the box, you're going to get tackled at like two or three yards," Filkins said. "When I would shift out and play slot, they would bracket me in, so it was just tough."
Lake Oswego took a 7-3 lead on the first play of the second quarter, a one-yard run by junior Tyler Miller, which was set up by a 54-yard pass from Woodin to junior Malcolm Williams.
Tigard answered quickly when senior Max Lenzy returned the ensuing kickoff 99 yards for a touchdown, making it 10-7.
"We just set it up. It was great blocking," Lenzy said. "I think that really changed the momentum of the game. We were like, 'We can win this.' We kind of already knew, but we kind of drove off that."
Two minutes before the half, Tigard junior quarterback Drew Carter hit senior Tyler Penn with a 48-yard touchdown strike to make it 17-7.
The Tigers took total command on the first possession of the third quarter, driving 78 yards in 16 plays – including eight carries by Gilbert – to open a 24-7 lead on a three-yard run by senior Josh Burns.
The march seemed to break the Lakers.
"Their heads were kind of dropping every minute, you could just see, lower and lower," Lenzy said. "And less talking."
Gilbert said the Lakers "were starting to soften up and get tired, and we just stuck it to them."
Gilbert added the clincher midway through the fourth quarter by busting through the line and racing away for a 54-yard touchdown run that made it 31-7.
Lake Oswego had one first down and 11 yards in the second half, finishing with 164 total yards. It was the Lakers' first league loss since 2017, when Tigard beat them 31-28 and the teams shared the Three Rivers title.
The Tigers admitted they were a little extra hungry after not getting to play the Lakers last year.
"Definitely," said Gilbert, whose junior season was cut short by a knee injury. "Before the game we were talking about it, saying, 'They didn't want to play us last year, because they were getting beat up.' We knew what we were going to do."
Tigard finished with 362 total yards, 243 on the ground. Carter went 6 for 16 for 119 yards and one touchdown.