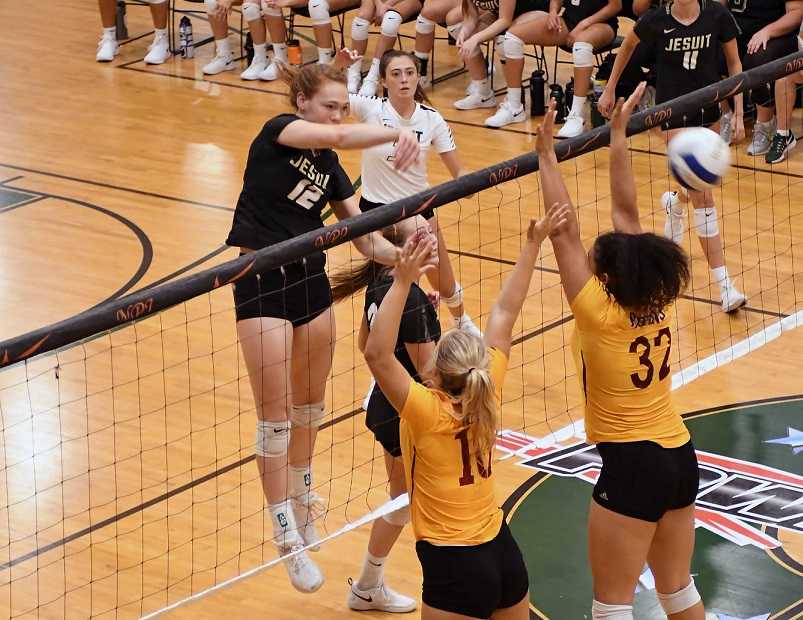 The result was nice, but more than anything, Jesuit volleyball coach Teresa Zimmerlee liked the way her top-ranked team responded to adversity in a three-set win over No. 2 Central Catholic on Saturday.
The Crusaders (8-0) beat the Rams 25-21, 24-26, 15-13 in the last match of the 10-team Central Catholic Tournament at The Hoop in Salem, finishing off a 4-0 day.
Things seemed to be unraveling for Jesuit when it fell behind 11-0 in the second set, but the Crusaders showed poise and resiliency in fighting back to get even before prevailing in a battle of 6A powers.
"The kids finished," Zimmerlee said. "What was really nice for the coaches to see is that they didn't get nervous, they just worked their way back into the match. They just kind of calmly gathered themselves."
Senior outside hitter Rose Booth led Jesuit against Central Catholic (5-1) with 16 kills. Senior middle blocker Alyssa Hughes had six kills and three aces, sophomore setter Peyton Griffin had 32 assists and senior Brooke Olson had 12 digs.
"It's always a battle, a fun battle, between two teams that are good," Zimmerlee said. "It's fun and intense and really good to improve the play of our team, at least."
Little seems to separate the teams at this point in the season.
"Could have gone either way, it was that close," Rams coach Rick Lorenz said. "Their offense was better than our defense, but we were scrappy the whole match. Next match up should be fun again."
Jesuit also beat No. 9 Summit 25-12, 25-14, No. 6 Clackamas 25-17, 25-16 and West Salem 25-13, 25-13 at the tournament.
"I thought we were solid," Zimmerlee said. "It's early in the season, so I'd like us to be a little better at a few things, but overall I think the play was good.
"The hitters were pretty consistent, not counting the last match. We had a little lull in attacking in the second game, but they got over it and moved on."
The Crusaders have been playing at a high level early in the season, winning 20 of 21 sets. The 6-foot-1 Booth has 93 kills and is hitting at .365. Hughes (6-2) has 53 kills, hitting at .482, and a team-high 18 aces. Griffin is averaging 11.4 assists per set and Foley has a team-best 52 digs.
Central Catholic defeated No. 3 West Linn 25-23, 25-20, No. 4 Sheldon 25-16, 17-25, 15-8 and West Salem 25-14, 25-15.