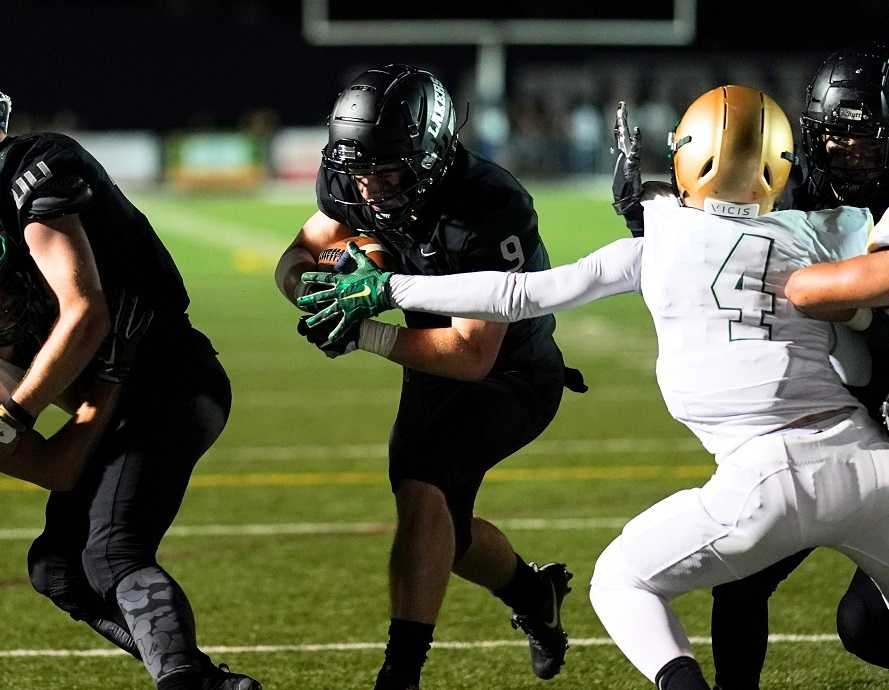 LAKE OSWEGO -- After taking a 17-point lead in the first quarter Friday night, No. 1 Lake Oswego needed all it could muster to fend off No. 3 Jesuit in a battle of 6A football superpowers.
Fortunately for the reigning state champion Lakers, their arsenal includes senior running back Casey Filkins, last year's 6A offensive player of the year.
It seemed every time the Crusaders got close, Filkins had an answer, rushing for 227 yards and four touchdowns on 24 carries to lead host Lake Oswego (2-0) to a 44-41 nonleague win.
"I feel good. I feel faster," Filkins said of his improvement from last season. "There was a lot of work in the offseason I put in just to get faster. Luckily for me, I put on about 10 pounds, too, so I'm able to take more hits, just be more durable and run faster."
The Cal-bound Filkins, slowed in preseason camp with a tender groin, appears to be approaching full throttle. In two games, he has rushed for 437 yards and seven touchdowns.
"Having Casey back 100 percent is amazing," Lakers senior lineman Cody Carlson said. "It gives us a lot of confidence, and it expands our playbook. We can play him anywhere on the field, and it works."
On the other side of the field, Jesuit (1-1) was dealing with the loss of its own Cal commit, linebacker and running back Andy Alfieri. The Crusaders found out Wednesday that Alfieri is expected to miss the rest of the season due to a cracked L3 vertebra, according to coach Ken Potter.
"We'll be playing without Andy for the rest of the year. He's done," Potter said. "The doctor says he's going to be fine, and college football and everything is great. But it's a 4-6 week recovery time for that, and then it's another four weeks or so before he gets his strength back. So we just told him that it's not worth it."
It was a downer not just for the Crusaders, but also Filkins, who looked forward to playing against his future college teammate.
"I feel so bad for him," Filkins said. "His injury, it's pretty demoralizing for him. As a competitor, of course, I want to be out there playing against him, and I know he does, too. It hurts."
Still, without Alfieri and starting senior receiver Joey Gatto (groin), Jesuit would not go away.
Down 17-0, the Crusaders fought back to within 24-21 on a 51-yard interception return for a touchdown by senior Campbell Brandt midway through the third quarter. Jesuit seemed ready to take the lead on its next series when it had first-and-goal at the 7-yard line, but senior Ted Atkinson fumbled and Lakers senior Jonas Hunter recovered.
Filkins broke loose for 63 yards on the next play, and moments later cruised around left end for a 29-yard touchdown run to restore the lead to 31-21. Filkins scored on a two-yard run early in the fourth quarter, set up by a blocked punt by junior Julian Lopez, for a 37-21 cushion.
Again, Jesuit kept coming.
Kade Wisher scored on a one-yard run, and after a strip-sack by sophomore Johnny Miller and fumble recovery by junior Charlie Pickard at the Lake Oswego 10, Jesuit senior quarterback Jack Heyden connected with Brandt for a 10-yard touchdown pass to make it 37-34 with 7:59 left.
Cue Filkins, one more time. On a botched handoff from junior quarterback JJ Woodin, Filkins cut loose for a 68-yard touchdown up the middle to push the lead back to 44-34 with 6:53 to go.
"He's just a phenomenal player," Lakers coach Steve Coury said. "There are no words for it. I've been saying we've got to find a way to get him the ball. He's one of those kids, like all the great ones, they've just got to carry it enough, and eventually something's going to happen."
Potter said that Filkins is "a really good football player. He has excellent speed and vision. He makes a lot of big plays. It would've been nice if Andy was on the field, so the other Cal recruit could've been there to maybe pull back on some of those long plays."
Jesuit cut the lead to 44-41 on a five-yard run by Wisher with 2:46 remaining, but the Lakers ran out the clock behind Filkins.
Lake Oswego got the win – its fourth in a row over Jesuit, including the 2017 quarterfinals and 2018 semifinals – but it was far from a masterpiece for the Lakers, who had three turnovers, miscues in their kicking game and a rash of penalties.
"It was just a sloppy game," said Coury, whose team outgained Jesuit 410-323. "I'm disappointed in the way we played in a lot of ways, but we won, and that's a big thing."
Woodin, a transfer from Westview, finished 9 of 15 for 175 yards, including first-half touchdown passes of 61 and 48 yards to senior Thomas Dukart.
Despite the loss of Alfieri, Jesuit showed that it can't be counted out as a contender. The backfield combination of Atkinson (23 rushes, 89 yards, one touchdown) and Wisher (19 carries, 65 yards, two touchdowns) proved capable, and the team's quarterbacks – Heyden and junior Cooper Wrenn – had their moments.
More than anything, the Crusaders showed resiliency.
"That's always been our strength, and especially this team," Atkinson said. "We don't give up. We don't stop working. We've just got to come back next week, keep that intensity, and higher."
The effort helped ease the sting of defeat.
"It's the second game of the year, with 16 new starters, and what I liked was we battled," Potter said. "We didn't give up. It's a great game to build on."