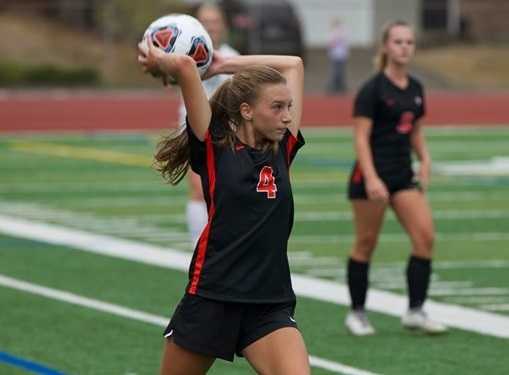 The momentum that Gladstone's girls soccer team generated in its first season under coach Tyler Lewis came to a halt in the 4A quarterfinals last year.
Now the Gladiators, with 12 seniors, are poised to make their move.
Lewis, who coached Gladstone's boys to three state runner-up finishes in 16 seasons (2001-16), likes what he has seen so far this season in one-goal wins over Stayton and Philomath, both quarterfinalists last year.
Much will come to light in the next two games, though, when the third-ranked Gladiators visit No. 1 Marist Catholic on Sept. 17 and play host to No. 4 Valley Catholic on Sept. 19. Gladstone lost to both teams 4-0 in nonleague matches last year.
"This is going to be a big opportunity for us to see where we stack up compared to where we were at this point last year," Lewis said.
Lewis stepped down as Gladstone's boys coach to have more time to watch his daughter Brianna – now a junior forward for the Gladiators – play soccer. When the Gladstone girls job opened after the 2017 season, he seized the opportunity.
"It was a bit of a transition for me coaching girls after 19 years on the boys side," said Lewis, who also spent three seasons as the boys coach at Portland Christian (1998-2000). "But the girls were really ready for a change. They were ready to get past that next hurdle. They were very embracing to try to create a little bit of a new culture and try to do something special over the next couple years."
Shorthanded at the start of last season, Gladstone got off to a 1-3 start. But the Gladiators got back to full strength and reeled off nine consecutive wins to take the Tri-Valley Conference. They finished 11-4-1 after a 2-1 quarterfinal loss at La Grande.
"It was a big frustration to try to learn a new system, a new coach, with not all of our pieces," Tyler Lewis said of the slow start last year. "By midway, we were fully there and fully healthy. We had a great year.
"We were a little disappointed in not getting a result at La Grande, because we were really looking forward to that semifinal rematch with Valley Catholic, who beat us pretty good when we weren't ready. They've really been waiting for eight months to get back out there."
Gladstone returned all but two starters, including Brianna Lewis, who missed the first six games last year but returned to score a team-high 18 goals and earn Tri-Valley player of the year honors.
The Gladiators brought back three other first-team all-conference players in senior defender Genae Vanek, senior midfielder Denali Nelson and senior Aaliyah Asad, the 2018 Tri-Valley goalkeeper of the year.
Gladstone defeated Stayton 3-2, getting two goals from senior Gwyneth Roberson and one from senior Josie Landrus, and edged Philomath 2-1 behind two goals from Lewis.
Tyler Lewis said the Gladiators have added some nuance to their game.
"We're trying to change our style a little bit," he said. "Because of our experience and ability, we think we can possess the ball a little bit better."
Lewis said he expects No. 9 North Marion and No. 10 Molalla to pose a challenge for Gladstone in the Tri-Valley.
"But if you look at some early results, it doesn't look like there's going to be an easy game in the conference this year," he said. "I think it'll be a tough run."
Beyond the conference, the Gladiators are hoping to make a state-tournament run. After finishing second in state three times, a title would be extra meaningful for Lewis.
"It's definitely something that's hanging out there," he said.