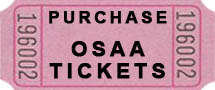 OSAA Headlines
Apr. 15
Attachments include several new and amended Articles and Rules.
Apr. 15
Review from second meeting of the school year, including sample Winter rankings using Colley Rank as the tiebreaker.
Apr. 2
These districts are PROPOSED. Send feedback to OSAA staff prior to May 4 Executive Board meeting.
Mar. 30
Details OSAA's stance on eligibility for students transferring under Open Enrollment.
Nov. 13
Updated adjusted ADM figures for all OSAA member schools.