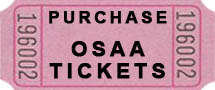 OSAA Headlines
Sept. 30
Includes Caucus Group discussion topics and several action items.
Sept. 9
Outlines action taken at the first Executive Board meeting of the year.
Sept. 9
Registration information for the November 19 webinar on Title IX and high school athletics.
Sept. 3
Restrictions adopted by the Executive Board at the September 3 meeting.
Aug. 12
New online form to be used by school administrators for hardship requests.