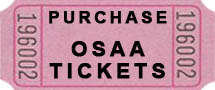 OSAA Headlines
Apr. 24
Agenda includes important committee recommendations.
Apr. 15
Attachments include several new and amended Articles and Rules.
Apr. 2
These districts are PROPOSED. Send feedback to OSAA staff prior to May 4 Executive Board meeting.
Mar. 30
Details OSAA's stance on eligibility for students transferring under Open Enrollment.
Nov. 13
Updated adjusted ADM figures for all OSAA member schools.