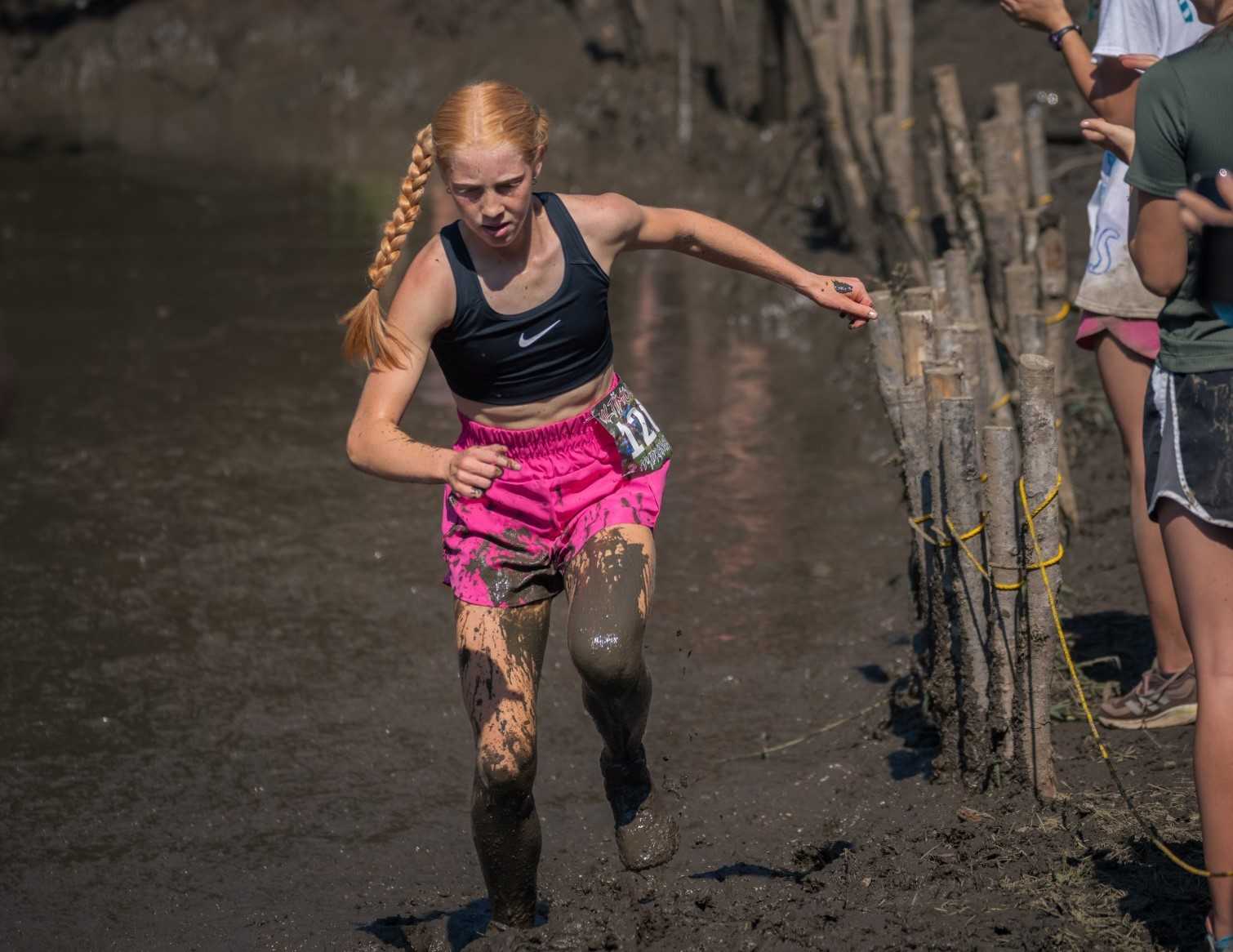 One month into the cross country season, North Salem sophomore Nelida Dalgas is starting to look like the favorite among 6A girls.
Dalgas underscored that notion Saturday in The Mook Invite at Alderbook Golf Course in Tillamook, running an 11-second personal best of 17:36.7 to finish third behind two national-caliber runners from Mercer Island, Wash.
Dalgas was 13 seconds faster than the No. 4 finisher, Jesuit senior Liliana Hudnut, who ran a personal best of 17:49.8. Dalgas and Hudnut own the top two times in 6A this season.
Dalgas, who placed sixth in the 6A meet as a freshman, has big goals for the season. She not only is chasing a 6A title, but a spot in Nike Cross Nationals, which would require a top-five finish at the regional meet in Idaho.
"She's a very, very motivated kid," North Salem coach Hannah Clarizio said. "She has a pretty big goal that's very difficult. She wants to make it to the next level, so that's kind of what we've been working toward."
Dalgas had high hopes for her freshman track season but was undone by a health issue that required her to miss more than one month of training. With only three weeks to prepare for her district meet, she finished fourth in both the 1,500 and 3,000 meters and failed to qualify for state.
"She had a rough go in track season," Clarizio said. "She didn't get to go to state and have the normal experience she was hoping for her freshman year."
It was a difficult blow, but Dalgas continued to train through the early summer and got good results. She ran the 3,000 in 10:19.66 at the Portland Track Festival on June 4, taking 20 seconds off her best. She improved to 10:11 in a time trial two weeks later, which would have been good for sixth place in the 6A meet.
"She would've been one of the top in the state if she would've had a normal season, for sure," Clarizio said.
Dalgas worked throughout the summer with Clarizio – a member of Molalla's 4A title team in 2013 who went on to a college career at Corban – and it has paid off.
Dalgas opened the season with a personal best (18:23.6) in the Ultimook Race, where she placed third in the 6A/5A division behind junior Emily Wisniewski of 5A Crescent Valley and a Washington runner. Then she set the school record (17:47.8) to finish third at the Ash Creek Festival behind Wisniewski and junior MacKenzie Bigej of 5A Canby.
Dalgas was looking to set the pace Saturday at The Mook Invite, but the late entries from Mercer Island – freshman Sophia Rodriguez (16:49.8) and junior Victoria Rodriguez (17:03.6) – stole the show. Sophia Rodriguez owns two world records in the 14-year-old age group, including 16:22.3 in the 5,000.
"It was a good learning experience," Clarizio said.
What the 5-foot-1 Dalgas lacks in footspeed she makes up for in tenacity.
"She can run really fast for a long time, just not the type of top speed you would see from some other kids on the track," Clarizio said. "She has a huge aerobic talent. For her, the more she can know she's aerobically strong, and she's not going to have anyone able to keep up, the nicer it is because she won't have to worry about them out-kicking her."
Dalgas still has plenty to learn about racing strategy, according to Clarizio.
"We're working on being the smarter racer," Clarizio said.
Jesuit sweeps
Jesuit took both team titles at The Mook Invite.
The Crusader girls scored 48 points to beat Issaquah, Wash. (98) and West Valley of Yakima, Wash. (142). The boys scored 63 points to run away from Issaquah (107) and Wells (136).
The meet included the top five boys times in Oregon this season with Wells senior Asher Danielson (second-14:51.0), Jesuit senior Caden Swanson (fifth-15:00.2), Franklin junior Zafer Courcelle (sixth-15:06.6), Jesuit sophomore Matthew Wroblewski (seventh-15:14.0) and Central sophomore Ty Cirino (ninth-15:16.4).
Northwest Classic
Summit's boys and girls finished first in the Northwest Classic on Saturday on the state-meet course at Lane Community College.
The Storm had the top two finishers in the boys race in senior Noah Laughlin-Hall (15:17.2) and junior Hayden Boaz (15:24.4), who barely edged Southridge senior Collin Penuel (15:24.4).
Summit's 98 points easily eclipsed Sheldon (167) and McNary (186) among the 26 boys teams.
The Storm's girls won the 22-team girls race, edging Tualatin 93-110. The top three placers were Tualatin senior Lauren Ayers (18:39.2), La Salle Prep junior Maya Crimin (19:00.6) and Caldera freshman Maddie Carney (19:11.3).
Notes
Lincoln's girls emerged on top out of 16 teams in the Bob Firman Invitational in Idaho on Saturday. The Cardinals outpointed runner-up Boise 74-100, led by freshman Ellery Lincoln (third-18:03.8) and senior Keira Saavedra (fourth-18:08.8). West Salem's Jack Meier (10th-15:30.2) was the highest-placing Oregon boy. … Valley Catholic claimed both titles in the Champs Invite at Cheadle Lake State Park on Friday. Yamhill-Carlton junior Louigi Etta (16:41.54) and East Linn Christian junior Daisy Lalonde (18:09.6) were the individual champions.