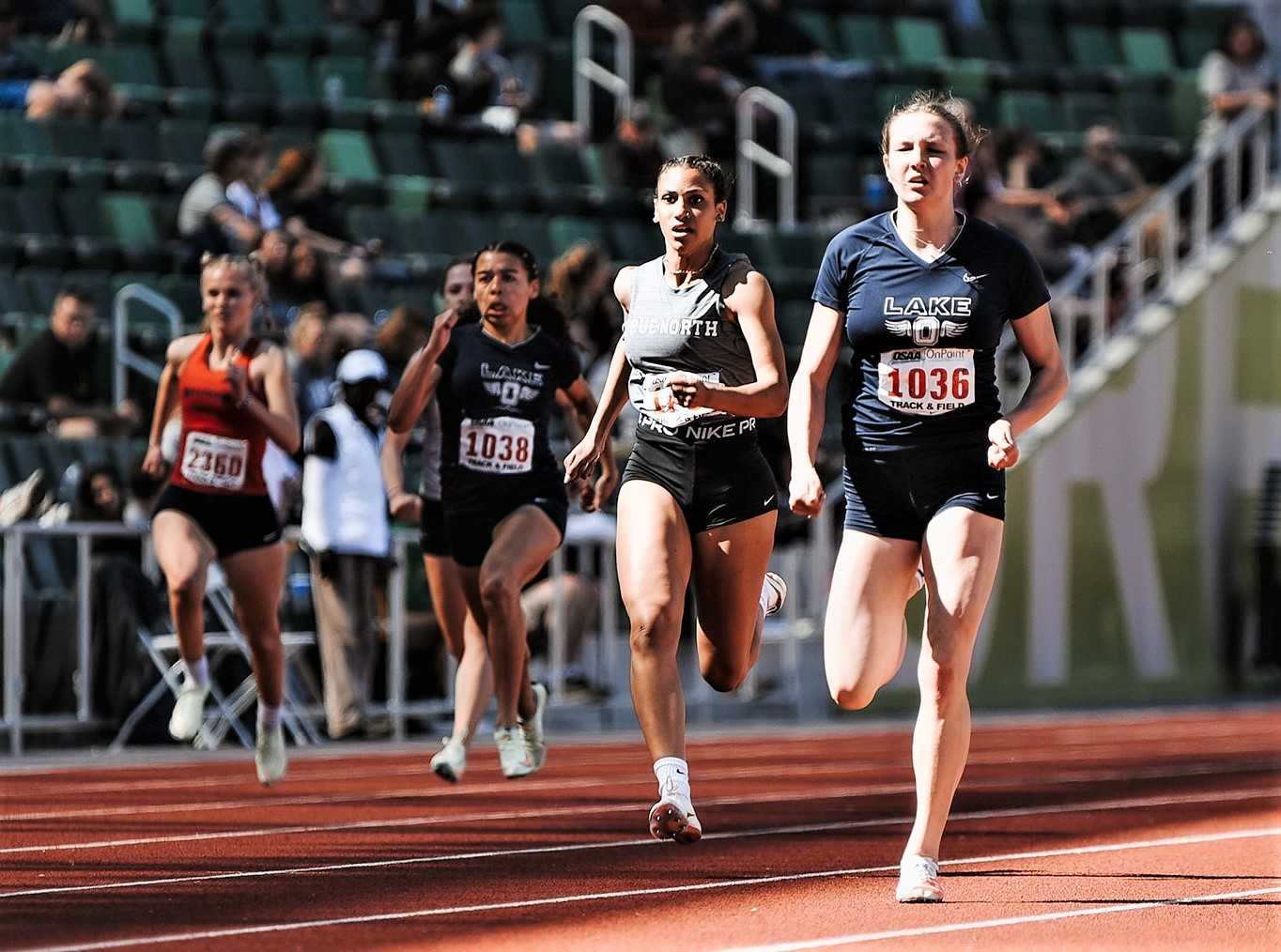 The 2023 season already has been one for the books for Oregon girls high school track.
And after five state records have fallen, the anticipation is off the charts for what could happen this week in the OSAA/OnPoint Community Credit Union state championships at Hayward Field.
"It'll be a fun time for people to come watch the state track meet and see things that have never happened before," Lake Oswego coach John Parks said. "Being in this era is really exciting."
Oregon City coach Kristin Mull put it in perspective.
"You've got to think about, 'How long will it be until you see these performances again?'" Mull said. "It's fantastic for Oregon. They're good kids, they all hang out together. The camaraderie is really fun to see. They support each other."
At the top of the marquee are Lake Oswego junior Mia Brahe-Pedersen and Oregon City senior Sophia Beckmon. Brahe-Pedersen is the state record-holder in the 100 and 200 meters. Beckmon has crushed the state record in the long jump. Both are in position to chase all-time national high school records this week.
They are destined for greatness, according to Parks.
"Those two will both make Olympic teams if everything goes well," he said.
Brahe-Pedersen also is part of a 4x400 relay that set the state record last week and a 4x100 relay that is on the brink of breaking the state record. Also, there's Churchill freshman pole vaulter Addison Kleinke, who cleared 13-1 this season to break a state record that had stood since 1999.
There are others knocking on the door. West Linn senior Anika Sukumar's personal best in the triple jump is within eight inches of the state mark. Lake Oswego junior Josie Donelson is on the heels of the state record in the 400.
Much of the attention will be on Brahe-Pedersen, the two-time 6A champion in the 100 and 200. Her state records of 11.08 and 22.61 are on the cusp of the national records of 10.94, set by Briana Williams of Florida in 2019, and 22.11, set by Allyson Felix of California in 2003.
Brahe-Pedersen recorded both of her bests on a cold, stormy day at the Summit Invitational on May 6. Under ideal conditions – which are expected this week – Parks said that her performances that day would have translated to about 10.96 and 22.20.
Considering Brahe-Pedersen has made a habit out of exceeding expectations in her career, she could be ready to do something special this week.
"She's had a nice developmental season," Parks said. "We haven't tried to peak her yet. We've been basically in a base phase until about three weeks ago. When the weather got a little bit better, we did our first hyper-speed workout. It usually takes most elite runners four to six weeks of doing that to kind of hit their peak."
It will help Brahe-Pedersen that she will be pushed by district rival Beckmon in the 100 and 200. Beckmon is No. 4 on the state's all-time list in the 100 (11.50) and No. 3 in the 200 (23.11).
"Having someone that's legit competition just gets you juiced up," Parks said. "And obviously, the state meet gets you fired up. For Mia, she respects Sophia's ability. While she's confident she'll win, she still feels that pressure, like, 'I can't screw up.'"
In last weekend's Three Rivers League district meet, Lake Oswego's 4x400 relay team of sophomores Marina Turpen and Ana Peters, Brahe-Pedersen and Donelson clocked 3:49.83, breaking the state record of 3:49.97, set by Benson in 2003. The Lakers' state lineup will be junior Riley Ha, Turpen, Brahe-Pedersen and Donelson.
"Our goal would be to run 3:45 by Nike Outdoor Nationals," Parks said.
The Lakers' 4x100 relay team ran 46.58 last year and has done 47.15 this season. Parks said the lineup of Ha, Brahe-Pedersen, Donelson and Turpen is capable of breaking the state record of 46.53 (Benson, 2003).
"I think we'll run 46-low," Parks said. "If we hit it right, we would go 45.7, 45.8. But we have to hit it perfect. My gut feeling is that we will run about 46.3, 46.4."
Lake Oswego, which won its first team title last year, is in position for a 6A repeat under Parks, who took over as coach this season for Vince Kinney.
The Illinois-bound Beckmon is going for her third 6A title in the long jump. Last year, she became the first Oregon girl to surpass 20 feet when she hit 20-1 ½ at state. This season, she has gone 22-4, threatening the national high school record of 22-5, set by Kate Hall of Maine in 2015.
"What was once amazing is now normal," Mull said.
Like Brahe-Pedersen, pressure seems to bring out the best in Beckmon.
"Sophia is somebody that responds to the excitement of the competition," Mull said. "She thrives in that environment. I think it sets up perfectly. You couldn't ask for a better season for her.
"Weather was a little crummy early on, for everybody. It looks like we're going to have another good opportunity with good weather at the state meet. Sunshine always makes Sophia smile, so that's a good thing."
The 6A, 5A and 4A girls and boys meets are Friday and Saturday at Hayward Field. The 3A, 2A and 1A meets are Thursday and Friday at Hayward Field.
An overview of the meets:
Girls
6A
Teams to watch: Lake Oswego, Tualatin, Jesuit, Tigard
2022 team scores: Lake Oswego 77, Oregon City 62, Jesuit 50, South Eugene 43
Returning champions: Mia Brahe-Pedersen, Lake Oswego, jr. (100*, 200*); Josie Donelson, Lake Oswego, jr. (400); Sydney Brewster, Sandy, sr. (discus); Kyeese Hollands, Central Catholic, sr. (javelin); Nicole Prall, Lincoln, sr. (pole vault*); Kyra Bakke, Tualatin, jr. (2021 high jump); Sophia Beckmon, Oregon City, sr. (long jump*); Anika Sukumar, West Linn, sr. (triple jump*), Rhys Allen, Willamette, sr. (5A pole vault)
6A season bests in multiple events: Mia Brahe-Pedersen, Lake Oswego, jr. (100, 200); Emma Bennett, Jesuit, soph. (800, 1,500, 3,000); Lake Oswego (4x100, 4x400); Kyeese Hollands, Central Catholic, sr. (discus, javelin)
5A
Teams to watch: Summit, Thurston, Ridgeview
2022 team scores: Crescent Valley 67, North Salem 66, Thurston 57, Corvallis 40
Returning champions: Breanna Raven, Thurston, sr. (200, long jump*, triple jump*); Haley Blaine, West Albany, jr. (1,500); Emily Wisniewski, Crescent Valley, soph. (3,000); Zowie Nunes, Ridgeview, soph. (javelin); Clara Bennett, Crater, sr. (high jump)
5A season bests in multiple events: Pharalynn Dickson, South Albany, fr. (100, 200, 400); Emily Wisniewski, Crescent Valley, soph. (1,500, 3,000); Sara Rivas, Bend, jr. (100 hurdles, 300 hurdles); Breanna Raven, Thurston, sr. (long jump, triple jump)
4A
Teams to watch: Philomath, La Grande, Scappoose
2022 team scores: Philomath 87, Marist Catholic 69, Cascade 57, North Valley 44
Returning champions: Daphne Scriven, Marshfield, jr. (discus); Lanie Cox, Henley, sr. (triple jump)
4A season bests in multiple events: Alice Davidson, Scappoose, jr. (100, 200, 400); Brooke Perry, La Grande, fr. (1,500, 3,000); Sydney Baker, Mazama, fr. (100 hurdles, 300 hurdles); Zoe Dunn, The Dalles, sr. (long jump, triple jump)
3A
Teams to watch: Catlin Gabel, Oregon Episcopal, Coquille, Cascade Christian, Nyssa
2022 team scores: Nyssa 71.5, St. Mary's 70, Sutherlin 60, Cascade Christian 58
Returning champions: DaNasia Stephens, De La Salle North Catholic, jr. (100); Sidney DeBoer, St. Mary's, sr. (200, triple jump); Dakota Hyland, Pleasant Hill, jr. (400); Autumn Murray, Cascade Christian, sr. (100 hurdles, long jump); Sierra Samhammer, Cascade Christian, jr. (300 hurdles); Hallee Hughes, Willamina, sr. (discus*, javelin); Caroline Mauro, Catlin Gabel, soph. (high jump), Trinidy Blanton, Coquille, sr. (2A javelin)
3A season bests in multiple events: Sophie Schoolmeester, Banks, fr. (800, 1,500); Sidney DeBoer, St. Mary's, sr. (long jump, triple jump)
2A
Teams to watch: Enterprise, Bandon, Nestucca, Santiam, Gervais
2022 team scores: Coquille 59, Regis 51, Weston-McEwen 41, Neah-Kah-Nie 40
Returning champions: Portia Binford, Delphian, sr. (100); Celia James, Salem Academy, soph. (400); Navaeh James, Enterprise, soph. (300 hurdles); Olivia Boyd, Gervais, jr. (high jump)
2A season bests in multiple events: Owyhee Harguess, Enterprise, fr. (200, 400); Daisy Lalonde, East Linn Christian, soph. (1,500, 3,000); Hallee Hughes, Willamina, sr. (discus, javelin); Navaeh James, Enterprise, soph. (300 hurdles, long jump)
1A
Teams to watch: Damascus Christian, Adrian, Crane, Powder Valley
2022 team scores: Damascus Christian 105.5, Adrian 82, Crane 64, North Lake 39.5
Returning champions: Addy Martin, Adrian, soph. (100, 200); Gracie Koch, St. Paul, jr. (100 hurdles); Ava Mai, Damascus Christian, soph. (300 hurdles, long jump); Ella Randall, Pine Eagle, soph. (shot); Sophie Hulke, Sherman, jr. (discus); Kortney Doman, Crane, jr. (high jump); Julie Roth, North Lake, sr. (triple jump)
1A season bests in multiple events: Addy Martin, Adrian, soph. (100, 200); Presley Speelman, Adrian, jr. (800, 1,500); Samara Baker, Triangle Lake, fr. (100 hurdles, 300 hurdles)
Boys
6A
Teams to watch: Sheldon, Jesuit, Central Catholic, Lincoln, Grant, Roosevelt
2022 team scores: Central Catholic 55, Tigard 40, Tualatin 35, Canby 34
Returning champions: Andrew Walker, South Medford, sr. (100, 200); Micah Perry, Barlow, sr. (110 hurdles*); Austin Stampflee, Glencoe, sr. (long jump), Demari Thompson, North Salem, jr. (5A 100, 5A 200), Terek Logan, Sheldon, jr. (3A pole vault)
6A season bests in multiple events: None
5A
Teams to watch: Summit, Crater, Central, Silverton
2022 team scores: Silverton 79, Crater 69, Wilsonville 65, North Bend 56
Returning champions: Jeffrey Hellmann, Crater, jr. (800); Tyrone Gorze, Crater, sr. (3,000); Logan Robertson, Redmond, sr. (110 hurdles); Nathan Wachs, Redmond, sr. (high jump), Collin Moore, Summit, jr. (6A high jump); Treyson Wakefield, Canby, sr. (6A triple jump)
5A season bests in multiple events: Tyrone Gorze, Crater, sr. (1,500, 3,000), Central (4x100, 4x400); Garrett Lee, West Albany, sr. (110 hurdles, pole vault)
4A
Teams to watch: Marshfield, Pendleton, Cottage Grove, Scappoose, Philomath
2022 team scores: Marshfield 57, Henley 52, Siuslaw 45, Mazama 43
Returning champions: Micah Matthews, Philomath, sr. (110 hurdles); Jonathon Parks, Marshfield, jr. (pole vault)
4A season bests in multiple events: Jason Padgett, North Bend, jr. (100, 200); Bodey Lutes, Marshfield, soph. (400, 800); Alexander Garcia-Silver, Marshfield, sr. (1,500, 3,000); Cody White, Estacada, sr. (shot, javelin)
3A
Teams to watch: Siuslaw, Santiam Christian, Valley Catholic, Catlin Gabel
2022 team scores: Catlin Gabel 84, Santiam Christian 70, La Pine 57, Warrenton 47.5
Returning champions: Joshua Widdows, Catlin Gabel, jr. (110 hurdles): Calen Ness, Santiam Christian, sr. (300 hurdles); Benjamin Lammers, Westside Christian, sr. (javelin); Jayden Christy, Santiam Christian, sr. (high jump)
3A season bests in multiple events: Malcolm Grant, Catlin Gabel, sr. (100, 200, 400); Wyatt Montgomery, La Pine, sr. (800, 1,500); Valley Catholic (4x100, 4x400)
2A
Teams to watch: Weston-McEwen, Delphian, East Linn Christian, Knappa, Heppner
2022 team scores: Bandon 56, Enterprise 49, Heppner 31, Sheridan 31, Weston-McEwen 31
Returning champions: Aidan Morgan, East Linn Christian, sr. (110 hurdles)
2A season bests in multiple events: Isaiah Rodriguez, Knappa, sr. (800, 1,500); Kolun Reed, Clatskanie, sr. (high jump, triple jump)
1A
Teams to watch: Adrian, Union, Imbler, Cove, St. Paul, Days Creek
2022 team scores: Adrian 74, Powder Valley 52.5, Joseph 49, Days Creek 40
Returning champions: Jace Martin, Adrian, sr. (100, 200); Ray Gerrard, North Douglas, sr. (discus, javelin); Sawyer Dean, Trout Lake, soph. (pole vault); Keith Gaskell, Days Creek, sr. (long jump); Bo Ledbetter, Union, sr. (2A 300 hurdles); Andreas Villanueva, Myrtle Point, sr. (2A javelin)
1A season bests in multiple events: Jace Martin, Adrian, sr. (100, 200, 400); Eli Williams, Cove, jr. (800, 1,500); Trevor Treat, Imbler, jr. (110 hurdles, 300 hurdles); Mason Detzler, Myrtle Point, jr. (shot, discus); Keith Gaskell, Days Creek, sr. (long jump, triple jump)
* two-time champion