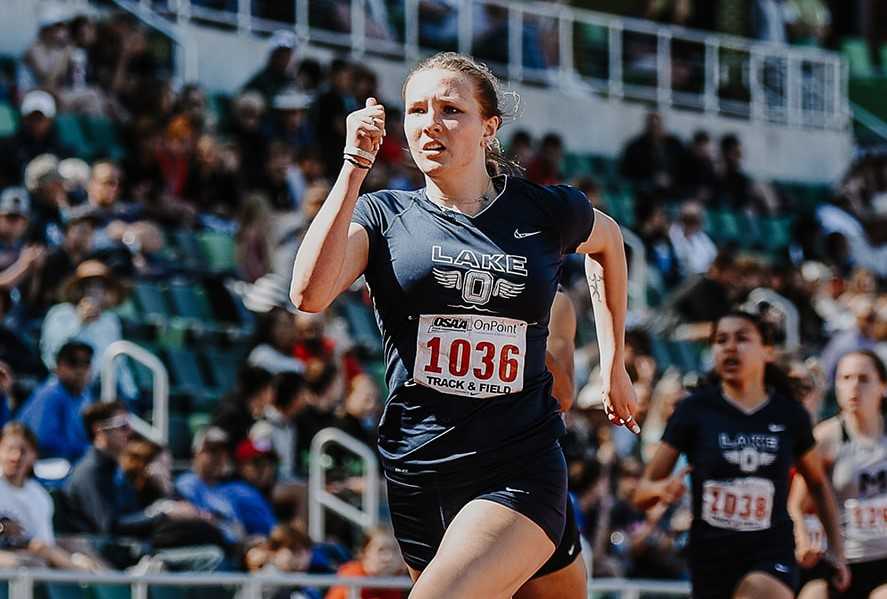 Aided by wind or not, Mia Brahe-Pedersen now is officially the fastest girl in Oregon history.
Brahe-Pedersen, who is heading into her junior year at Lake Oswego, staked that claim Friday when she ran the 100 meters in 11.25 seconds in prelims at the U.S. Under-20 Outdoor Track and Field Championships at Hayward Field in Eugene.
Brahe-Pedersen had run 11.09 to win the 6A meet at Hayward Field last month – faster than the 54-year-old state record of 11.30 (Margaret Johnson-Bailes, Churchill) – but didn't get credit for the record because her time was wind-aided. Coincidentally, she also ran 11.09 in Friday's finals but it also was wind-aided.
Friday's prelims performance, though, was all above board.
"I'm really happy," Brahe-Pedersen said. "My reaction at the end pretty much says it all because it was just this relief that I felt from trying to get it all season. Getting below the record, then it being wind-aided, that was a little bit upsetting. To finally get it, and to get it at just the right moment, it feels really good.
"I felt like I had gotten there, and everyone knew that I had gotten there, and I could beat it with the right circumstances, but I hadn't officially done it, so it wasn't over yet."
By finishing second in both the 100 on Friday and the 200 on Saturday, Brahe-Pedersen earned spots on Team USA for the U-20 World Championships in Colombia in August. It's a bonus to what has been a spectacular 2022 for her.
"Part of me wanted to think it was realistic when I started the season," she said of making Team USA. "It kind of became apparent in the middle of the season that I had a shot at making relay possibly, and if not the relay itself, at least an alternate."
Brahe-Pedersen was second in the 100 finals to Shawnti Jackson (11.07), the North Carolina sprint champion as a junior this year.
"I really had no intention of making it for an individual event," Brahe-Pedersen said. "Then I crossed the finish line and I looked at the board and I was No. 2, meaning I made it for an individual event. I'm like, 'What just happened?'"
She came back Saturday to take second in the 200 in 22.98, improving on her previous best of 23.23 and moving within an eyelash of Johnson-Bailes' state record of 22.95, also set in 1968. The winner was Jayla Jamison (22.93) of South Carolina.
Brahe-Pedersen marvels at how far she has come since she began running track as a sixth-grader, when she clocked 13.14 in the 100. Her 11.25 is the best wind-legal high school time in the nation this year.
"How did I go from not even being top 100 to representing the US in an international event in four years?" she said.
Her coach at the U-20 World Championships will be former 100 world champion Carmelita Jeter.
"What a name to be running under, goodness gracious," Brahe-Pedersen said. "I think it's going to be an amazing experience, and I'm super grateful for it. I'll get the opportunity to form more bonds with these really talented girls. That's a once-in-a-lifetime opportunity."
It is certain to propel Brahe-Pedersen forward into her junior year, when she will look to improve on the 100 record and resume her pursuit of the 200 record.
How low can she go in her high school career?
"I don't want make any promises, but some people have been saying that I can go below 11 with the proper training," she said. "So that's a possibility. Maybe we'll be seeing the national record, but I don't know."
Only two high school girls have ever broken 11 seconds in the 100: Briana Williams (10.94) of Florida in 2019 and Candace Hill (10.98) of Georgia in 2015.
"That's pretty fast," Brahe-Pedersen said. "It'll be a big task if I can do it, but I don't think it's out of the cards yet. It's a possibility."
U-20 World qualfiers: Brahe-Pedersen was among six Oregon athletes to qualify for the U-20 World Championships with their performances at Hayward Field on Thursday through Saturday.
Lake Oswego's Kate Peters won the 3,000 on Saturday in 9:34.78. Peters, who will be a senior this year, ran 9:25.15 to win the 3,000 in the 6A meet last month, the No. 2 time in state history.
Oregon City rising senior Sophia Beckmon finished second in the long jump with a mark of 20 feet, 0 ½ inches, behind India Alix (20-3) of Texas. Beckmon, the state record-holder at 20-8, will be unable to join the team in Colombia because she does not have a passport.
Cascade's Emma Gates high-jumped 5-11 ¼ to finish as runner-up to Miracle Ailes (5-11 ¼) of Iowa Western Community College. Gates, who will be a freshman at Arizona this year, is No. 3 on the state's all-time list at 6-0 ¼.
Lily Jones, who graduated from Roosevelt this year, made the relay pool for Team USA by placing sixth in the 100 on Friday.
Tyrone Gorze, who will be a senior at Crater this year, won the 5,000 Thursday in 14:08.08, the No. 7 high school time in the nation this year. He came back Saturday to place second in the 3,000 in 8:21.03, well off his best of 8:11.60. Lucas Guerra of Georgetown University won in 8:19.36.