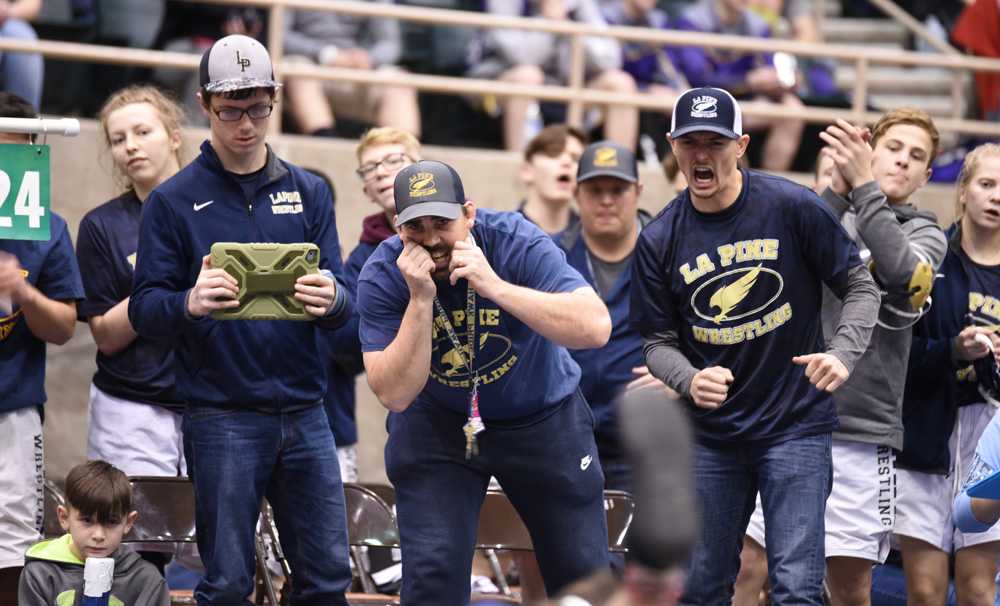 Oregon Wrestling Classic is ON!
Last year, Covid canceled the Oregon Wrestling Classic, the unofficial dual meet state championship that started in Oregon City 40 years ago.
The Omicron variant has presented its challenges for 2022, as well. Some teams won't be able to make the trip to Redmond because of illness, staffing shortages or school district travel restrictions, but the Classic is back starting tomorrow at the Deschutes County Fairgrounds!
"Wrestlers are doers and we figure things out," said Redmond head wrestling coach Kris Davis, who's been involved for the past 15 years.
The Classic is THAT tournament that Oregon teams circle on the calendar every year. The two-day high school portion of the event provides an opportunity for fellowship, team bonding and to compete in a true team atmosphere to determine which TEAM is the best in each of the OSAA's five classifications. There's nothing else quite like it in the entire state.
The event is smaller this year because of Covid, especially in 6A; and not as deep, with some JV squads having to fill in; but it will still boast virtually every team ranked among the top five in their respective classifications, according to the OSAAtoday Coaches Poll. Only 5A No. 1 Crescent Valley and 6A No. 5 Grants Pass will miss as of now.
"We're in pretty good shape for the shape we're in," said Culver head coach J.D. Alley, the Classic's "Mat Man" since the tournament came over the mountain two decades ago. "It's always a challenge. Wrestlers like to hang their hats on overcoming something."
The Classic started in 1982 in the Portland area and was designed to showcase wrestling at all levels, from youth to college. It had homes in Oregon City, at the Coliseum, the Chiles Center and Oregon State University, but was on the verge of being discontinued when the Deschutes County Fairgrounds in Redmond opened in 2001 and offered the Classic a lifeline. It has been there ever since, embraced by the community and, 16 mats strong, provides an atmosphere rivaled only by the OSAA State Tournament.
"It's a great tournament in the middle of season for a lot of matches and experience," said longtime tournament director Cleve Thompson. "It's a bigger venue. The kids get to see that before State. It's a great team builder. This is your whole team wrestling in all 14 weight classes and everyone's competing. They become more of a team when every match counts."
Alley, whose Culver team has dominated the Classic, winning the smallest-school division 17 of the 20 times it has been contested in Redmond, said that the tournament is as good a fan experience as it is for the wrestlers. At big tournaments, where the spotlight is on a team's top wrestlers, a fan may have to wait hours between matches. In this team format, Alley remarked, someone from your school is on the mat every match.
Culver has also dominated at the state tournament, but Alley said that the Classic seems to motivate his team more than any other event.
"We've had victories at the Classic we've never been able to duplicate at the state tournament," he explained. "There's a certain motivation that comes with the team format. You don't want to let the team down."
The high school portion of the tournament runs through Saturday, with adult admission $15 per day or $25 for the tournament (cash only). Students and seniors are $5 per day. Children 10 and under get in free.
The favorites are Newberg in 6A, Crook County in 5A, Sweet Home in 4A, La Pine in 3A and, of course, Culver in 2A/1A. The Classic is keeping its fingers crossed that there will be no more drops.
"We've been doing some last minute scrambling," said Davis. "It's tough but we're making it work. Hopefully this won't be an issue in the near future, but this is our new reality."
Culver dominates Jo-Hi Invitational
Culver comes into the Oregon Wrestling Classic on fire after more than doubling the point total of second-place Elgin in winning last weekend's Jo-Hi Invitational hosted by Joseph High School. The Bulldogs had four individual champions: freshman Cole Rahi at 106 pounds, Debren Sanabria at 113, Kelin Abbas at 152 and stalwart Wylie Johnson at 285.
Crook County shines in Idaho
Several Oregon teams crossed the border to compete in the 72-team Rollie Lane Invitational in Nampa, Idaho last weekend. None fared better than Crook County, which finished fourth overall in what coach Jake Gonzales said was the toughest field he's ever seen at the event.
Twenty-two Cowboys won at least one match in what Gonzales described as a "tremendous all-around team effort."
Ray Soliz took second at 195 pounds to lead four placers. Tucker Bonner, Landon Lavey and MaKenna Duran also made the podium, the latter in the women's competition.
OSAA member schools Mountain View, La Grande, Redmond and La Pine all finished among the top 20.
Madras struggled as a team at Rollie Lane, but put brothers Reece and Cael White on the podium. Reece White placed fourth at 182 pounds. Cael White finished sixth at 160. The White Buffaloes finished 37th overall.
Baker / Powder Valley finished with 38 points, good for 47th place. Gavin Stone, Gauge Bloomer and Jaden Martin combined to go 11-6. All three came close to placing.
Crescent Valley makes statement at Doc Buchanan
The Raiders placed fifth overall last weekend at the Doc Buchanan Tournament in Clovis, California, an event which features California's finest, as well as teams from as far away as Georgia.
Gabe Whisenhunt won the 129-pound division for Crescent Valley. Daschle Lamer (163) James Rowley (173) and Hayden Walters (198) each finished second. DJ Gillett made the podium at 135 for the Raiders, as did Roseburg's Nash Singleton.
Comeback kids
In this new recurring category, we asked high school coaches to tell us about wrestlers who rallied from deficits of six or more points to pin their opponents. We only have two submissions so far, although some coaches assert that it's not as rare as one would think, especially early in the year when conditioning remains an issue for some wrestlers.
Just last week, Mazama sophomore Juan Rodriguez overcame a 13-2 deficit, just four points from losing by majority decision, to win at the High Desert Classic.
"That 13-2 was probably the biggest I've ever personally seen," said Viking head coach Matthew Penrod. "I've been on the wrong end of a 10-1 fall in my career, and I've seen a lot in the 7-8 point range over the years. Juan was getting ridden hard by a guy who likes to use leg rides for quick near fall points. He was having a hard time making anything happen, but he is in excellent condition and was able to reverse his opponent with about a minute left. Juan caught him with a simple half while they were scrambling and his opponent didn't have much energy to fight off his back."
Deficit of 11 points
Juan Rodriguez, Soph., Mazama, 145 pounds, Jan. 8, High Desert Classic
Deficit of 7 points
Savien Burk, Sr., Mazama, 152, Dec. 10, Culver Invitational
This and all others are recurring categories. If you have a wrestler who should be on any list, please let us known by contacting John Tawa at [email protected]
Legends of the fall
In this section, we list wrestlers recording pins this season in under 30 seconds.
5 seconds
Rafael Mosqueda, Fr., McNary, 132, Dec. 11
7 seconds
Asher Tindall, Sr. Yamhill-Carlton, 138, Dec. 4
8 seconds
Conor Brosnan, Sr., Heppner, 182, Dec. 10
9 seconds
Erik Potter, Jr., Yamhill-Carlton, 182, Dec. 4
10 seconds
Treyce Horton, Jr., Mazama, 132, Dec. 30
Wyatt Maffey, Sr., Sisters, 152, Jan. 8
11 seconds
Armondo Galindo, Soph., Mazama, 285, Dec. 17
Colby Gazeley, Jr., Sweet Home, 285, Dec. 10
12 seconds
Broden Lindberg, Sr., West Albany, 170, Dec. 11
13 seconds
Caden Hill, Soph., Yamhill-Carlton, 120, Dec. 11
Mason Rosenast, Fr., Amity, 126, Dec. 11
Cole Steketee, Jr., Sprague, 285, Dec. 10
14 seconds
Sawyer Casarez, Jr., Thurston, 170, Dec. 10
Brandon Smith, Soph., Newberg, 120, Dec. 10
16 seconds
Eliyo Clark, Soph., Reynolds, 182, Dec. 3
Jayce Miller, Soph., Sweet Home, 113, Dec. 10
Eli Nava, Jr., Dallas, 220, Dec. 10
Trenton Smith, Jr., Sweet Home, 145, Dec. 10
17 seconds
Kain Adair, Sr., West Albany, 220, Dec. 8
18 seconds
Cooper Sevigny, Sr., Franklin, 285, Dec. 3
19 seconds
Brandon Smith, Soph., Newberg, 120, Dec. 10
David Steagall, Soph., Sweet Home, 195, Dec. 11
20 seconds
Clifford Johnson, Soph., Dallas, 152, Dec. 10
Eduardo Matheus, Sr., Thurston, 132, Dec. 11
Calvin Raara, Fr., Riddle / Days Creek, 113, Dec. 11
21 seconds
Taylor Casey, Sr., Mazama, 160, Dec. 17
Michael Fox, Sr., Willamina, 160, Dec. 10
Mason Hakki, Fr., Thurston, 106, Dec. 10
Kyle Kelley, Sr., Newberg, 182, Dec. 10
Tanner Wood, Sr., Mazama, 145, Jan. 8
22 seconds
Brook Byers, Sr., Sprague, 195, Dec. 11
Aiden Perkinis, Soph., Newberg, 145, Dec. 11
Dominic Schreiber, Jr., Mazama, 170, Jan. 8
Kyle Watkins, Sr., Sweet Home, 126, Dec. 11
23 seconds
Easton Crowley, Fr., Mountain View, 106, Dec. 10
Owen Jones, Soph., Dallas, 170, Dec. 10
24 seconds
Holton Halstead, Fr., Thurston, 160, Dec. 11
Mishael Mauck, Soph., Banks, 195, Dec. 10
Derek Sossie, Jr., West Albany, 145, Dec. 11
25 seconds
Dylan Mann, Sr., La Pine, 138, Dec. 10
26 seconds
Keannan Bowditch, Sr., Sprague, 285, Dec. 10
Logan Medford, Jr., Cleveland, 138, Dec. 10
David Steagall, Soph., Sweet Home, 195, Dec. 11
Emily Zamudio, Fr., Scio, 106, Dec. 11
27 seconds
Brayden Boyd, Sr., Sprague, 125, Dec. 10
Bryan Parazoo, Soph, Scio, 126, Dec. 11
28 seconds
Aydn Mueller, Jr., McMinnville, 182, Dec. 10
Elijah Rebollido, Sr., Westview, 132, Dec. 11
Derek Sossie, Jr., West Albany, 145, Dec. 11
Tyson Van Gastel, Soph., Mazama, 195, Dec. 4
David Wheeler, Fr., Yamhill-Carlton, 106, Dec. 11
29 seconds
Matthew Cobb, Sr., South Albany, 285, Dec. 11 (twice)
Kyle Sieminski, Soph., Sweet Home, 106, Dec. 11
Jacob Sieminski, Jr., Sweet Home, 132, Dec. 10
Dylan Smith, Sr., Banks, 138, Dec. 10
100 % COMMITTED!
In this section, we identify those wrestlers who have made commitments to wrestle in college.
Tucker Bonner, Sr., Crook County, 126 – Eastern Oregon
Brook Byers, Sr., Sprague, 182 -- Stanford
Paige Chafin, Sr., Sweet Home, 115 – Eastern Oregon
Ethan Goff, Sr., West Linn, 132 – Baker University (KS)
James Rowley, Sr., Crescent Valley, 170 – University of Wisconsin
Nash Singleton, Sr., Roseburg, 132 – Oregon State
Atticus Waddell, Sr., Tigard, 113 – Wabash University
Gabe Whisenhunt, Sr., Crescent Valley, 126 – Oregon State
Reece White, Sr., Madras, 182 – Montana State-Northern
If you are a high school varsity head coach and want to know how you can contribute to future Notebooks, contact John Tawa at [email protected]