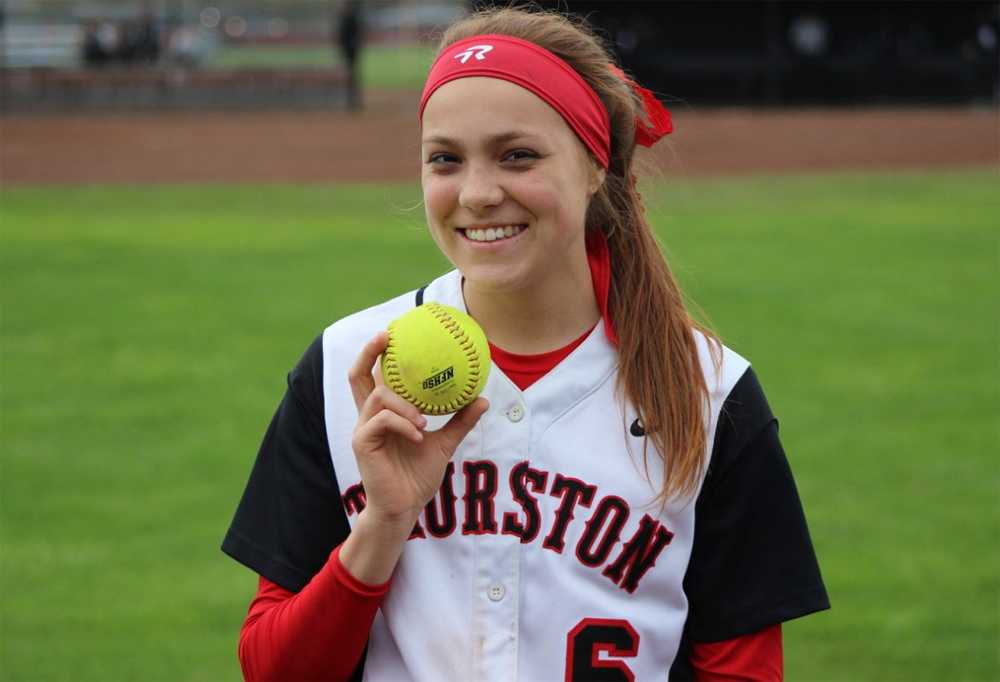 [Editor's note: "Take Five" is a recurring feature designed to offer a quick look at some of Oregon's most interesting high school sports standouts. This spring, Take Five will focus exclusively on seniors, whose final high school seasons have been canceled by the coronavirus. Today, we get to know Thurston All-State outfielder Savana Decker. In addition to making All-League and All-State in her sophomore and junior seasons, Decker has also been recognized as one of the state's Most Feared Hitters as well as one of its best defensive players. We sent Decker a whole bunch of questions and asked her to answer five for us. Here's what she said!]
OSAAtoday: What about going to college scares the bejeebers out of you?
Savana Decker: The scariest thing about going to college is that it's different from high school. It is a lot bigger and there are people I don't know. I am going to have to make new friends all over again, which makes me nervous.
OSAAtoday: If you could be any professional athlete for a week, who would it be and what would you do?
Decker: I would choose to be Tiger Woods. If I was Tiger I would go around and meet his fans. Tiger is high up in the golf world and it would be cool to give out free golf lessons to his fans. Another thing I would do is donate some of his money to charities. I think it would be a cool experience to be Tiger Woods for a week and see how his life is.
OSAAtoday: Describe your scariest moment while learning how to drive.
Decker: One of the scariest moments I had while learning how to drive was in a Walmart parking lot. I was with my Mom and I didn't know how to drive a manual so we thought it would be a good idea to learn. Well, it wasn't. Especially not in a parking lot full of cars. I ended up going straight forward into two different cars and it was pretty scary but also funny.
OSAAtoday: What Olympic sport do you think you'd be the worst at and why?
Decker: Rugby. I don't think I could handle doing a hard contact sport like that. It seems like an interesting sport but too much contact for me. I would be bad at it since I wouldn't be going 100% and just nervous throughout the game.
OSAAtoday: What is one interesting or unusual thing people don't know about you?
Decker: I have two main things I am scared of, that is heights and spiders. I have always been scared of heights. I always feel like I am going to end up falling from wherever I am. I flew on a plane this past summer for the first time and all I could think about was how high up I was and kept thinking, "What if we crash?" We didn't thankfully. Spiders are scary looking and they always disappear out of nowhere and just creep me out! I see spiders everywhere and I just freak out and run away from them in fear.
Read other Take Five articles published in connection with the 2020 spring season:
Monroe softball pitcher Tyler Warden
North Salem sprinter Maliyah Thompson
La Grande catcher Logan Paustian
Lake Oswego thrower Parker Williams
Lakeridge netter Nicole Rogers
Westside Christian sprinter Alvin Lai
Stayton softballer Emma Heuberger
Westview outfielder Maddie Curaming