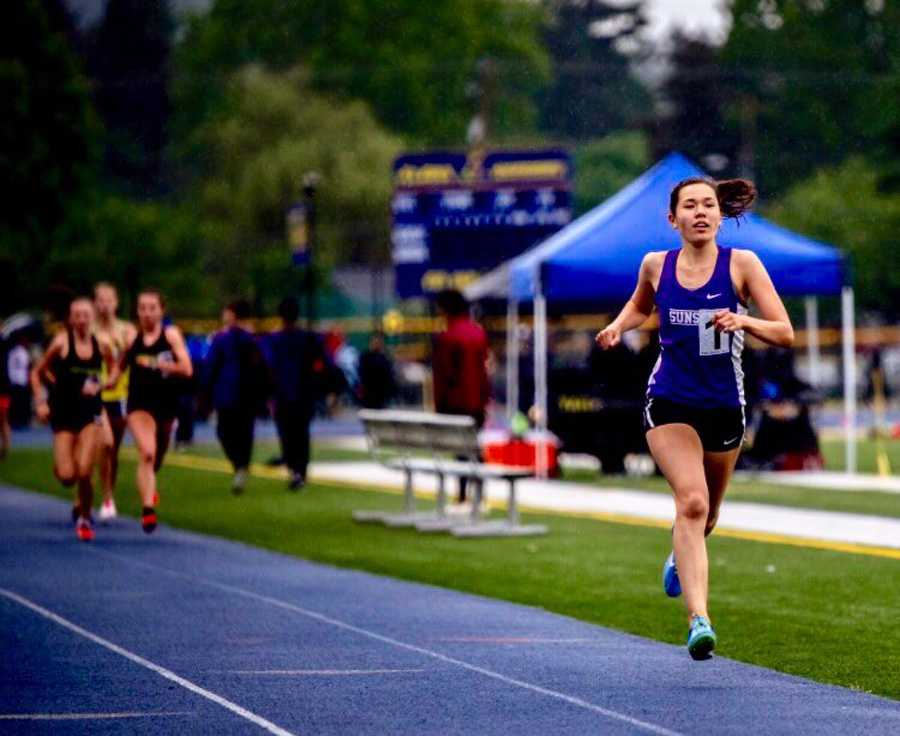 [Editor's note: "Take Five" is a recurring feature designed to offer a quick look at some of Oregon's most interesting high school sports standouts. This spring, Take Five will focus exclusively on seniors, whose final high school seasons have been disrupted by the coronavirus and may never actually occur. Today, let's get to know Sunset senior Lucy Huelskamp. Huelskamp will run cross country next fall at Princeton but she's also a standout on the track who has finished second at state in the 3,000 meter run the past two years and top three in the 1,500 the past two seasons as well. We asked Huelskamp to answer five questions from the 25 we posed to her. Here's how last year's Metro League champion in the distance running events responded…]
OSAAtoday: What kind of coach gets the best out of you as a runner?
Lucy Huelskamp: I've been lucky to have several supportive and hard-working coaches while running for Sunset. Both Coach [Dan] Neeway and Coach [Eloika] Rozendaal care a lot about the sport and every athlete on the team. I'm continually inspired by their encouragement and positivity towards running, and I appreciate their emphasis on team goals and willingness to put up with our silly team traditions.
OSAAtoday: If you could be any professional athlete for a week, who would it be and what would you do?
Huelskamp: If I could be a professional athlete for a week, I'd be Chloe Kim at the 2018 Olympic Games because I admire her talent and tenacity. After leaving everything out there in the snowboarding events, I would want to get to know other Olympians and explore the city of Pyeongchang. Chloe also happens to attend the same school that I'm headed to next fall, so fingers crossed that I'll run into her on campus!
OSAAtoday: If you HAD to go on a reality show, which would it be and why?
Huelskamp: If I had to go on a reality TV show, I'd choose The Great British Bake Off. I'm always impressed by the elaborate recipes. I'm definitely not the best baker but love a competitive challenge and could learn a lot from the other contestants.
OSAAtoday: What is your favorite class in school and why?
Huelskamp: This year, I've really enjoyed my psychology class. I love how much topics like social influence, memory, and decision-making apply to everyday life. It's also something I'm considering studying in the future, so getting more exposure to the subject area has been super helpful.
OSAAtoday: What Olympic sport do you think you'd be the worst at and why?
Huelskamp: I'd be terrible at Ice Hockey. Running on the track is great, but I'd be terrified of face planting on the ice. I prefer sticking to non-contact sports because I'm not super aggressive and would definitely end up at the bottom of the dogpile.
Read other Take Five articles published in connection with the 2020 spring season:
Monroe softball pitcher Tyler Warden
North Salem sprinter Maliyah Thompson
La Grande catcher Logan Paustian