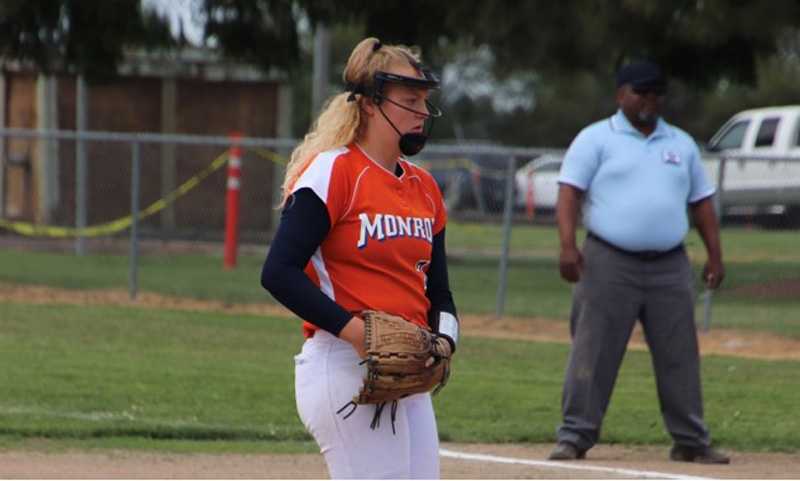 [Editor's note: "Take Five" is a recurring feature designed to offer a quick look at some of Oregon's most interesting high school sports standouts. This spring, Take Five will focus exclusively on seniors, whose final high school seasons have been disrupted by the coronavirus and may never actually occur. Today, meet Tyler Warden, Monroe's only pitcher since she enrolled as a freshman. Warden, who will pitch next year for Linfield College, has led the Dragons to league titles in her first three years on the mound and has earned First Team All-League honors and All-State recognition all three years. We asked Warden to answer five questions from the 25 we posed to her. Here's what she had to say…]
OSAAtoday: What is the funniest thing you've ever seen in your spring sport?
Tyler Warden: After we got off of a long bus ride to a playoff game we had to use the bathroom. We asked everyone where the closest bathroom was and they kept saying it was in the school. They had just built the school so they had really nice floors that we didn't want to mess up with our cleats. So we crawled down the hallway to the bathroom while kids were still in school and they gave us the weirdest looks. I couldn't stop laughing. Imagine if someone was just crawling through your school!
OSAAtoday: What's the wisest thing a coach ever said to you?
Warden: The thing that has stuck with me the most is, "Control what you can control." When playing, we often wish the umpires would give more calls or our teammates would have a better game but at the end of the day all you can control is yourself. Your attitude and your effort towards the game is all you can control so why focus on anything else?
OSAAtoday: What was your first big success as an athlete and how did it impact you?
Warden: My freshman year we traveled to a higher ranked school for a first round playoff game. I started the game pitching and we were down almost the whole time. It was like the sixth inning and it was looking like it would be my last at bat. I hit a two-run homerun to put us ahead by 2. I finished the game pitching and we ended up winning the game 9-7. That was like the first time I ever thought to myself like, "Hey! You are really good at this!" I've played the sport my whole life but never really got a moment like that where everyone looked to me to get it done. It was an awesome feeling.
OSAAtoday: What about going to college scares the bejeebers out of you?
Warden: This isn't really scary; it's just odd to me. I've gone to school with the same kids ever since the first grade. I see them just about every day and I have conversations with probably half of the school each day. Next year I'm going to go to school with people I know nothing about. Not knowing everyone's name and not knowing whether they're in a class with me will be a weird experience coming from such a small community.
OSAAtoday: If you HAD to go on a reality TV show, which would it be and why?
Warden: I would definitely go on 'Bachelor in Paradise.' That's my favorite show to watch in the summer. Even if I didn't find anyone I would be in Mexico for at least a week. I would just sit on the beach all day and watch all the crazy people around me cause drama.