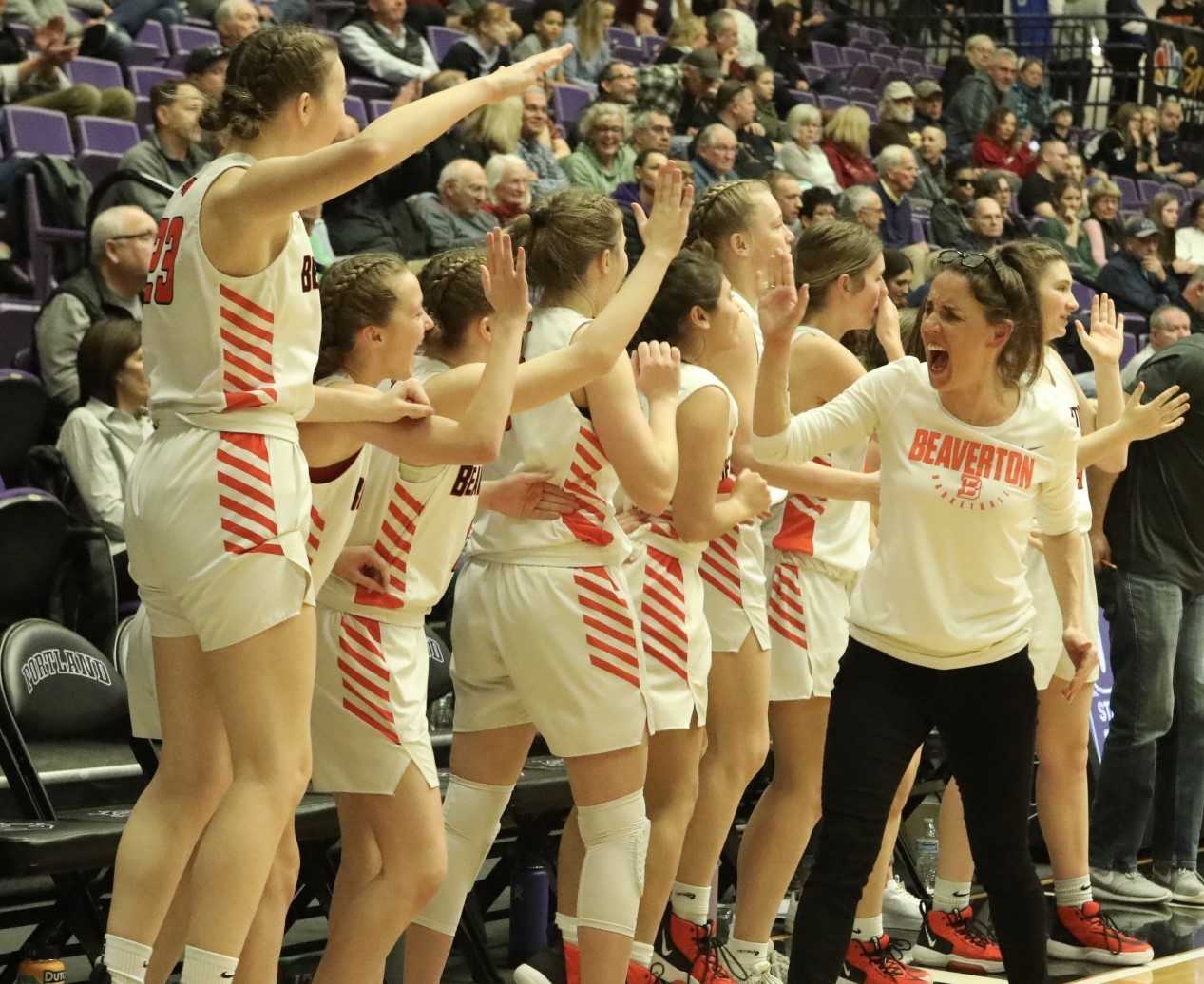 For the Beaverton Beavers, this week's 6A girls basketball tournament was supposed to be the time of their lives.
Family ties run deep for the Beavers. For coach Kathy Naro and her husband John, an assistant, it was the one season with daughters Mary Kay, Mackenzie and Madison all on the team.
For senior twins Laura and Sydney Erikstrup, it was their final season together before moving on to Division I college careers. The Borter sisters, junior Alexa and freshman Zoe, were creating special memories together.
Beaverton, seeded first in 6A and unbeaten in Oregon, believed it was headed toward its first state championship. But after beating Southridge on Wednesday to advance to the semifinals for the third year in a row, the team's season came to a stunning, anti-climactic end.
Word of the OSAA's decision Thursday morning to cancel the rest of the basketball state tournaments due to health concerns about the coronavirus rocked teams across the state, but perhaps none more than Beaverton.
"A lot of tears," Kathy Naro said after meeting with her team Thursday. "What's so hard is I think we really felt like it was our turn. I've been pretty emotional since I found out. I didn't know yesterday was going to be our last game together. It's been such a journey, and we've been so focused and so in the moment, and to just have it cut off, it's surreal."
Mary Kay Naro, a senior who has signed with Boise State, reflected on what was lost.
"The fun part of the tournament for me was getting to play with my sisters for the last time, and I didn't even know that it was my last game," she said. "We're all just really disappointed. We wanted a chance to compete and kind of show what we can do, and we just aren't getting that opportunity. So I think we're just all really crushed."
The OSAA announced after Wednesday's quarterfinal games that the 6A, 5A and 4A tournaments would continue Thursday without spectators. Thursday morning, though, Oregon State University officials notified the OSAA that it no longer could use Gill Coliseum after the Pac-12 Conference decided to suspend spring sports indefinitely.
The OSAA, after consulting with schools and venue partners, opted to cancel all three tournaments. Action was halted after the second of two 6A girls consolation games Thursday morning at the Chiles Center.
"Everybody we're talking to medical-wise says this is going to get worse before it gets better," OSAA executive director Peter Weber said. "We're as heartbroken and disheartened as everybody else. But ultimately we felt like the responsibility lies with us and the people we're working with to keep people safe and make those decisions."
Wednesday night, Alaska cancelled its state tournaments and Colorado announced that its tournaments would be limited to essential personnel only. Thursday, California cancelled its tournaments and Texas suspended play until further notice.
Weber said the OSAA considered other options, such as moving 5A games to Corvallis High School or suspending play indefinitely. But in the end, cancelling was "the most prudent thing to do."
For the first time since the OSAA began sanctioning boys state tournaments in 1919 and girls tournaments in 1976, no champions will be crowned in some divisions. Weber said the OSAA has yet to discuss awarding trophies in 6A, 5A and 4A.
Redemption foiled, for now
Jefferson boys coach Pat Strickland, whose team was scheduled to meet Barlow in a 6A quarterfinal Thursday at the Chiles Center, tried to keep the situation in perspective.
"Being an adult, I understand the precautions that need to be taken considering the state of emergency that our country is in, that the world is in," Strickland said. "I totally get it, I understand. It's an unfortunate situation we're going through."
Strickland's Democrats, who had not lost to an Oregon team this season, missed out on a chance to redeem themselves for losses in the last two state championship games.
"It's disappointing to not be able to step out on the court and capture what we lost the last two years," Strickland said. "My guys and myself, we just had a burning desire to be able to get back to the Chiles Center, so we could correct a few wrongs we had the last few years."
Strickland said his players were "devastated" when they met for lunch Thursday at a restaurant, including standout freshman Marquis Cook, "because he said he wanted to get four in a row." But the coach tried to lighten the mood with some humor.
"I walked in and just instantly made guys laugh, cracking jokes," Strickland said. "They were obviously shocked and stunned. It's just one of those things that we're going to have to think about for a very, very, very long time. Hopefully, we're able to do something next year to wash it away."
On the bright side for the Democrats, they don't have any seniors, so they can just add the 2020 tournament to their list of motivators for next season.
"I know I'm hungry and I'm going to stay hungry, and I'm going to make sure these guys are ready to go next year," Strickland said.
No last chance
Conversely, Barlow's boys have nine seniors, including two of the program's all-time best players in guards Jesse White and Evan Inglesby. The Bruins entered the tournament on a 15-game winning streak and surging with confidence.
"This class, we've been looking forward to this for the last six, seven years," Barlow coach Tom Johnson said. "It's a pretty special class. I feel really bad for them."
White, who became Barlow's all-time leading scorer this season, said the end was "sudden."
"We saw the NBA go through the whole process, and what was going on with college, and we kind of had it in the back of our minds that we might be next," White said. "When we first found out it was getting cancelled, it didn't really hit our guys until 10, 15 minutes in, and we realized, like, that was actually it. We already played our last high school game, and we didn't even know it.
"A lot of our guys were together since the fifth grade. We went through the state tournament in middle school and won those, and we knew it didn't really matter until we won it in high school."
The Bruins wanted to win a state championship for Johnson, who has won 607 games in 38 seasons but does not have a state title.
"That's been the motivation for me, honestly, ever since I first stepped foot into high school," White said. "Our core group of seniors, we talked about that a couple days ago, saying how a lot of what we do is for TJ. He's done so much for us. It's one of those things we dreamed of doing for him."
Johnson's disappointment was about his players, he said.
"It's not like I feel like I have to win a state title for my career to be complete," Johnson said. "I don't feel like that at all. But to maybe see these kids get that opportunity, and not get it, it's disheartening."
'Devastating to hear'
Liberty's girls, making their first state-tournament appearance in school history Wednesday, torched the nets with 14 three-pointers in a win over Mountainside and were eager to face Beaverton in the semifinals.
"That was the game we've been waiting for this whole season," Falcons senior Bella Hamel said, "because that was the game we thought, 'That's where we're going to prove ourselves.' And it's not going to happen."
Hamel said she was "speechless" when she first heard the news.
"Then I was just like, 'Why do we deserve this right now?'" she said. "Our team has worked so hard to get to where we are. I thought we earned it 100 percent. And the fact that we're getting it taken away from us, and that we haven't even proven ourselves to half of the state of Oregon, it's just devastating to hear."
Hamel said she was sitting in math class Thursday when she received a notification about the cancellation and told her teacher.
"The whole class just went silent because they know how hard we worked, and the pain we were going to feel," Hamel said.
Liberty's students had embraced the team.
"The connection with the student body and our fans I thought was phenomenal," Falcons coach Melanie Wagoner said. "Unfortunately for us, we lose a lot of our seniors, so they don't get that moment again. The kids just want to play. It hurts a lot. I don't have words for them. There isn't anything to fix it."
The cancellation was a double-blow for Crater boys coach Chris Schmerbach and his family. Not only did his Comets reach the 5A semifinals, but so did his daughters – Emma and Tatum – who play for 6A South Medford.
"I don't know what to think about it," Schmerbach said. "I would have liked to finish out the season. I feel bad for my seniors who have put so much into this. To have it cut out and not even have the chance, is really disappointing.
"We're going to try to reflect on all the great things that we did. I felt like last night we played the best basketball we have all season, and we were ready to compete with anyone and go toe-to-toe. It's just hard right now. There's definitely some grief and some stuff that we're all going to have to deal with."
The 2020 state basketball tournaments are bound to be up for debate for years. Who had what it took to win the state title? No one will know for sure.
The competitive forces were tugging at Wagoner and Beaverton's Kathy Naro on Thursday afternoon.
"We've been texting back and forth like, 'Hey, let's play at Liberty or Beaverton. We're ready, let's play this thing out,'" Naro said.
Said Wagoner: "We'd love to play the game anywhere, anytime, just to go out and play. I've got a gym, I'll get the refs."
John Tawa contributed to this report