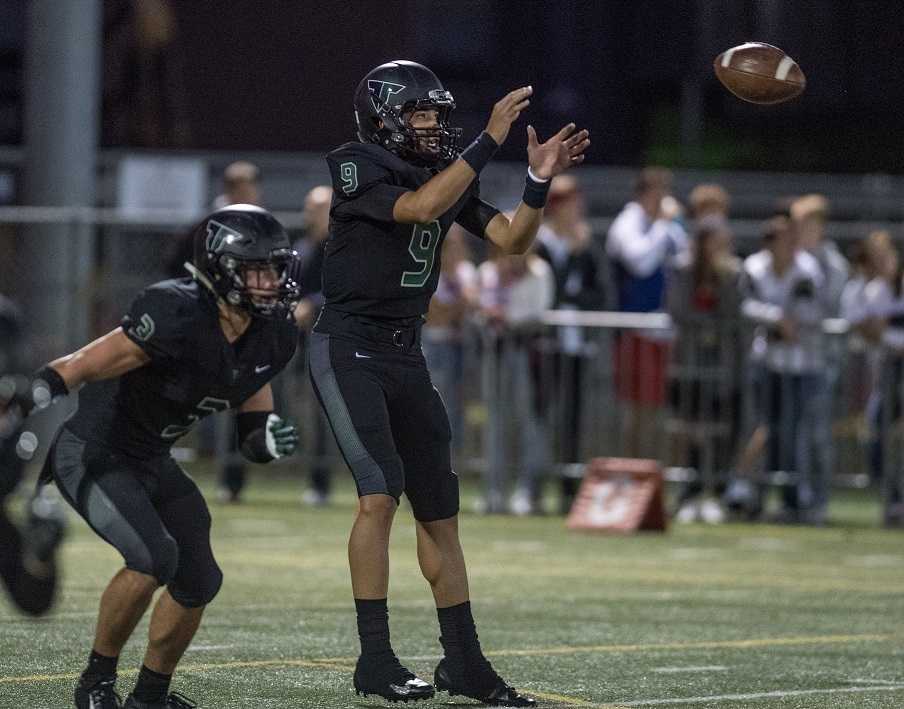 It was one of the oddities of the 2018 high school football season.
State powers Lake Oswego and Tigard, Three Rivers League rivals, did not meet on the field last season. The Lakers won the league and the 6A title, but the Tigers never got their crack at them.
So co-No. 5 Tigard (3-0, 1-0) is relishing the chance to play host to No. 1 Lake Oswego (3-0, 1-0) on Friday.
"I know our kids are looking forward to it because we didn't have that opportunity last year," Tigers coach John Kemper said. "I think our kids are excited, but I'm sure they are just as excited."
When the teams last met in 2017, Tigard rallied from down 11 points in the fourth quarter to beat visiting Lake Oswego 31-28, which ultimately resulted in the teams sharing the Three Rivers title.
The Lakers and Tigers nearly squared off in the 6A semifinals last year, but Tigard couldn't hold a 12-point, fourth-quarter lead in the quarterfinals and lost at Jesuit 23-22.
"I thought we were going to match up in the semifinals, then they got beat by Jesuit," Lake Oswego coach Steve Coury said. "I thought they had one of the better teams last year."
Craig Ruecker resigned as Tigard's coach in December and was replaced by Kemper, an assistant in the program for 10 seasons. Not much seems to have changed for the Tigers, who went to the 6A semifinals five times in 10 seasons under Ruecker.
"It's like a good Ruecker team, it's just someone else is running the helm," Coury said. "They're spreading the ball out a little bit more, spreading formations out a little bit more. There's still the signature stuff they do, and do very well. When you go to the semifinals all those years, why would you change?"
Tigard has faced three unranked teams, beating Sunset 45-22, Barlow 35-3 and Canby 51-27. Their level of competition will jump considerably Friday against the Lakers, who have defeated co-No. 9 West Salem 42-21, No. 4 Jesuit 44-41 and Oregon City 35-15.
"It's going to be a good barometer to see where we're at," Kemper said. "They have three wins this year against quality opponents. They're big, they're physical, and they have a very good tailback."
Kemper is referring to Lakers senior tailback Casey Filkins, a Cal commit. The 5-foot-11, 195-pound Filkins, the reigning 6A offensive player of the year, has rushed for 573 yards and nine touchdowns so far.
"We've got a great bunch of kids, and we've got Filkins, so that makes up for a lot of things," Coury said. "That's just kind of a fact."
Tigard has the personnel to make Filkins work. The Tigers have a big, physical defensive front that features senior Bryce Goetz (6-2, 260), athletic linebackers and a speedy secondary led by seniors Max Lenzy and Hunter Gilbert.
Lake Oswego will be missing one of its key pieces for the foreseeable future. Senior receiver and defensive back Thomas Dukart suffered a broken thumb while making a tackle against Oregon City and is likely to miss 4-6 weeks, according to Coury.
Tigard's offense is averaging 299.3 rushing yards per game, led by Gilbert (436 yards, four touchdowns). The Tigers have a highly efficient, third-year starter at quarterback in junior Drew Carter, who has completed 33 of 49 passes for 548 yards and seven touchdowns without an interception.
"We haven't needed to put the ball in his hands as much as we probably have the ability to," Kemper said of Carter, "just because our running game has been pretty solid so far. He's finding a rhythm. So far, he's been pretty efficient."
Coury had high praise for Carter.
"He's really in command of what they're trying to do offensively," Coury said. "He's probably the best quarterback we've faced to this point."
The game begins a tough stretch for Lake Oswego. The Lakers play co-No. 9 Clackamas and co-No. 5 West Linn in the next two weeks.
"We're making strides, but we're still not where we're going to be," Coury said. "You look at our league, and it's a gauntlet. We're starting it this week."
A glance at other top games in Week 4:
6A
No. 3 Central Catholic (2-1) at No. 7 Sherwood (3-0): Sherwood has generated a buzz with blowout wins over Sandy, Sprague and Lakeridge, and now it's time for the Bowmen to show if they have what it takes against the Rams, a team that beat them 44-24 last season. After the nonleague game against Central Catholic, Sherwood goes to co-No. 5 West Linn next week.
Aloha (3-0, 0-0 Metro League) at No. 4 Jesuit (2-1, 2-0): Aloha leads 6A in scoring with 165 points, behind senior quarterback Timmy Dennis Jr., who has a 6A-high 15 touchdown passes. But Jesuit, which has won 43 consecutive Metro games, is a different beast. Since Aloha beat Jesuit 38-25 in 2010, the Crusaders have won the last eight meetings by an average of 54-5.
5A
No. 4 Crater (2-1) at No. 6 North Bend (3-0): The Comets slugged it out with top-ranked and reigning state champion Thurston last week before falling 31-20, despite getting 245 rushing yards from senior Gavin Acrey. They will try to bounce back in the nonleague game against North Bend, which has outscored its opponents 123-6.
No. 7 Scappoose (3-0) at No. 10 Pendleton (2-1): The Indians will be looking for payback from last season, when the Buckaroos beat Scappoose 47-27 in a nonleague game and 21-14 in the quarterfinals. Scappoose is averaging 304 rushing yards per game, led by senior Josh Rice (437 yards). Pendleton rebounded from a 36-14 loss to 4A La Grande to defeat Hood River Valley and Putnam.
4A
No. 9 Tillamook (3-0) at No. 1 Banks (3-0): Tillamook, which went 4-5 last season, is feeling good about a 3-0 start in which it has outscored foes 126-13. But it gets real in the Cowapa League opener against the reigning state champion Braves, who clubbed the Cheesemakers 56-13 last year. Banks is coming off a 19-14 win at No. 5 Marist Catholic in which senior Tanner Shook completed 20 of 27 passes for 196 yards and two touchdowns.
No. 4 Gladstone (2-1) at No. 7 Estacada (3-0): Last year, Gladstone beat the Rangers 42-22 in a game that ultimately decided the Tri-Valley Conference title. Both teams are coming off dominant defensive performances. Gladstone limited Seaside to 60 total yards to win 34-0 and avenge a loss in last year's state semifinals. Estacada held Astoria without a first down until it led 34-0 in the second quarter of a 40-13 win.
3A/2A
2A No. 3 Coquille (3-0) at 3A No. 5 Amity (2-1): Amity won at Coquille 48-0 last season, rushing for 523 yards to hand the Red Devils their first home loss in four years and first shutout in five years. Coquille is averaging 351 rushing yards per game, led by senior Caiden Yates (405 yards). The Warriors, who feature senior Cody Dyche (297 rushing yards), have lost only to Onalaska, Wash., 32-14.
1A
No. 5 Elgin (3-0, 2-0 Old Oregon League) at No. 10 Powder Valley (3-0, 2-0): Explosive Elgin, which leads the state in scoring with 199 points, meets the Badgers in a battle of unbeatens. The teams are tied for first place in the Old Oregon with Adrian/Jordan Valley, which visits Elgin next week. The Huskies beat Powder Valley 58-20 last year.