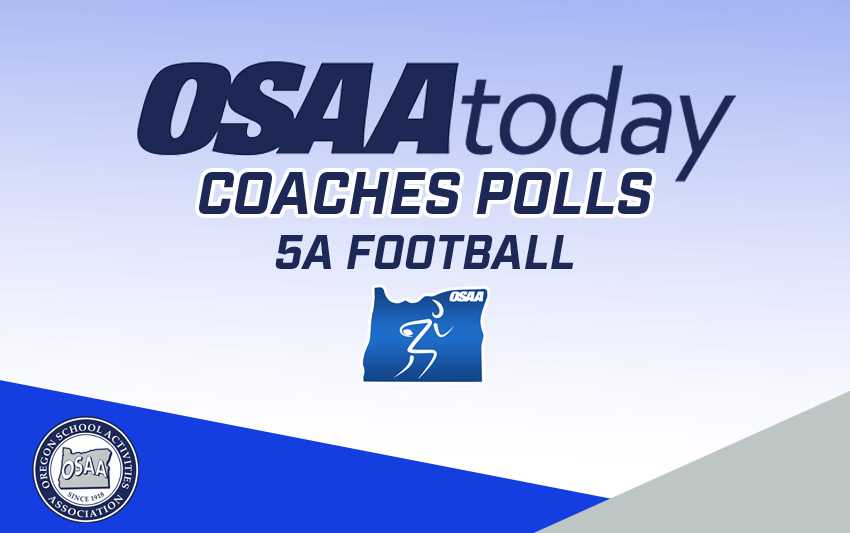 Oct. 29 Statewide 5A Football Coaches Poll
OSAAtoday presents its weekly 5A Football Coaches Poll. Thanks to all the coaches who took the time and had the expertise to contribute their opinions to this endeavor.
Look for the 5A football poll every Tuesday during the fall season.
If you are a varsity 5A football coach and would like to vote, please contact John Tawa at [email protected].
Please note: these polls are for generating interest and discussion only and have no impact on the OSAA's RPI and Colley ratings that form the basis of the OSAA's rankings for playoff purposes.
1. Thurston (13) [1] 8-0 147
2.West Albany (2) [2] 8-0 132
3.Crater [4] 7-1 113
4.Silverton [3] 8-0 112
5.Wilsonville [5] 7-1 87
6.Ashland [6] 7-1 68
7.Pendleton [8] 5-2 44
8.Lebanon [10] 5-3 36
9.Parkrose [nr] 5-2 25
10.North Bend / Powers [9] 5-3 16
10.Scappoose [nr] 6-2 16
First-place votes in parentheses
Last ranking in brackets
Record listed is what's posted on www.osaa.org.
Others receiving significant votes: Redmond (12)
Notes: Crater led 49-0 at half on its way to a 56-0 win over Eagle Point. Gavin Acrey ran for two touchdowns and returned a punt 83 yards for a score. … Ashland beat North Eugene 35-7 as Rieger Sayre ran for a touchdown and threw for three scores, two to Nathan Carter. … Unbeaten Thurston scored all of its points in the first half of a 49-0 win over Springfield. Cade Crist threw two touchdown passes and ran for three scores. The Colts had a 422-0 edge in yards. … North Bend blasted Ridgeview 72-0 as Divenson Willis ran for three touchdowns and Ian Spalding ran for two scores and caught a touchdown pass. … Lebanon led 21-0 at half and defeated Crescent Valley 35-22, spoiling the Raiders' debut on their new home field. … West Albany buried Dallas 56-7 as Porter Phillips rushed for 164 yards and three touchdowns and returned an interception 79 yards for a score. Connor Wolfe caught five passes for 186 yards and two touchdowns for the Bulldogs. … Wilsonville rolled over Wilson 62-26 as Payton Dart caught four passes for 69 yards and two touchdowns and returned a kickoff 90 yards for a score. … Parkrose extended its winning streak to five by beating La Salle Prep 41-16. Jay Jay Hudson and Taydrian Jackson combined to rush for 272 yards and four touchdowns.