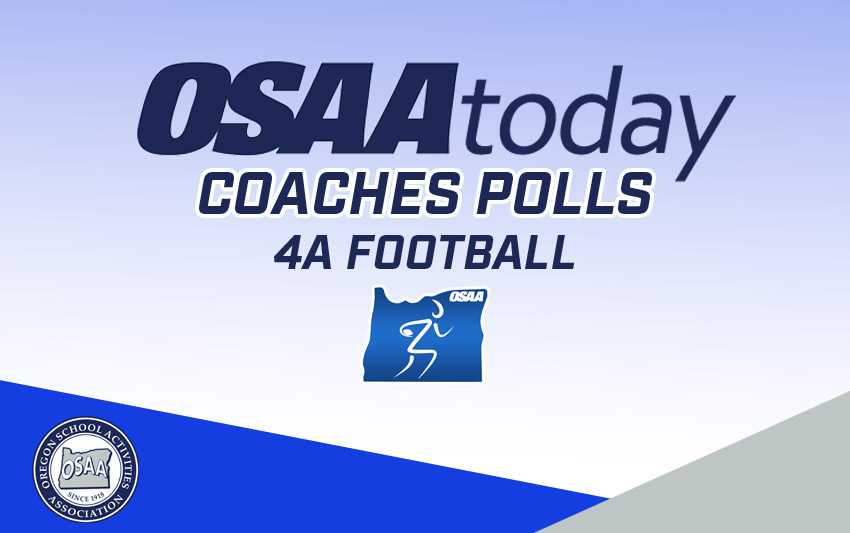 Oct. 15 Statewide 4A Football Coaches Poll
OSAAtoday presents its weekly 4A Football Coaches Poll. Thanks to all the coaches who took the time and had the expertise to contribute their opinions to this endeavor.
Look for the 4A football poll every Tuesday during the fall season.
If you are a varsity 4A football coach and would like to vote, please contact John Tawa at [email protected].
Please note: these polls are for generating interest and discussion only and have no impact on the OSAA's RPI and Colley ratings that form the basis of the OSAA's rankings for playoff purposes.
1. Banks (12) [1] 6-0 147
2.La Grande (3) [2] 6-0 132
3. Marist Catholic [4] 5-1 121
4.Mazama [3] 5-1 96
5.Gladstone [5] 5-1 86
6.Cascade [6] 5-1 59
6.Henley [7] 6-0 59
8.North Marion [nr] 4-2 34
9.Baker [9] 4-2 26
10.Marshfield [10] 4-2 22
First-place votes in parentheses
Last ranking in brackets
Record listed is what's posted on www.osaa.org.
Others receiving significant votes: none
Notes: Cameron O'Connor rushed for 227 yards and two touchdowns on 38 carries to lead Henley past Phoenix 42-27. … Marshfield scored touchdowns on its first seven possessions in a 49-0 pasting of Junction City. The Pirates' Josiah Niblett rushed for 172 yards. … Banks blasted Valley Catholic 62-6 as Tanner Shook passed for 297 yards and three touchdowns, two to Jarred Evans. … Sergio Jimenez threw two touchdown passes and North Marion held Estacada to 123 yards in a 35-7 road win.