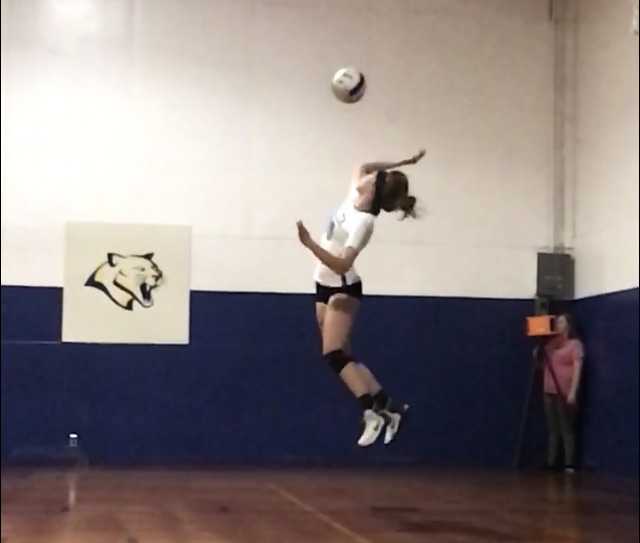 Alsea junior Jessica Carlisle has helped the Wolverines reach the 1A state playoffs in volleyball and basketball the past two season. Carlisle, who also finished third in the triple jump in her first two years, led Alsea in kills the past two seasons, notching 235 in 2018. Carlisle joins two other returning Alsea starters in what could be another state playoff run for the Wolverines...
Wilsonville won the Northwest Oregon Conference title in 2018, the first time in more than a decade that the Wildcats won its conference. Only one starter graduated for head coach Nathan Blankenship, leaving Wilsonville to improve on its fourth-place finish of a year ago in rugged 5A. The team is led by senior All-State OH Lindsey Hartford, senior setter Kennedy Juranek, senior libero Grace Thompson and two talented sophomores, OH Ashli Edmiston and MB Tatum Lubisich.
Blankenship and Wilsonville Athletic Director Dennis Burke are working with the OACA (Oregon Athletic Coaches Association) volleyball representatives Jennifer Teeter and Kelli Backer to promote a change for 5A schools in the state championship at Liberty High School for the 2019 season.
"After speaking to a number of other coaches and athletic directors, there is a real interest in changing the current limitation of 12 dressed down players for the championships to 14," Blankenship explained. "This would match the current rules for 6A teams that allow 14. This idea has a lot of support and with luck we will get this submission passed."
West Albany, coming off a third-place finish in 5A a year ago, is a state contender with five starters back and a talented newcomer in setter Elijah Sanders. The backbone of the team is senior libero Sydney Backer, the team MVP the past two seasons. With the first contact taken care of, the Bulldogs could again be formidable in 5A if the young talent along the frontcourt develops...
6A runner up Sprague graduated two All-Tournament selections but will field a roster that includes two players, Bridgette Smith, and transfer Madi Chulantseff, who a month ago played for North Pacific Juniors 17 National, a club team that tied for third in the 17 USA division at USA Volleyball's Junior National Championships in Indianapolis. Smith, a 5-10 outside hitter, made the All-Tournament Team!
Other members of NPJ 17 National include Elijah Sanders and Sydney Backer of West Albany, Emily Cheavtharn of West Salem, Molly Pizcheck of Jesuit, Krista Santos of Sunset, Hailey VanWell of Dallas, Emily King of Summit, Hannah Rammage of Bend, Chay Swenson of Roseburg and Neveah Bray of defending 5A champion Corvallis. Bray's teammate, Ryann Gregg, played for the NPJ 18-1 Forefront team that competed in the 18 Open division ("Open" is the most competitive division, followed by National, USA, American and Patriot) at Nationals in Dallas at the end of April. Wilmes, Long and Izzi Szulczewski of Mountainside rounded out the underclassmen on that team, which tied for 21st with a 4-3 record.
Athena, Oregon Juniors, Portland Volleyball Club and Excel Northwest also sent teams to Junior Nationals. Athena's best finish was a tie for 21st in 17 National. OJVA tied for 13th in 16 National. PVC tied for fifth in 16 American and Excel Northwest tied for 37th in 18 National...
Jesuit of Portland was undefeated in the state of Oregon last year en route to the 6A title, but with all regulars having walked the stage other than setter Allison Buchholz, the Crusaders will be an inexperienced bunch in 2019.
"This team has a lot of potential and the outcome for us will be determined by how fast they gel as a team and their commitment to their individual roles and goals for themselves, and as a team," said longtime coach Teresa Zimmerlee...
West Linn, which lost only to Jesuit at state and finished third overall, was the favorite to win 6A back in November. But strong-armed junior middle Makayla Long subsequently moved to Arizona (where she will play for nationally-ranked Perry) and the situation is less certain for the Lions, who do return All-State OH Audra Wilmes, a Washington Husky recruit. West Linn also has a new head coach, Emilie Wilmes. She replaces Michelle Hoover...
Weston McEwen finished sixth in 2A a year ago. The TigerScots graduated a ton of offense, but will be a very good passing and defensive team. If the new hitters develop, Shawn White's team, which has made the state playoffs in 14 of the previous 15 years, might be in line for state title No. 4...
Trinity Lutheran of Bend went to the 1A state tournament three years in a row not too long ago, but the Saints have been in rebuild mode for the past couple of years. With three underclass starters and nine freshmen vying for playing time, Greg Clift's team is building toward a bright future…
Marist Catholic of Eugene is 480-190 since head coach Shari Pimental took over the program in 1993. The Spartans graduated just two starters and are an experienced team going into their second season in 4A, so it's possible that senior OH Cathy Kalstad and senior middle Heidi Knebel could help Pimental reach the 500-win plateau as early as the 2019 season…
Crescent Valley of Corvallis tasted victory just four times in 2018, but with the entire starting lineup returning, Troy Shorey's team should win more regularly in 2019, especially in league, as many league rivals graduated players of significance. Hitters Elizabeth Hodgert, Eva Buford and Brooke Plemmons are players to watch…